posted on: 08/8/2014; updated: 08/18/2014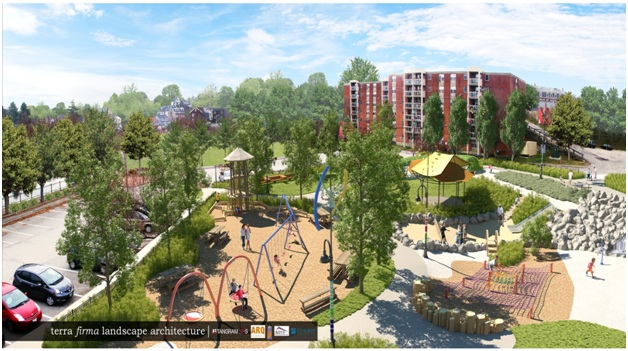 The City of Dover and the Children's Museum of New Hampshire have been working together for several years to come up with a plan to overhaul the playground area in Henry Law Park. The Henry Law Park Improvement Project involves a total renovation of the area of the park behind the Indoor Pool now occupied by a play structure and out of service wading pool. It also included new walkways to connect with the area of the Rotary Arts Pavilion and front of the park and many other new features.
Concept plans have been drawn up using input from several public meetings where the needs of the park were listed and ideas were brainstormed to bring all of the best possibilities out for this area of the park. The cost of the project as the current plans detail are estimated to be over $400,000. The City has allocated $250,000 in capital improvements funding and a very generous anonymous donor has contributed $100,000 to the project.
The balance of approximately $100,000 is needed to get this project under way and there are opportunities for individuals, organizations and businesses to donate through several means.
Anyone interested in contributing can contact Gary Bannon, Dover Recreation Director, at g.bannon@dover.nh.gov or 516-6410.
There is also the opportunity to donate via Go Fund Me by going to the link http://www.gofundme.com/c8ebd4 to contribute.
More information will be forthcoming on the City of Dover's website about contributions and progress on this exciting project.