As federal, state and local officials continue to monitor cases of COVID-19, a coronavirus first detected in China, residents are reminded to take steps to protect themselves from all respiratory viruses.
What are coronaviruses?
Coronaviruses are a large family of viruses, but only several types are known to commonly cause infections in people, with these common human coronaviruses usually causing mild to moderate respiratory illness (like the common cold). Newer human coronaviruses, like Severe Acute Respiratory Syndrome (SARS), Middle Eastern Respiratory Syndrome (MERS), and the COVID-19 can cause more severe symptoms. The COVID-19 is originally thought to have spread from animals to humans, but person-to-person spread is widespread.
How is it spread?
COVID-19 is thought to spread from an infected person to others through respiratory droplets:
Between people who are in close contact with one another (within about 6 feet);
Through respiratory droplets produced when an infected person coughs, sneezes, or talks.
These droplets can land in the mouths or noses of people who are nearby or possibly be inhaled into the lungs.
COVID-19 may be spread by people who are not showing symptoms.
The virus may be spread in other ways:
By touching a surface or object that has the virus on it and then touching their own mouth, nose, or possibly their eyes.
This is similar to how influenza and other respiratory infections spread. The virus that causes COVID-19 is spreading very easily and sustainably between people. The more closely a person interacts with others and the longer that interaction, the higher the risk of COVID-19 spread.
What are the symptoms?
People with COVID-19 have had a wide range of symptoms reported – ranging from mild symptoms to severe illness. Symptoms may appear 2-14 days after exposure to the virus. People with these symptoms may have COVID-19:
Fever or chills
Cough
Shortness of breath or difficulty breathing
Fatigue
Muscle of body aches
Headache
New loss of taste or smell
Sore throat
Congestion or runny nose
Nausea or vomiting
Diarrhea
If you have traveled to/from countries with a COVID-19 Travel Advisory and develop symptoms of a fever or respiratory illness within 14 days of your travel, contact your health care provider before going to their office or the emergency department, and tell them about your recent travel and symptoms. You can also contact the NH Division of Public Health Services at 603-271-4496, if you have questions or concerns.
For the latest travel information and advisories, visit the CDC website: https://www.cdc.gov/coronavirus/2019-ncov/travelers/index.html.
How can I protect myself and others?
There are steps you can take to reduce your risk of getting sick from viral respiratory infections, and help prevent transmitting infections to others, including:
Avoid close contact. When outside your home put 6 feet (about 2 arms' length) distance between yourself and people who you do not live with. This is known as social distancing.
Cover your mouth and nose with a mask when around others. Everyone should wear a mask in public settings and when around people who don't live in your households, especially when social distancing measures are difficult to maintain. The mask is not a substitute for social distancing.
Wash your hands often with soap and water for at least 20 seconds. Use an alcohol-based hand sanitizer if soap and water are not available.
Cover your mouth and nose with a tissue when you cough or sneeze, then throw the tissue in the trash and wash your hands.
Do not touch your eyes, nose, or mouth with unwashed hands.
Stay home from work or school if you have a fever or are not feeling well.
Avoid close contact with people who are sick.
Clean and disinfect objects and surfaces.
Get a flu shot - it is not too late to be protected from flu.
Is there a treatment?
There are no specific antiviral treatments recommended for infection with the COVID-19. People infected with COVID-19 can receive supportive care at home to help relieve symptoms, such as taking pain or fever medications, drinking plenty of fluids, and staying home and resting. Some patients who are very sick may need to go to the hospital to get care.
People who think they may have been exposed to COVID-19 should contact their health care provider immediately.
Do I Need To Quarantine After Being Exposed to COVID-19?
Yes! If you have been identified as a close contact to someone diagnosed with COVID-19, then you are at risk of developing COVID-19 sometime in the next 2-14 days, so you need to follow these guidelines:
Stay home (quarantine) for 10 days after you were last exposed to a person with COVID-19.
Get tested 5-7 days after your exposure.
Monitor for symptoms (see list above).
Take care of yourself and reach out to your healthcare provider or seek emergency treatment if you have any concerns about your health.
You do NOT need to stay home (quarantine) for 10 days or get tested for COVID-19 if either of the following apply:
You are fully vaccinated against COVID-19 and more than 14 days have passed since you received the second dose of your COVID-19 vaccine.
You have previously tested positive for active COVID-19 infection (by PCR or antigen testing) in the last 90 days (if you had a previous infection that was more than 90 days ago, then you still need to follow all of these guidelines).
However, you still need to monitor yourself for symptoms of COVID-19, practice social distancing, avoid social and other group gatherings, always wear a face mask when around other people, and practice good hand hygiene at all times.
Learn more: DHHS Self Quarantine Guide. 
When can I be vaccinated?
New Hampshire is taking a phased approach to vaccine rollout, targeting critical populations with the initial allotment of vaccines from manufacturers. These critical populations will receive the vaccine during Phase 1a. Subsequent phases are outlined in a separate document, the NH COVID-19 Vaccine Allocation Plan.
The COVID-19 Vaccine Phases assessment tool will ask four brief questions to help you determine the vaccine phase under which you fall. You simply enter information on your risk level, age, and any underlying health conditions, so you can get an estimate of when you can expect to receive the vaccine.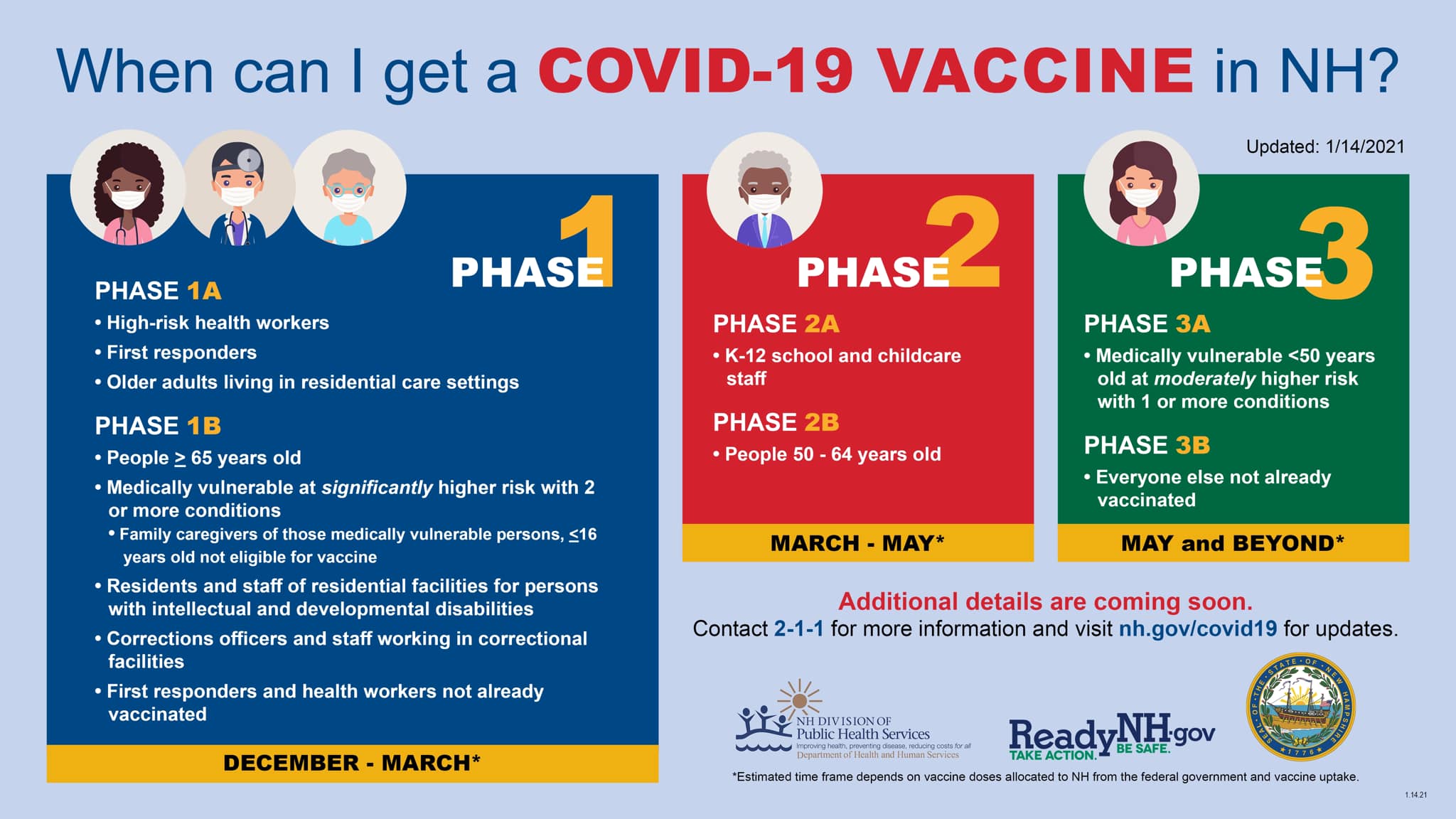 Where will I be able to get the vaccine?
For Phase 1a, vaccine will be provided by hospitals for their health workers, CVS and Walgreens for longterm care facilities, and at 13 fixed sites throughout NH for first responders and health workers not working for a hospital and for those long term care facilities not enrolled with CVS or Walgreens. In future phases, vaccine will be available in New Hampshire through health care providers, pharmacies, and special vaccination clinics, depending on your risk for disease.
To learn more, review the NH COVID-19 Vaccination Planning Frequently Asked Questions. 
Will I be able to stop wearing a mask and social distancing if I get the vaccine?
No. While experts learn more about the protection that COVID-19 vaccines provide under real-life conditions, it will be important for everyone to continue to use all the tools available to us to help stop this pandemic, like covering your mouth and nose with a mask, washing hands often, and staying at least 6 feet away from others. Together, COVID-19 vaccination and following CDC's recommendations will offer the best protection from getting and spreading COVID-19. Experts need to understand more about the protection that COVID-19 vaccines provide before deciding to change the current recommendations. Other factors, such as how many people get vaccinated and how the virus is spreading in communities, will also affect this decision.
Have you been fully vaccinated?
The Centers for Disease Control and Prevention recommend people are considered fully vaccinated:
Two weeks after their second dose in a 2-dose series, like the Pfizer or Moderna vaccines, or
Two weeks after a single-dose vaccine, like Johnson & Johnson's Janssen vaccine 
If it has been less than two weeks since your shot, or if you still need to get your second dose,
you are NOT fully protected. Keep taking all prevention steps until you are fully vaccinated.
What's Changed?
When you've been fully vaccinated:
You can gather indoors with fully vaccinated people without wearing a mask.
You can gather indoors with unvaccinated people from one other household (for example, visiting with relatives who all live together) without masks, unless any of those people or anyone they live with has an increased risk for severe illness from COVID-19.
If you've been around someone who has COVID-19, you do not need to stay away from
others or get tested unless you have symptoms.

However, if you live in a group setting (like a correctional or detention facility or
group home) and are around someone who has COVID-19, you should still stay
away from others for 14 days and get tested, even if you don't have symptoms.

What hasn't changed:

You should still take steps to protect yourself and others in many situations, like wearing a mask, staying at least 6 feet apart from others, and avoiding crowds and poorly ventilated spaces. Take these precautions whenever you are:

In public
Gathering with unvaccinated people from more than one other household
Visiting with an unvaccinated person who is at increased risk of severe illness or death from COVID-19 or who lives with a person at increased risk

You should still avoid medium or large-sized gatherings.
You should still delay domestic and international travel. If you do travel, you'll still need to follow CDC requirements and recommendations.
You should still watch out for symptoms of COVID-19, especially if you've been around
someone who is sick. If you have symptoms of COVID-19, you should get tested and
stay home and away from others.
You will still need to follow guidance at your workplace.
About the US COVID-19 Vaccination Program
Here are 8 things you need to know about the new COVID-19 Vaccination Program and COVID-19 vaccines:
The safety of COVID-19 vaccines is a top priority.
COVID-19 vaccination will help protect you from getting COVID-19. Two doses are needed.
CDC is making recommendations for who should be offered COVID-19 vaccine first when supplies are limited.
There is currently a limited supply of COVID-19 vaccine in the United States, but supply will increase in the weeks and months to come.
After COVID-19 vaccination, you may have some side effects. This is a normal sign that your body is building protection.
Cost is not an obstacle to getting vaccinated against COVID-19.
The first COVID-19 vaccines are being used under Emergency Use Authorizations (EUA) from the U.S. Food and Drug Administration (FDA). Many other vaccines are still being developed and tested.
COVID-19 vaccines are one of many important tools to help us stop this pandemic.
To learn more, visit the CDC vaccine website.
Additional resources
The New Hampshire Department of Health and Human Services website provides updated information about the state's response to COVID-19. The page can be accessed at: https://www.nh.gov/covid19/
Additional information, including advisories for travel, businesses and schools, can be found at the Centers for Disease Control COVID-19 page at: https://www.cdc.gov/coronavirus/2019-ncov/index.html
The Dover School District also provides updates about COVID-19 and the response by school officials here.