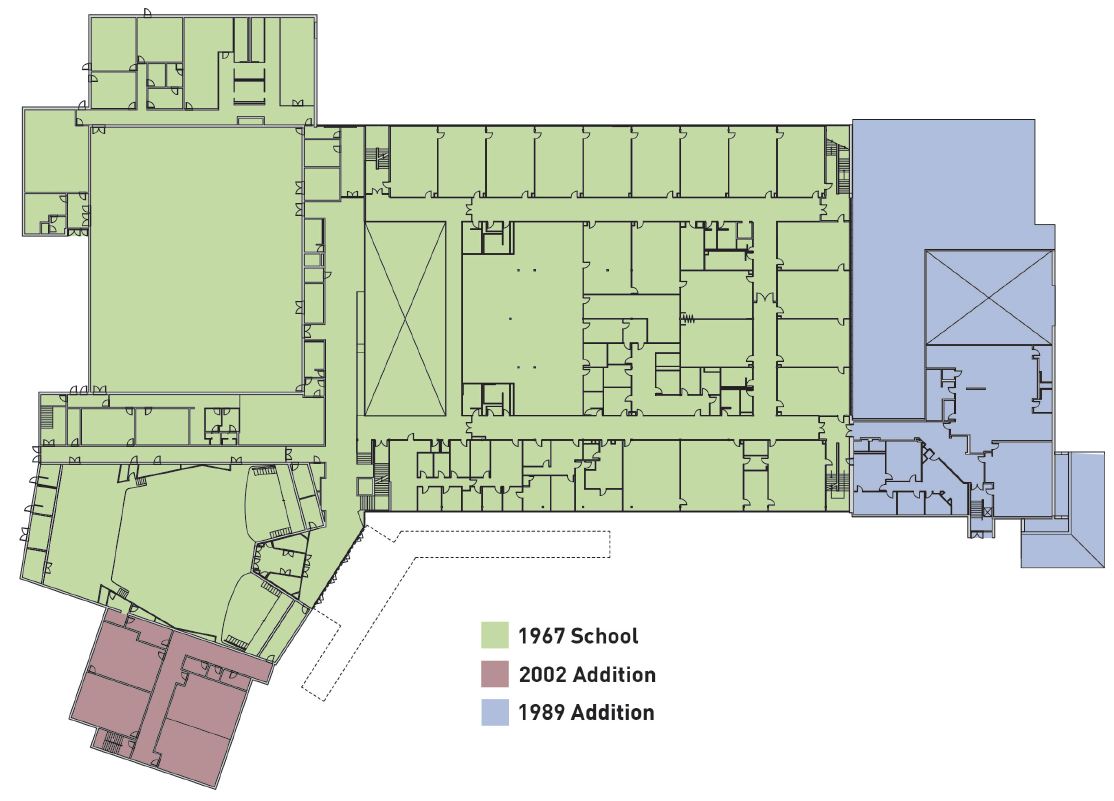 A site and building report was prepared by HMFH Architects, Inc. in February 2015. The report details the conditions of the high school and CTC systems and provides recommendations for renovation and repair.
According to the report, "the building has been well maintained throughout the years; however most of finishes and systems, many of which are original to the school have exceeded their useful life, and will require replacement with any renovation. Substantial renovations will trigger compliance with current code."
The report outlines several key issues that will require further attention, including:
Lateral and seismic loading issues are a concern on all three of the buildings but particularly in the 1967 building where a complete seismic retrofit would be recommended. The nature of the existing columns, footings and floor framing system make any seismic upgrade challenging;
Concerns about the concrete entry canopy seismic resistance as well as intensive ongoing maintenance associated with the canopy;
 Lack of general code compliant accessibility, accessible toilets, and challenging accessible paths throughout;
 Lack of code complaint egress including enclosure of two stairs, handrails at two stairs, and quantity of egress doors;
 50 percent of classrooms are interior with no natural light. Many have poor quality artificial light;
 Thermal control in many classrooms is poor;
 Energy inefficient walls and roof;
 The Kalwall exterior window wall system on the 1967 building should be replaced;
 Most terminal heating equipment, air handling equipment, cooling and piping systems should be replaced as part of any substantial renovations;
 All branch circuit wiring, lighting systems and fire alarm systems should be replaced as part of any substantial renovations;
 All plumbing fixture should be replaced as part of any substantial renovations;
 All sprinkler heads in the 1967 and the 1989 buildings should be replaced as part of any substantial renovations;
 Most interior partitions are 4-inch cmu and do not meet current acoustical separation standards;
Existing floor-to-floor heights for the second and third floors are low creating challenges for retrofitting duct work to meet requirements for today's building code.
The report also states, "many systems, components and finishes within the school are in need of replacement. Accessibility challenges within the entire building are significant. A renovation addressing these issues will likely trigger code compliance for conditions that are currently "grandfathered".  Specifically, any renovation with a work area of more than 50 percent of the existing building will require substantial compliance with current codes. The three-story portion of the 1967 building is of particular concern due to the lateral and seismic issues within the building and the structural complexity associated with addressing those concerns."
To view the complete existing conditions report from March 2015, click here.