Blog #2 - August 2022


Hi-Di-Ho Neighbor!
Here at the library I get to stand right next to the "New Books" Table. Every day I stare at a whole table of colorful chapter books, their covers all shiny and new. Some have never been checked out before!
I like the ones with animals on them the best. And the ones that have dragons in them! Those are my favorite. Ooh, and the ones about real life, called "Realistic Fiction" are cool too because it's like it could really happen! But I really, really love funny books, those are my favorite of all my favorites.


The Great Pet Heist by Emily Ecton doesn't just have one animal on the cover, but five, and there are even more animals in the book. These animals are smart AND funny. They turn to a life of crime to become independently wealthy so they aren't taken to an animal shelter. Which is a pretty good plan, but it doesn't all go the way they want it to.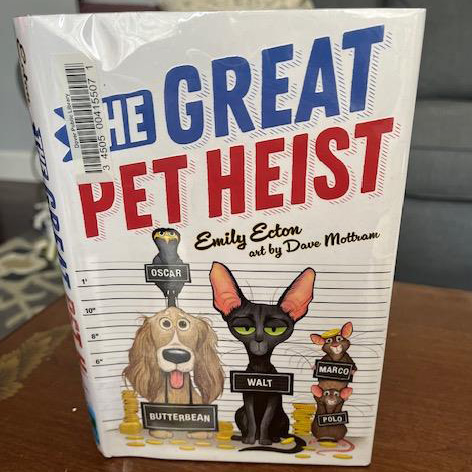 There is a dog and a cat in the story so it doesn't matter if you like dogs more or cats more, you will like this book. There's also a bird, a few rats, and an octopus.


One of my librarian friends read some of the book out loud to me and I laughed at all the silliness.


Next time you are in the library, look out for The Great Pet Heist by Emily Eaton. (David Mottram drew all the pictures. I think he did a pretty good job too.) If it is checked out, you can always find another animal chapter book by looking for the blue "Animal" spine label. It has a crocodile on it.

That doesn't mean there is a crocodile in the book, just that it is a book with animals.

In case you were confused.


Oh, and I just found out that there's another book about these same animals called
The Great Ghost Hoax
! So, when your done reading about the heist (a robbery), you can read about the hoax (a humorous or malicious deception).
Blog #1 - July 2022

GRRR!!!.....
Oh, sorry, I hope I didn't scare you!  That's just the way I say 'hello'.  My name's Bluebeary, because I'm Blue, and very.…Beary! What's your name? (I like that name too.)
I like to hang out in the kid's room at the Dover Public Library because you all read the BEST stories. And stories are my favorite. My story is kind of interesting too ('interesting' here means exciting, or curious). Did you know that I've been hanging out with library kids for 17 years?  Yup, I've been listening to kids play, and read, and sing, and do crafts, and have all kinds of fun at DPL since 2005; from the very first day that I joined a bear parade.  Did you know bears could go on parade?  Well, they can, it's not just for boy scouts and fire engines.
 My parade was to celebrate one of Dover's birthdays – a city with a birthday?  You bet. Not only did we parade but we also danced!  Myself and 31 other bears got all dressed up and we danced through Dover – it was so much fun! And I've been a part of the children's room at DPL ever since; watching children grow and learn and read, and I can't even count how many hugs I've had! I love hugs almost as much as I love stories.
So, that's a story about me. I would love to hear one of yours.  I bet it's curious and exciting too!  The next time you come to the library, come visit me in the kid's room.  You could bring your parents if you want You can't miss me, because I'm REALLY big and REALLY blue.  And I love children – but not for breakfast – just to hang out with.
Here's hoping I get to see you soon,
GRRRR-ingly yours!!!!!,
Bluebeary
(p.s. that's how I say goodbye too)
You can learn more about Bluebeary's story here, or ask at the library!