Latest news
Filing period open for Ward 4 City Council seat

posted on: 7/28/2016

The City Clerk's office is now accepting applications from qualified residents for the Ward 4 City Council seat, following the resignation of Ward 4 City Councilor Joseph Nicolella. The vacancy was declared at the July 27 City Council meeting.

Residents interested in filing for the vacant seat must live in Ward 4, be a qualified voter, and have been a resident of the city for one year. Identification is required at the time of filing. The City Clerk's office is located at City Hall, 288 Central Ave., and is open Monday through Thursday, 8:30 a.m. to 5:30 p.m., and Friday, 8:30 a.m. to 4 p.m.

The filing period concludes on Friday, Aug. 5.

A special election to fill the vacant Ward 4 seat will be held on Tuesday, Sept. 13, the same day as the State Primary. Candidates for the Ward 4 City Council seat will only appear on the Ward 4 ballot. The Ward 4 polling place is the Elks Lodge, 282 Durham Road.

Dover police to join National Night Out Aug. 2

posted on: 7/27/2016

Dover Police Chief Anthony F. Colarusso, Jr. is pleased to announce that the Dover Police Department will participate in National Night Out on Tuesday, Aug. 2, 2016 in Henry Law Park. The event will take place from 4 to 7 p.m. and is free to the public.

National Night Out is a time for community members to meet with police officers, discuss issues, learn what the police do, and unite with the common goal of crime prevention.

The public will be able to see some of the specialized equipment and vehicles that the police use to carry out their duties including the crime scene and mobile command vehicles. The police department's mounted patrol and K9 officers will be at the event and interacting with the public. National Night Out will also feature firefighters and fire apparatus from Dover Fire and Rescue.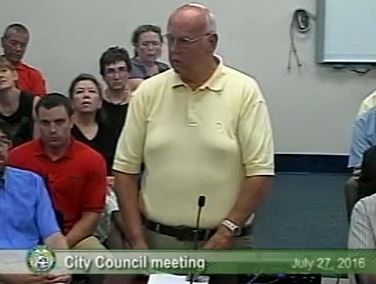 The regular meeting of the City Council on Wednesday, July 27, 2016. 


To view the video, click on the link above or image to the right.