Work resumes June 1 to restore sidewalks
Road repaving to begin mid-June
The contractor returns to the work area to complete the final project items: restoration of sidewalks followed by repaving of Washington Street and Main Street. Paving, which will require night work, is anticipated to begin in mid-June.
Anticipated work schedule for week of 5/30
Monday, May 30 and Tuesday, May 31
Wednesday, June 1 through Friday, June 3
Contractor will begin sidewalk restoration on the south side of Washington Street (Children's Museum side), beginning at Henry Law Park. Work will continue on the south side towards Main Street, and then continue up the east side of Main Street. 
Parking will be prohibited on the south side of Washington Street and east side of Main Street in the area where the contractor is working.
Traffic will be reduced to one lane through the work zone.
Email updates
The City of Dover sends regular email updates about the project. To sign-up, visit bit.ly/doverdownload and select "Project updates: Washington and Main Water Improvements."
Recent email updates: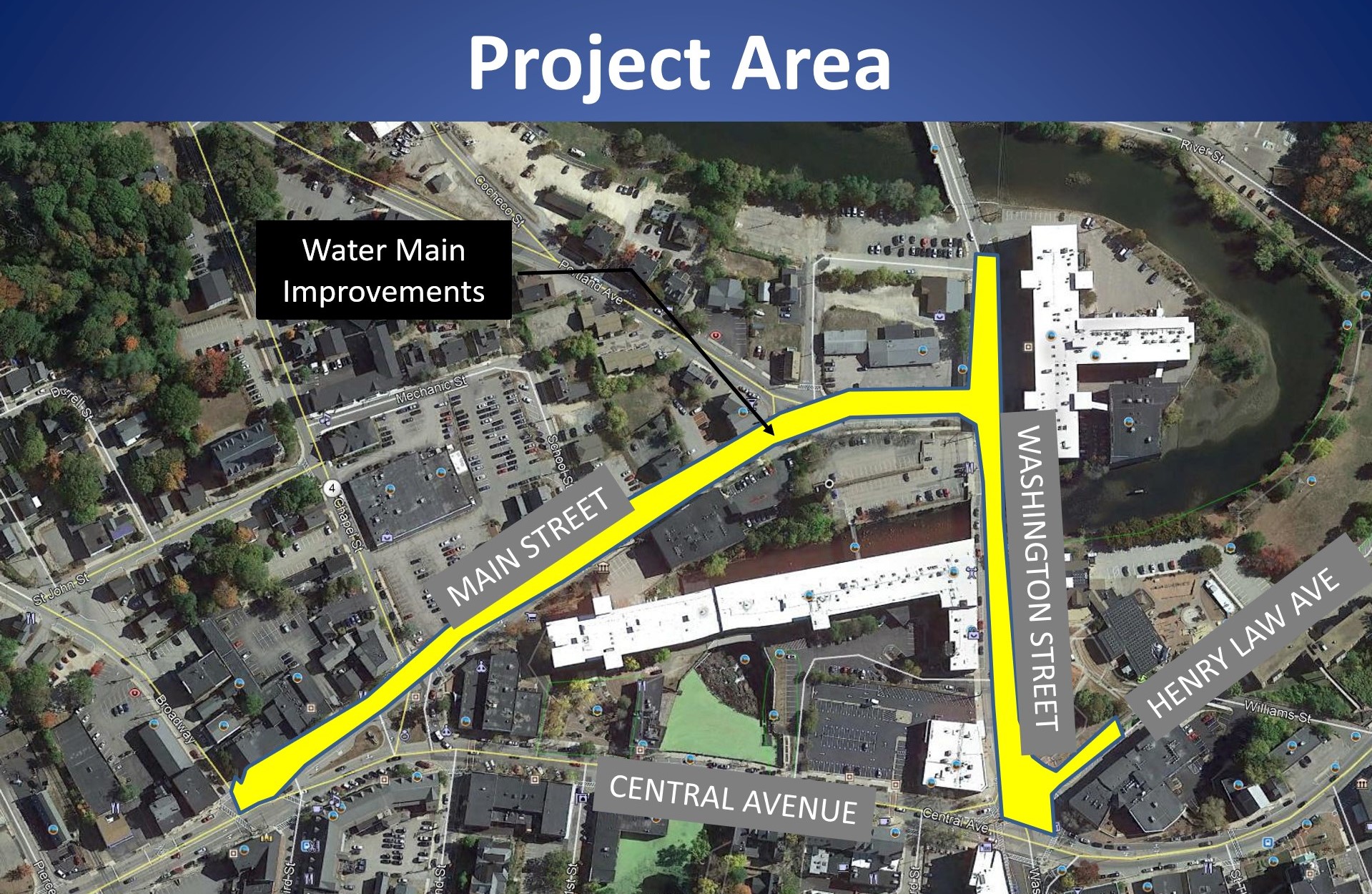 About this project
The City of Dover is committed to proactively maintaining the municipal water system to ensure consistent high-quality water is available to those who live in, work in and visit the City. As part of the ongoing effort to replace the oldest and most at risk of failure water infrastructure, the Washington Street and Main Street Water Improvements project targeted replacement of some of the oldest water distribution pipes in the downtown area.
The project area included all of Main Street, Washington Street from Central Avenue to Main Street and a portion of Henry Law Avenue closest to Washington Street. Replaced infrastructure includes approximately 3,000 feet of new ductile iron water main that meets the needs to today's water systems and will provide reliable water service for the next 100+ years.
After a competitive process, the City Council at its Oct. 14, 2020 meeting, authorized the City of Dover to contract with N. Granese & Sons, Inc. of Salem, Massachusetts to complete the work. Underwood Engineers is the City's engineering consultant who completed the design and oversaw the construction. 
An information meeting was held Monday Feb. 8, 2021 at 6:00 p.m. Due to the COVID-19 coronavirus pandemic, the meeting was held virtually. 
For more information or questions about the project, contact Community Services Deputy Director Bill Boulanger at (603) 516-6450.