posted on: 3/26/2021; updated: 3/30/2021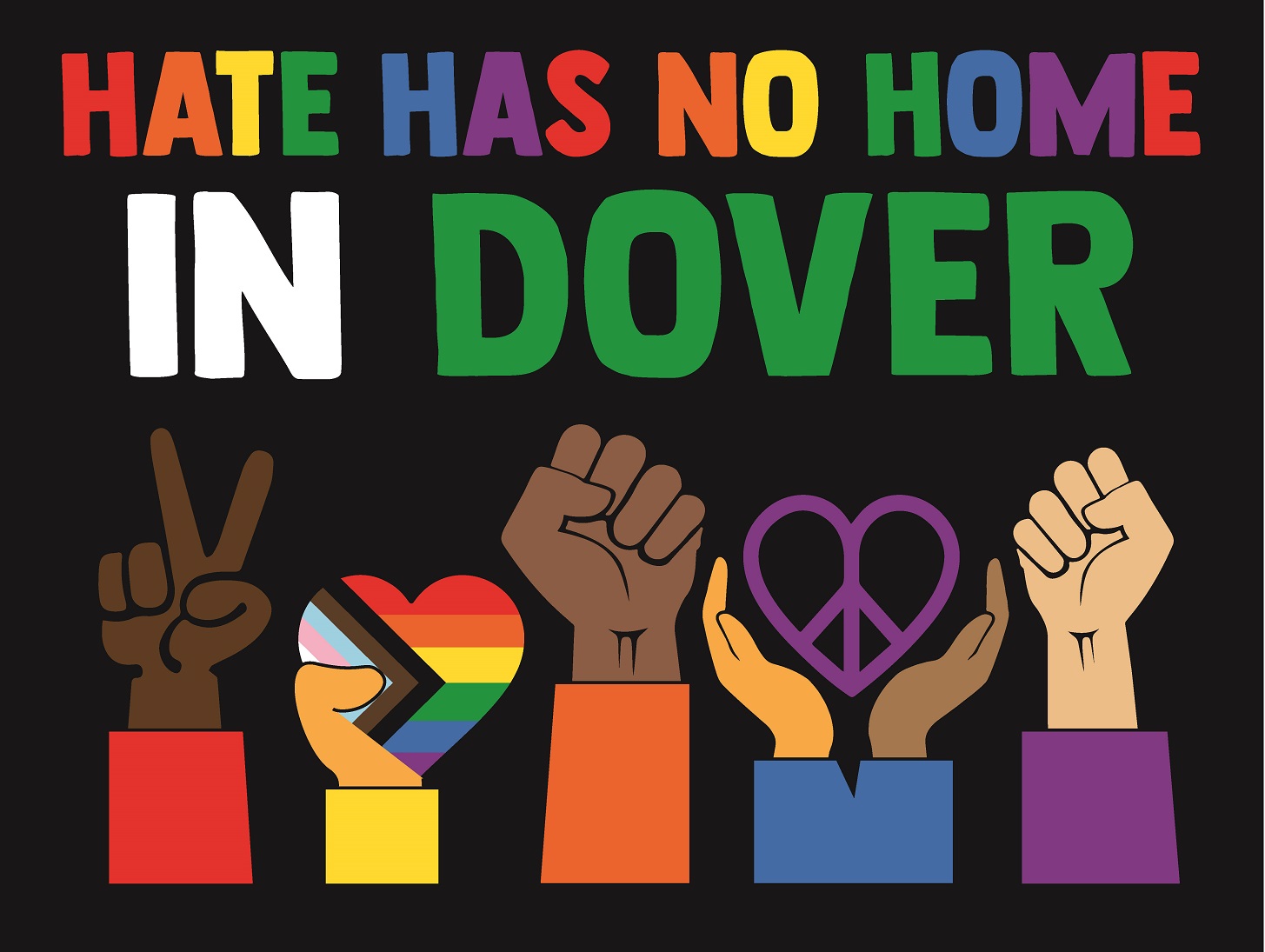 In the wake of two mass shootings in the past two weeks that killed 18 people, including six Asian women, members of the City Council, led by Michelle Muffett-Lipinski, seek to create a campaign highlighting Dover as a welcoming city where hate has no home.
Muffett-Lipinski, who represents Ward 1 on the City Council, suggested the campaign at the City Council meeting Wednesday with the idea to create signs that state "hate has no home in Dover" as one way residents and businesses can show their support. The sign design can be downloaded from the city's website here.
"Hate has no home here – I've heard that so many times tonight," Muffett-Lipinksi said. "I think we should really champion that and take it under our wings."
On March 16, there were shootings at three locations in Atlanta, Georgia, where eight people were killed, six of whom were Asian women. A 21-year-old suspect is in custody and being charged with eight counts of murder. Six days later, 10 people were killed at a business in Boulder, Colorado, on March 22. Another 21-year-old suspect is being held and charged with 10 counts of murder.
Mayor Robert Carrier took a moment at the beginning of his Mayor's Report at the Council meeting to mourn the victims of those two incidents. "This violence that has occurred in this country is the most heart-wrenching thing," he said. "We in Dover have to look around, and we have to make sure that we don't support anything like this."
At-Large Councilor Lindsey Williams voiced similar sentiments. "I am hearing from a lot of members of our community who are feeling a really, really heavy weight over what's happened over the past couple weeks, particularly the members of […] the Asian American and Pacific Islanders community," she said, also noting the rise in anti-Asian rhetoric and the need to everyone to speak up when confronted by hateful, incorrect rhetoric. "It has caused me to continue to reflect on where are my blind spots, where do I need to continue to grow as well, and this role in continuing to hold up ourselves individually accountable and as groups as well."
In recent years, the City Council has passed resolutions in support of immigrants and against racism. On Oct. 11, 2017, the City Council passed a resolution "reaffirming the City of Dover's commitment to immigration and cultural diversity" after federal threats of deportation of long-standing members of Dover's immigrant community. Nearly a year later, on July 11, 2018, the City Council passed a resolution for the City Manager to send a letter to Gov. Sununu demanding "the cessation of Customers and Border Protection coercive checkpoints in New Hampshire, and […] the immediate halt to policies that separate or imprison families."
In the wake of George Floyd's death during an arrest in Minneapolis, Minnesota by police, the City Council passed a resolution "condemning racism and affirming City of Dover's commitment to eliminating racial inequities." This resolution led to the creation of the Committee for Racial Equity and Inclusion, which is charged with creating "action plan outlining existing and new steps to be taken to work to eliminate systemic racism in municipal operations, including boards and commissions, and foster a welcoming and inclusive environment for all."
On Thursday, March 30, Dover Police Chief William Breault posted a statement on the department's Facebook page where he voiced his concern about recent anti-Asian violence.  
"I am incredibly saddened by the violence targeting Asian Americans and the anti-Asian bias occurring throughout the country. I am concerned for those in our community who live in fear because of it and may not report issues to the police due to apprehension," Breault said. "Please be assured the Dover Police Department has zero-tolerance for such criminal behavior and thoroughly investigates hate crimes and any unlawful violence. You may contact us any time at 742-4646. We are open 24 hours a day, every day of the year."