Parking Bans
The City of Dover issues parking bans on a storm-by-storm basis. For more information about parking bans, including how to sign up for notifications, visit the parking ban page here: www.dover.nh.gov/government/city-operations/police/parking-bureau/parking-bans.html
Pay Parking Violations Online - TEMPORARILY UNAVAILABLE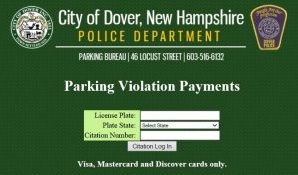 ATTENTION: The online parking violation payment system is unavailable until further notice. Payments can be made by mail or in person at the City of Dover Parking Bureau, 46 Locust Street (back side of City Hall). You may also call 603-516-6132 to pay by phone between the hours of 9:30 a.m. and 4 p.m. There is a 3% surcharge when paying by phone.
All violation due dates will be extended four days to allow for mailing during the time the online system is not available. If you have any questions, please call us at 603-516-6132 or e-mail parking@dover.nh.gov
Motorists can make parking violation payments online through the city's parking management provider, Cardinal Tracking, instead of making a trip to the Parking Bureau or mailing a check. Click here to pay online or visit https://citations.dover.nh.gov/.
A vehicle license plate number and violation number are required to access the system. A $1.50 administrative fee per ticket is added to the process. Printed receipts are provided and the city parking program is immediately updated that the account has been paid.
People receiving a parking citation either on a Friday evening, or over the weekend will need to wait until the next business day for that citation to be available in the online payment system.
For more information, contact the Parking Bureau at 603-516-6132.
Additional Parking Permit Rules
Additional rules for parking permit holders can be found here:
http://www.dover.nh.gov/government/city-operations/police/parking-bureau/parking-permit-information/parking-permits-rules-and-regulations.html
Motorcycle Parking Rules
Motorcycles may share a parking stall, but each motorcycle must have its own meter receipt. Meter receipts should be left on the motorcycle using the area where the seat and gas tank meet or any place a cable may hold it in place. There is a tear-off portion with each receipt that the driver should keep with them in the event the other half is dislodged.
Accessible Parking Regulations

Parking is free for 3 hours per day for vehicles properly displaying a valid accessible parking plate or placard when the person qualified for the plate or placard is going to or from the vehicle. Longer stays require paid parking through the meter or pay-by-phone Flowbird app after the third hour. Misuse of a placard by non-qualified persons is a $250 fine. 
Parking Bureau Available To Help With Disability Parking Questions For Private Lots
The rules for disabled parking requirements for private parking lots can be complicated. The Dover Parking Bureau can help you find answers to most questions.
Contact Parking Manager Bill Simons.
Using Pay by Plate