The City Clerk/Tax Collection Office processes Motor Vehicle registrations for Dover residents.
The information on this website regarding motor vehicle registration is provided as a general guideline. Your personal registration procedure may differ. Any documentation presented is accepted at the discretion of the City Clerk.
Always start at the City Clerk/Tax Collector's office to process a new registration, a renewal registration or transfer a registration.
If you are registering a vehicle you have just purchased or are transferring a registration, you must visit our office to process your transaction.  At this time, only renewals are allowed online.  Please note that when completing an online renewal you will be charged a processing fee by our online service provider.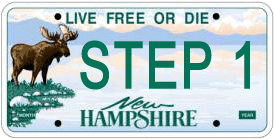 Online Motor Vehicle Registration Renewal

Pursuant to NH RSA 261:148 when renewing a registration you are required by law to present either a current registration or renewal notice.
At this time credit/debit cards are accepted when completing a motor vehicle registration in the City Clerk's/Tax Collection.  Please note there is an additional fee for this convenience.

Sorry, we do not give estimates over the phone. Please click here to get an estimate. To get a fair estimate, make sure to include the vehicle's list price when it was new and the vehicle's gross weight. Please be aware that it is only an estimate.
The Department of Motor Vehicles Substations do not have public phones. Please call the following numbers in Concord for assistance:
|  State of New Hampshire DMV Division |  Phone Number |
| --- | --- |
| Licensing | (603) 227-4020 |
| Registrations | (603) 227-4030 |
| Title Bureau | (603) 227-4150 |
| Financial Responsibility | (603) 227-4010 |
| Driver Education | (603) 227-4075 |
| Motorcycle Training | (603) 227-4025 |
| MV Arbitration (Lemon Law) | (603) 227-4385 |
Use this link to view New Hampshire's Department of Motor Vehicle website.
The City of Dover Tax/Clerk Office now issues passenger, trailer, motorcycle, and conservation plates. You can apply for a vanity plate.  Only the Department of Motor Vehicles can issue a 20-day temporary plate.
Certain plates such as Apportioned, Permanent and Handicap plates can only be obtained at the Concord DMV. Please let the clerk know if you are requesting those plates before the start of the transaction.
Boats, mopeds, snowmobiles and off-road recreational vehicles are NOT registered at the City Clerk/Tax Collector's office.