City of Dover polling locations
The polls will be open from 7 a.m. to 7 p.m. at the Tuesday, Nov. 2, 2021 Municipal Election. 
Dover has the following six polling places: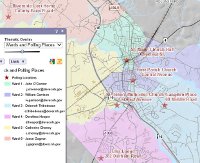 Ward 1 - Horne Street Elementary School, 78 Horne St.
Ward 2 - Woodman Park Elementary School, 11 Towle Ave.
Ward 3 - Parish of the Assumption - St. Joseph's, 150 Central Ave.
Ward 4 - Elks Lodge, 282 Durham Road
Ward 5 - St John's Methodist Church, 28 Cataract Ave.
Ward 6 - Hellenic Center, 219 Long Hill Road
Please click on the image to the right for an interactive Ward Map with Polling Places.

Please note, voters may only vote in the ward where the live. 
Nov. 2, 2021 Municipal Election 
The City of Dover will hold a municipal election on Tuesday, Nov. 2. At the election, voters from all wards will elect the Mayor, two at-large City Councilors, and one at-large School Board member. In addition, voters in each of the six Dover wards will elect a City Councilor and School Board member and election officers, including a Supervisor of the Checklist, Moderator, three Selectpersons, and a Ward Clerk. All elected positions are two-year terms. Click here for more information. 
State of New Hampshire Useful Links