Election Information
Dover has the following six polling places: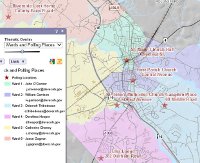 Ward 1 - Horne Street Elementary School, 78 Horne St.
Ward 2 - Woodman Park Elementary School, 11 Towle Ave.
Ward 3 - Parish of the Assumption - St. Joseph's, 150 Central Ave.
Ward 4 - Elks Lodge, 282 Durham Road
Ward 5 - St John's Methodist Church, 28 Cataract Ave.
Ward 6 - Hellenic Center, 219 Long Hill Road
Please click on the image to the right for an interactive Ward Map with Polling Places.

Please note that you cannot change your party affiliation within 90 days before a primary. If you are registered as Undeclared, you will be declaring yourself as a member of the Republican or Democratic Party when voting. If you wish to return to undeclared you can sign the checklist on the way out of the polls, or come into the Clerk's office after the election.
State of New Hampshire Useful Links