posted on: 2/22/2019
During a ceremony at the Children's Museum of New Hampshire on Wednesday, Feb. 20, city officials and other dignitaries unveiled the new 318-panel solar arrays atop the Museum and Dover Indoor Pool.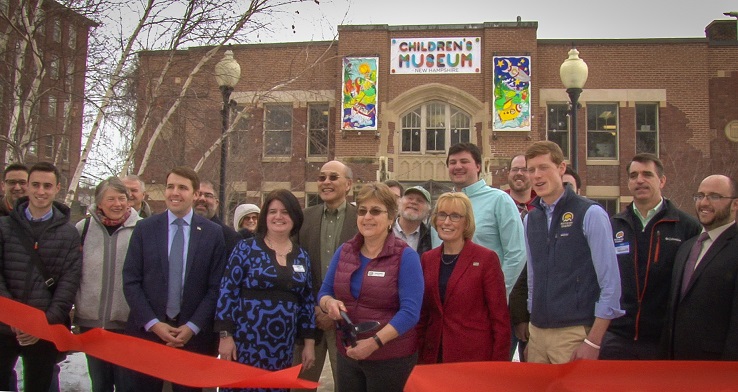 The combined 101.7-kilowatt solar array on the museum and pool roofs will generate approximately 120,000 kilowatt-hours of clean electricity per year and offset more than 126,000 pounds of carbon pollution annually. The system is expected to provide roughly 30 percent of the combined electricity needs of the two facilities, but may rise to 50 percent or more once planned LED lighting and other efficiency upgrades take place. The solar array is projected to save approximately $550,000 in long-term electricity costs.
Among those in attendance at the ceremony were Dover Mayor Karen Weston, Sen. Maggie Hassan, U.S. Rep. Chris Pappas, a representative from Sen. Jeanne Shaheen's office, members of Dover's Energy Commission and Dover Rising Waters Initiative, and representatives from the Children's Museum and ReVision Energy, which donated 103 solar panels for the installation.
The ceremony also featured the unveiling of a mural created by Seacoast Charter School student Sofia Self. The teenager's art project, which was organized by the Dover Rising Waters Initiative, is intended to spark conversations about the effects of climate change.
The ceremony can be viewed on Channel 22 in Dover and online here.