3/23/20:   ALL PARKING REGULATIONS ARE STILL IN EFFECT AND BEING ENFORCED.  
Contact Information:
Parking Bureau
46 Locust Street 
Dover, NH 03820
(603) 516-6132   Email at  parking@dover.nh.gov 
OFFICE HOURS OF OPERATION:
8:30 am to 4:30 pm, Monday through Thursday; 8:30 am to 4:00 pm on Friday.  The Parking Bureau is back on the bottom floor in City Hall.  Enter the door facing Locust Street.
If you are trying to locate your vehicle after it was towed due to interfering with snow removal please call 603-742-4646.
"DOVER PRODUCTION" charge on your credit card?
These are payments made at our meters. For reasons beyond our control, some credit card companies are posting what use to be "CITY OF DOVER" as "DOVER PRODUCTION"
Received a Call or Letter from a Collections Agency?
The City of Dover has contracted with Municipal Services Bureau (MSB) to follow up on overdue parking tickets.   If you received a phone call or letter from MSB and need more information on the underlying violation, you can e-mail us at parking@dover.nh.gov or by calling 603-516-6132.
Accessible Parking Regulations

Parking is free for vehicles properly displaying a valid accessible parking plate or placard when the person qualified for the plate or placard is going to or from the parking space.    Misuse of a placard by non-qualified persons is a $250 fine. 
City of Dover parking system now offers touch-free option
For users who prefer a touch-free option to park downtown, the City of Dover has initiated a Pay-by-Plate program similar to what is available in the parking garage.
When using the garage, drivers can pay at the meters in the garage or use the Flowbird application on a mobile phone. The program, which is now known as Flowbird, works exactly as it did under its previous name, WHOOSH. Those who downloaded the WHOOSH app can continue to use it without issue.
In the garage, open the app and enter your space number to pay for parking. Now, in addition to the garage, you can pay for specific parking lots, as well on-street parking spaces, directly from the app.
The app works in the Belknap, Orchard, First Street, Third Street, Fourth Street, Transportation Center and the Indoor Pool parking lots. All on-street spaces are also included in the Touch-Free Flowbird App.
Once the app is downloaded, set up an account and select a parking lot or the on-street option. The system will send you a text reminder when your parking session is about to expire. You can extend your stay from the app, wherever you are.
The city's parking officers use a cell phone to confirm paid parking.
Flowbird can be downloaded from the Apple App Store or from the Google Play Store.
Updates January 27th 2020
24 hour meter purchase now available in the Orchard Street Parking Garage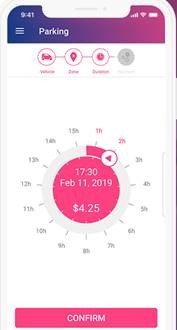 You many now pay for parking in the Orchard Street Parking Garage that will cover both the overnight (2am- 6am) hours and into the following daytime paid parking period (9am – 8pm) .  This is only available through Flowbird APP through your phone.    Previously, you needed to pay for the overnight session and then again for a separate daytime session the following morning.   Now with the Flowbird APP, you can pay after 9 pm any night to pay for the overnight session and all the way to 8 pm the following night (except Sunday when there is no fee to park during the day).    This is only available for spaces 101-278 since spaces 301 and higher are for Permit Parking Only.     
 Once you download the Flowbird APP and create an account, just remember which space your car is in to pay for parking or extend your visit remotely.    The APP will not work between 8 pm and 9 pm each evening to avoid driver's from paying for the overnight session in error. 
September 3rd the Following Changes Will Be In Effect
Meter Hours      9 am to 8 pm
Days of Week    Monday through Saturday (excluding holidays)
The city moved to Progressive Pricing Meter Rates for On-street spaces as well as in the Belknap, Orchard Street and indoor pool parking lots.  The parking garage and Chestnut Street lot (Dover Delight) will remain at the current $1/hr rate and the Transportation lot will remain at $0.25/hr.    
Progressive Pricing Meter Rates
Hours 1 & 2         $1/hr
Hours 3 & 4         $2/hr
Hours 5+             $3/hr 
Progressive Pricing and EasyPark Devices:  The EasyPark device will only allow two hours at the $1/hr rate.  If you use 90 minutes in the morning and shut the device off, but come back at night, it will continue at the $1/hr rate only for the remaining 30 minutes, then move to the $2/hr rate and so on.  Turning the device off and on does not reset it.   Resets happen at midnight each evening.
ORCHARD STREET PARKING GARAGE
Effective June 1st, parking permits will only be valid in spaces numbered 301 and higher.   
Pursuant to City Ordinance 166-3, the garage will remain metered parking on all floors until the Orpheum Apartments open in the fall.   At that time, the upper floors will become PERMIT PARKING ONLY. 
ELECTRIC VEHICLE CHARGING STATIONS ADDED TO ORCHARD STREET PARKING GARAGE
The Electric Vehicle Charging (EVC) wall units are on the second floor in the northeast corner of the garage just above the interior entrance to the police station.  Two wall units are dedicated Tesla units and two are universal stations that can be used by any non-Tesla plug-in electric vehicle.  The four units will be shared among three parking spaces to allow for several combinations for universal and Tesla vehicles. 
The spaces are paid for through the regular Pay by Space meter system used throughout the parking garage.  The rate is $2.00/hour, with a four-hour limit. Permit are not valid in these spaces.
MCCONNELL CENTER LIBRARY/LIBRARY PARKING LOT
Under the authority of City Ordinance 166-3, parking in the McConnell Center/Library lot is limited to use by persons actively using either facility between the hours of 8 am and 7 pm, weekdays.   There is a 3 hour limit in place except for vehicles displaying a valid permit. 
FIRST STREET PARKING LOT OPEN
The lot behind Oriental Delight is open for Public Parking.  The lot is metered using the adjacent meters on the street.   There is no short visit exception (no need to pay the meter for visits less than 15 minutes) for this parking lot or any other parking lot/garage; that is only available for on-street parking.  Permits are allowed in the lot during the day/evening hours, but there is no parking allowed between the hours of 11 pm and 6 am. The regulations for this parking lot are authorized under by City Ordinance 166-3.
ORCHARD STREET GARAGE REGULATIONS
DAYTIME REGULATIONS (no changes)
Metered parking in any space 9 a.m. to 8 p.m. Monday-Saturday (except legal holidays).
Permits are only valid in spaces numbered 301 and higher
Permits are not valid in the Electric Vehicle spaces.   Meter must be paid and time limits followed. 
OVERNIGHT REGULATIONS   (2 am to 6 am – 7 days a week)
Spaces 101-278 may be used for single night visits for $1.00 per hour through the meters or through the "Whoosh" phone APP after 8 pm each night.
PERMIT PARKING ONLY in spaces 301 and higher, no meter option.
Permits are not valid on first floor (spaces 101-278)
Permits Options:
24 hour permit - $50/month
Current Notices  
Two Public Parking Areas Reopened: 
Third Street Parking Lot:   15 spaces facing the railroad tracks.  Enter from Central Avenue.   Meters are on islands on either end.  $1/hr.    Remaining spaces should open up in the next several weeks. 
Locust Street:  10 spaces next to the Orpheum Apartments. 
Motorcycle Parking Rules:  Motorcycles may share a parking stall, but each motorcycle must have its own meter receipt.   Meter receipts should be left on the motorcycle using the area where the seat and gas tank meet or any place a cable may hold it in place.  There is a tear off portion with each receipt that the driver should keep with them in the event the other half is dislodged.  
Parking Holidays
| | |
| --- | --- |
| January 1st  | New Year's Day |
| January 20th | Martin Luther King, Jr. Day |
| February  17th | Presidents' Day |
| May 25th | Memorial Day |
| Saturday, July 4th | Independence Day |
| September 7th | Labor Day |
| October 12th | Columbus Day |
| Wednesday, November 11th | Veteran's Day |
| November 26th | Thanksgiving Day |
| November 27th | Plaid Friday |
| Friday, December 25th | Christmas Day |

Key Points of the meter system:
A meter receipt purchased at any On-Street location, Orchard lot, Belknap Lot and Indoor Pool lot can be used at any other metered on-street or parking lot location.  If you want to use it in the parking garage, please display your receipt as you would on the street. 
Meters accept credit cards (MasterCard, Visa and Discover) as well as any coin. No dollar bills.
Downtown parking is free for stops LESS THAN 15 MINUTES for ON-STREET SPACES ONLY.
Don't forget to display your meter

receipt

on your dashboard.
Discount tokens are available at the Dover Parking Bureau, Harvey's Bakery, and the Dover Chamber of Commerce. A bag of tokens cost $5 and comes with 24 tokens.  Each token is worth the equivalent of $0.25 which comes out to $6 worth of tokens for $5.  
INSTRUCTIONS FOR TRANSPORTATION CENTER METERS
Overview
The mission statement of the Dover Parking Bureau is to promote the safe and orderly flow of vehicle traffic by supervising all municipal parking lots and public parking areas in the downtown business district, and by enforcing all appropriate parking related laws and ordinances
The Parking Bureau is responsible for maintenance of all city parking meters and is responsible for collection of all permit, meter, and fine revenue for deposit into a special City account.

Any questions on parking issues or parking permits may be directed to the Parking Bureau at 603-516-6132 Monday through Friday between the hours of 8:30 am and 4:00 pm