Welcome to the Department of Planning and Community Development
In Dover, Planning and Community Development is administered by the Planning Department. The department has worked to implement changes to the land use regulations, which are geared toward promoting smart growth. This type of growth looks to balance environmental needs with human/economic needs. 

Using the Web, we hope to serve you in the best possible manner. If we can be of service, please do not hesitate to call or email our office.
Recreation Chapter of the Master Plan Update
The City is updating its Recreation Chapter of the Master Plan. 
Presentation: Recreation Chapter Steering Committee Meeting #3 
For more information or questions, please contact City Planner Donna Benton at d.benton@dover.nh.gov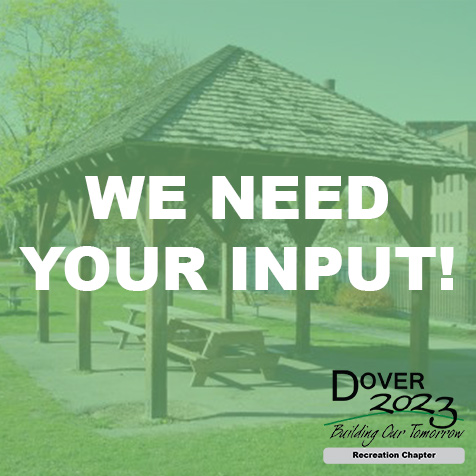 View the FY21-26 Capital Improvements Program here
View the Report of the Rezoning Committee's review. 

FY2020 CDBG Action Plan

FY18 CDBG CAPER
Read our blog: here |Like us on Facebook: here | Follow Us on Twitter here
---
Land Use Regulations 
Interested in developing in Dover?
We have created a handbook in Dover to assist property owners and developers in developing and redeveloping their property. View it here.
The City of Dover's land use regulations can be found in the following chapters of the City Code:
Chapter 149, Site Review Regulations. View online here.
Chapter 155, Subdivision of Land. View online here.
Chapter 170, Zoning. View online here.
Mission Statement
To facilitate the process of determining Dover's long-range development goals and advocate the implementation of these goals once they are established with particular emphasis on economic development; to serve the public as a source of information and data about the community; to develop and fairly administer regulatory processes that apply to development and construction with an emphasis on assisting the public, and to provide expertise for special projects with emphasis on GIS, economic development, transportation and land use.  
Major Service Responsibilities for the Planning Office
Maintain and implement the City's Master Plan
Maintain and administer the approval process for development and subdivision of land 
Staff the Planning Board, Conservation Commission, Zoning Board of Adjustment and City Council for their respective land use and development issues
Serve as an information source on the City and development process for the public, City departments and applicants
Represent the City on regional and state committees and projects
Conduct research and grant writing
Conduct special projects as assigned by the City Manager or any of the City's Boards and Commissions  
Boards Served
Planning Board
Cochecho Waterfront Development Advisory Committee
Community Trail Advisory Committee
Conservation Commission
Energy Commission
Open Lands Committee
Transportation Advisory Committee
Planning Department Documents
Click here to view a list of all Planning Department documents.
Planning Department Forms