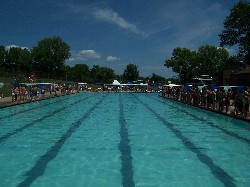 Introduction 
The Jenny Thompson Outdoor Pool is a 50-meter competition pool located at 110 Portland Avenue next to the Dover Ice Arena. This pool is mainly used for competitive and recreational swimming as well as occasional lessons during the summer. The Jenny Thompson pool is a favorite destination of many summer camps during the hot summer months as the pool also has a large grassy area for kids to play on. Opening near the end of June, the Jenny Thompson Pool hosts many regional swim meets during the summer including USA Swimming sanctioned meets. The Jenny Thompson pool is a wonderful place to spend those hot summer days. The pool is closed for various days throughout the summer for swim meets - please feel free to call or stop in with questions!

Services Provided
Schedule - effective August 5th

If you are interested in booking an event or scheduling groups, please contact Michael Arsenault at 516-6427 or via email.

Were you interested in the Dover Indoor Pool? Click here to learn more!

Contact Information
To contact the Jenny Thompson Pool during the summer months, call (603) 516-6085. During the off-season, the staff at the Indoor Pool can help answer your questions, and can be reached at (603) 516-6441.

To email Michael Arsenault, Aquatics Supervisor, click here.