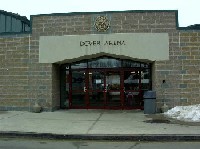 What's New!

Adult programs - summer dates!
More public skates & stick practice times!
PLEASE NOTE:  We will be closed 5/17 - 7/4/2017.  The office will be open during that time Monday - Friday from 8am - 4pm with the exception of 5/29 & 7/4.
Introduction

Welcome to the Dover Arena website. We provide the recreational activities of public skating, hockey, youth programs and special events throughout the year.

The Dover Arena, located at 110 Portland Avenue in Dover, New Hampshire, is the home facility for Dover Youth Hockey, the Great Bay Figure Skating Club, and six local high school teams.

What we offer
Click on any of the links to the left to learn more about what we offer.

If you would like to find out about available ice time, please contact the Arena Facility Manager, Pat McNulty via e-mail.

If you are looking for information on Dover Youth Hockey, please click here. If you are looking for more information on Great Bay Figure Skating Club, please click here.

Can't find what you're looking for? Call us at (603) 516-6060!