Officer Joe Caproni on Rasa during a recent visit to Maple Suites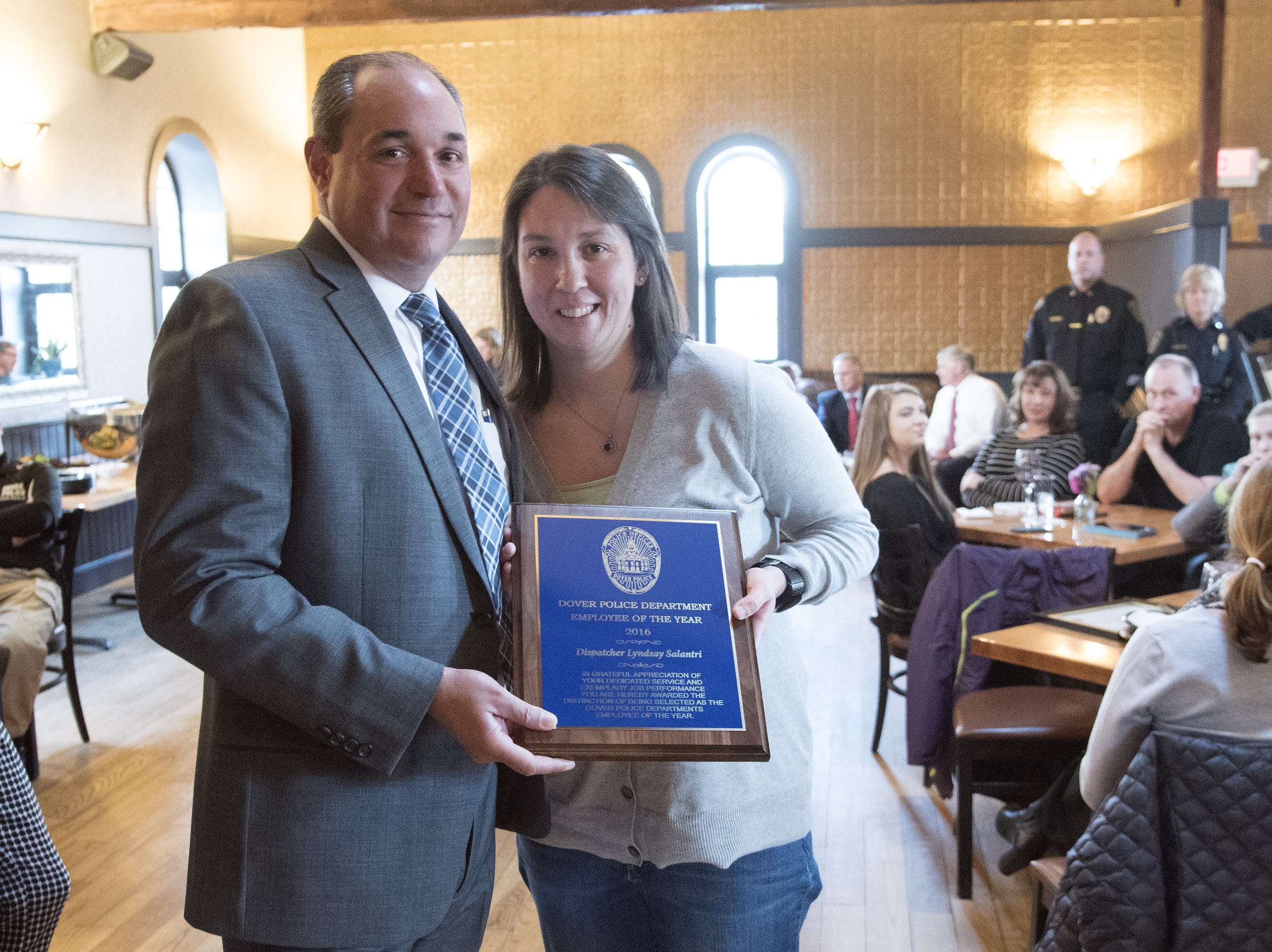 Chief Colarusso with Employee of the Year, Lyndsay Salantri the 2016 Employee of the Year.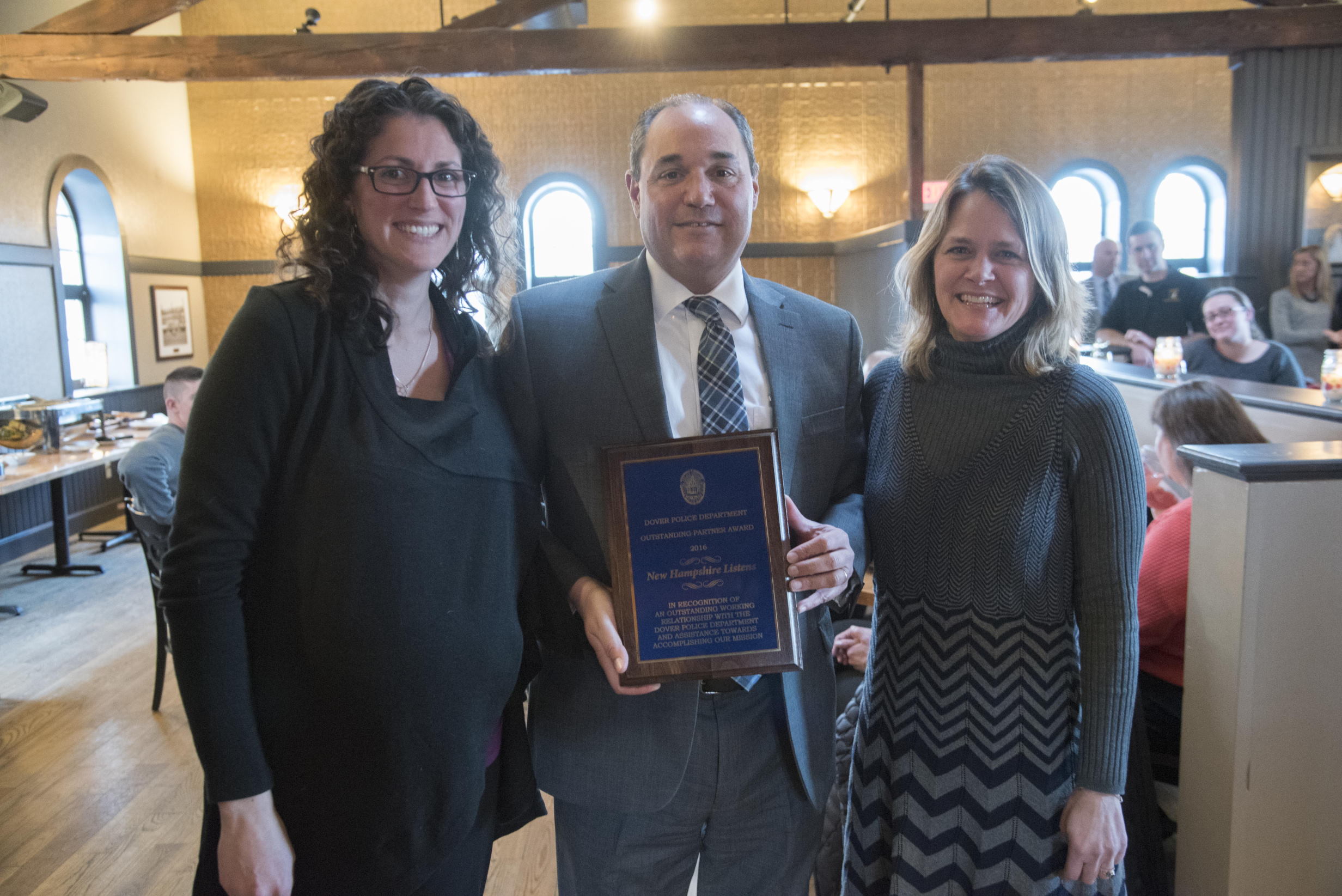 Chief Colarusso with Alison Webb and Michele Holt Shannon of NH Listens, the 2016 Dover Police Department Outstanding Partner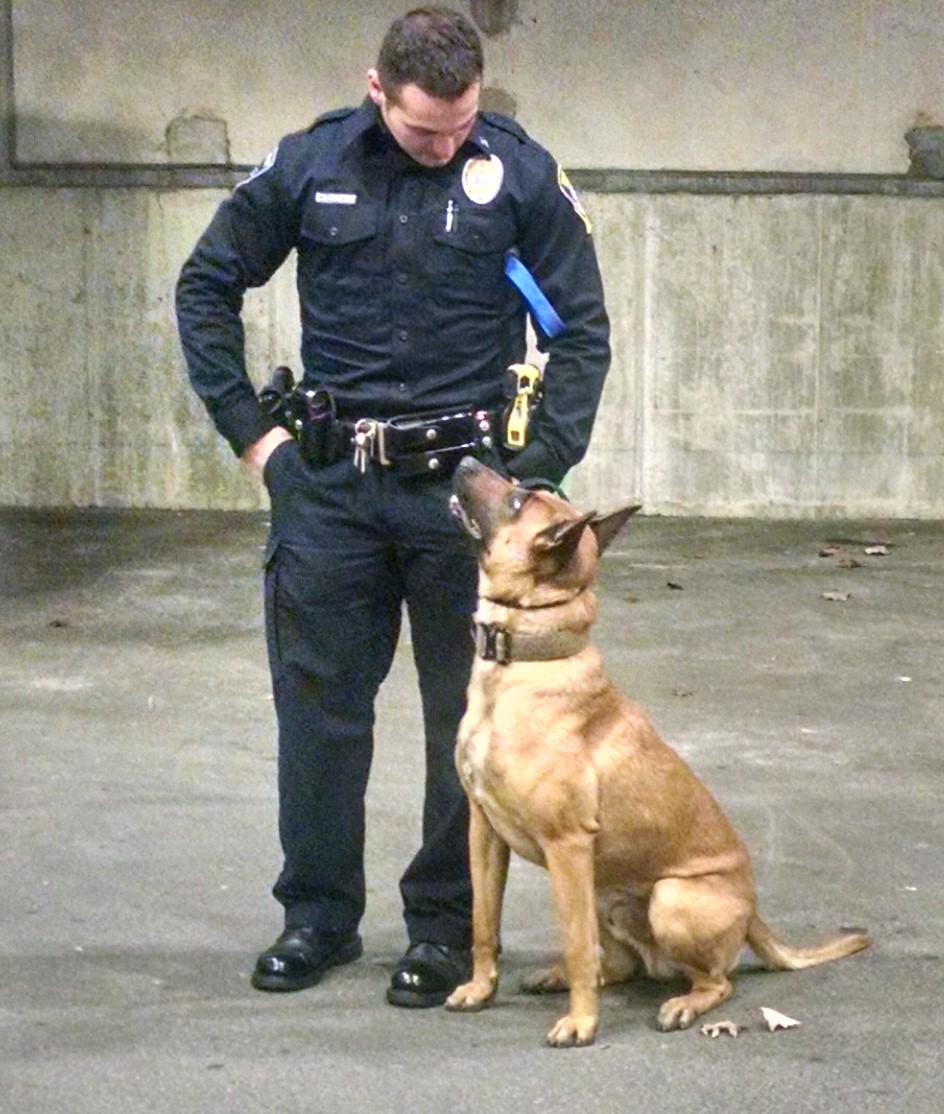 K9 Barco is anxiously awaiting instructions from his handler, Officer Matt Brown.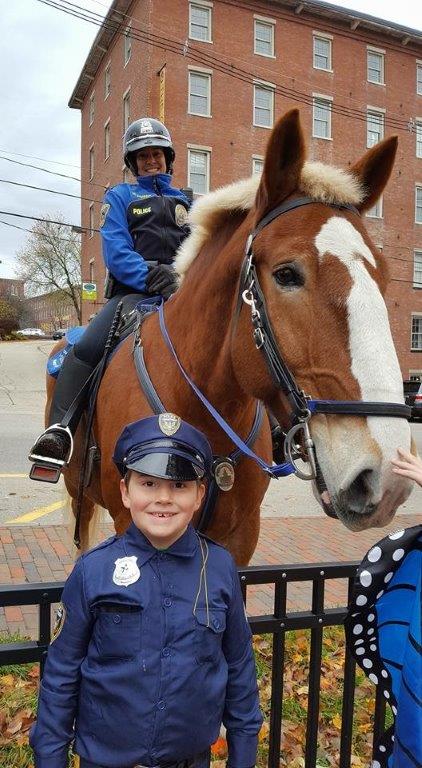 Officer Michelle Murch and CJ pose with an aspiring  police officer during Dover's 2016 Downtown Trick or Treat event.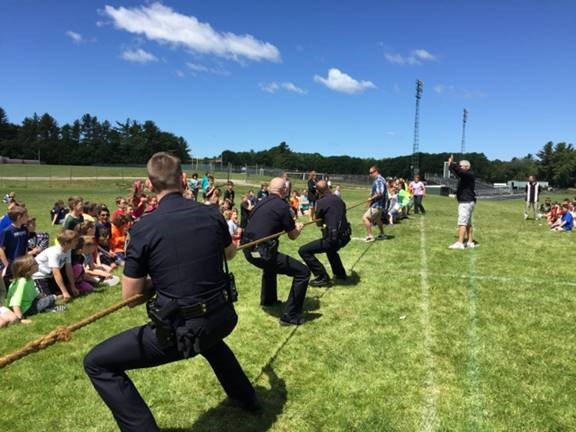 On June 14, 2016, DMS Resource Officer Pieniazek (not pictured) along with Officers Kennedy, Lazos, and Glowacki competed in an annual Tug of War contest with the fifth grade homeroom that had eliminated all of the other homerooms in earlier contests.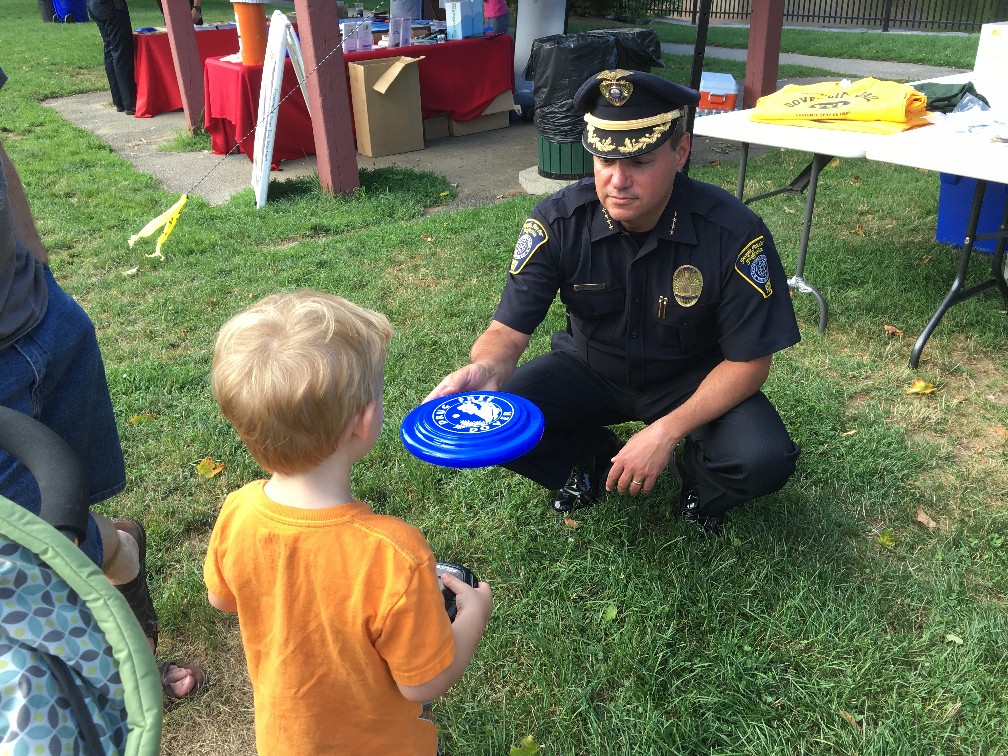 Chief Colarusso offers a Drug Free Dover Frisbee to a child during National Night Out on August 2, 2016.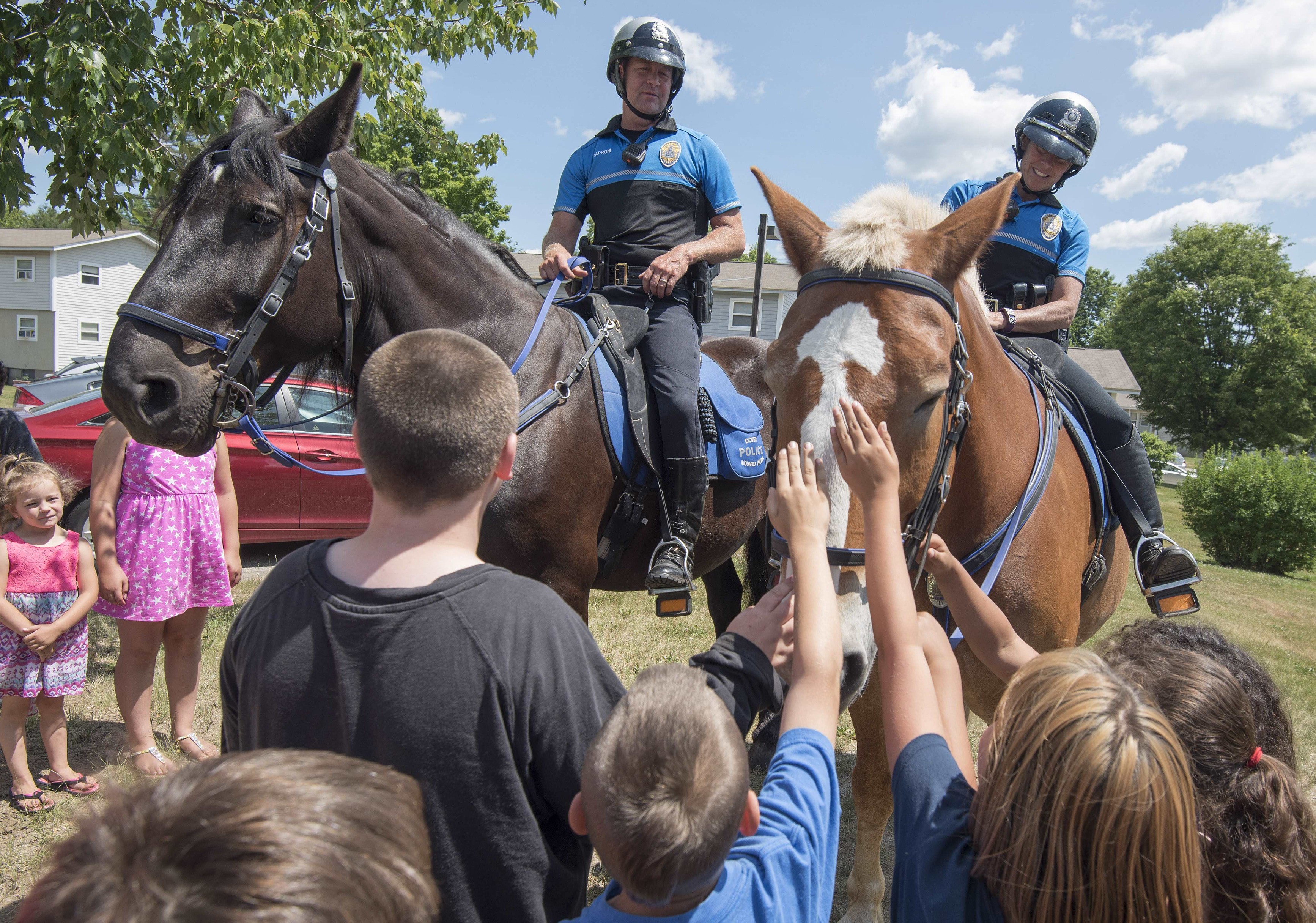 Officers Murch and Caproni greet children during the Summer Meals Kickoff event held at the Dover Head Start facility on Whittier Street in June of 2016.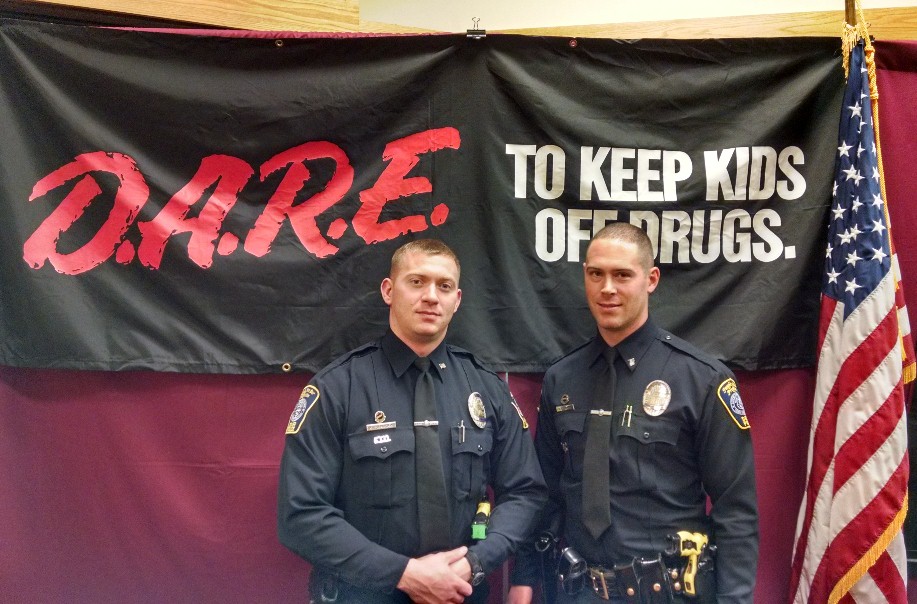 Officers Chris Pieniazek and Chris Plummer pose for a picture after graduating from DARE Officer Training on December 13, 2015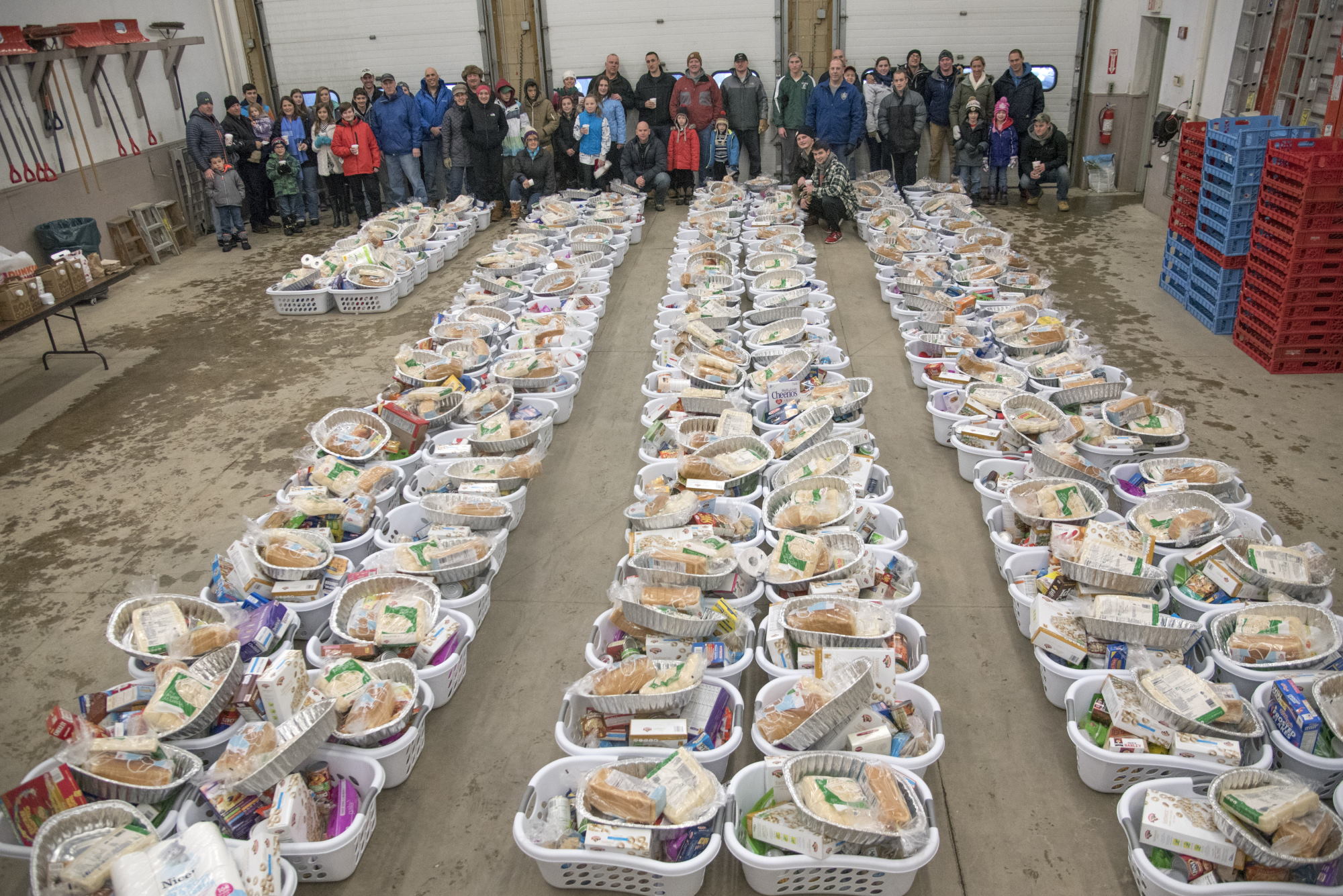 Dover Police Department employees and their families pose for a photo with the baskets they are about to deliver on December 2016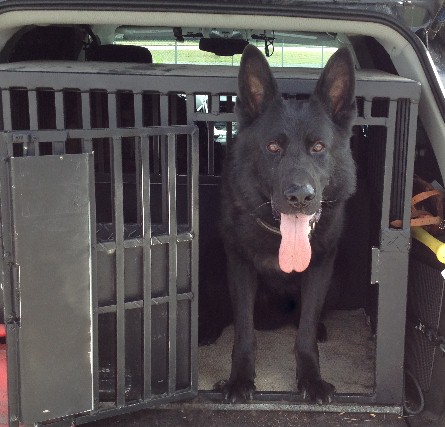 K9-Grinko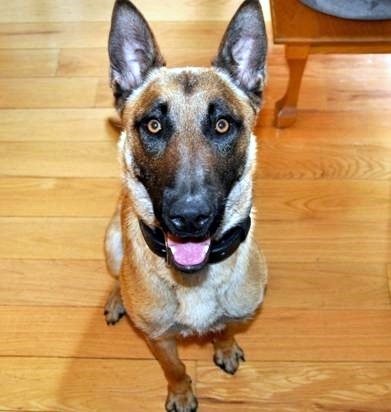 Barco is a Belgian Malinois and is the newest four-legged member of the Dover Police Department.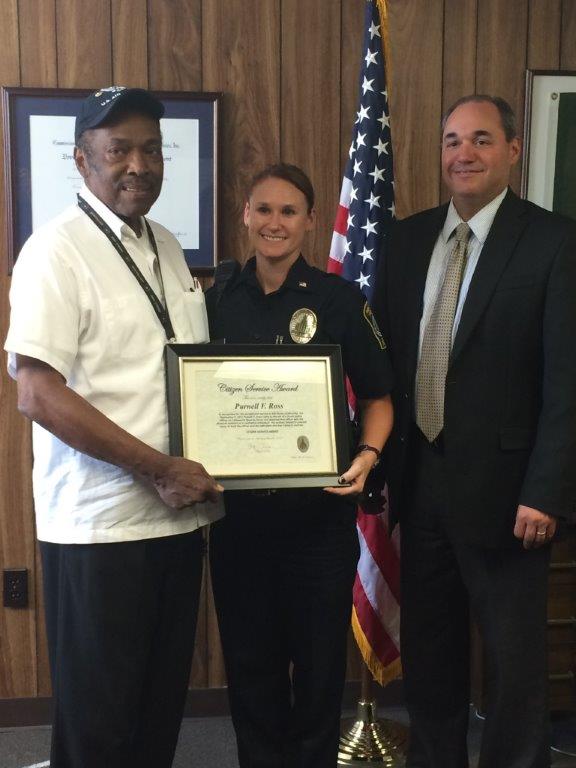 On September 18, 2015,  Purnell "Fred" Ross was presented with the Dover Police Citizen's Service Award by Chief Anthony F. Colarusso, Jr.  for assisting Officer Brynn Dunne as she attempted to restrain a woman who had run into oncoming traffic on August 28, 2015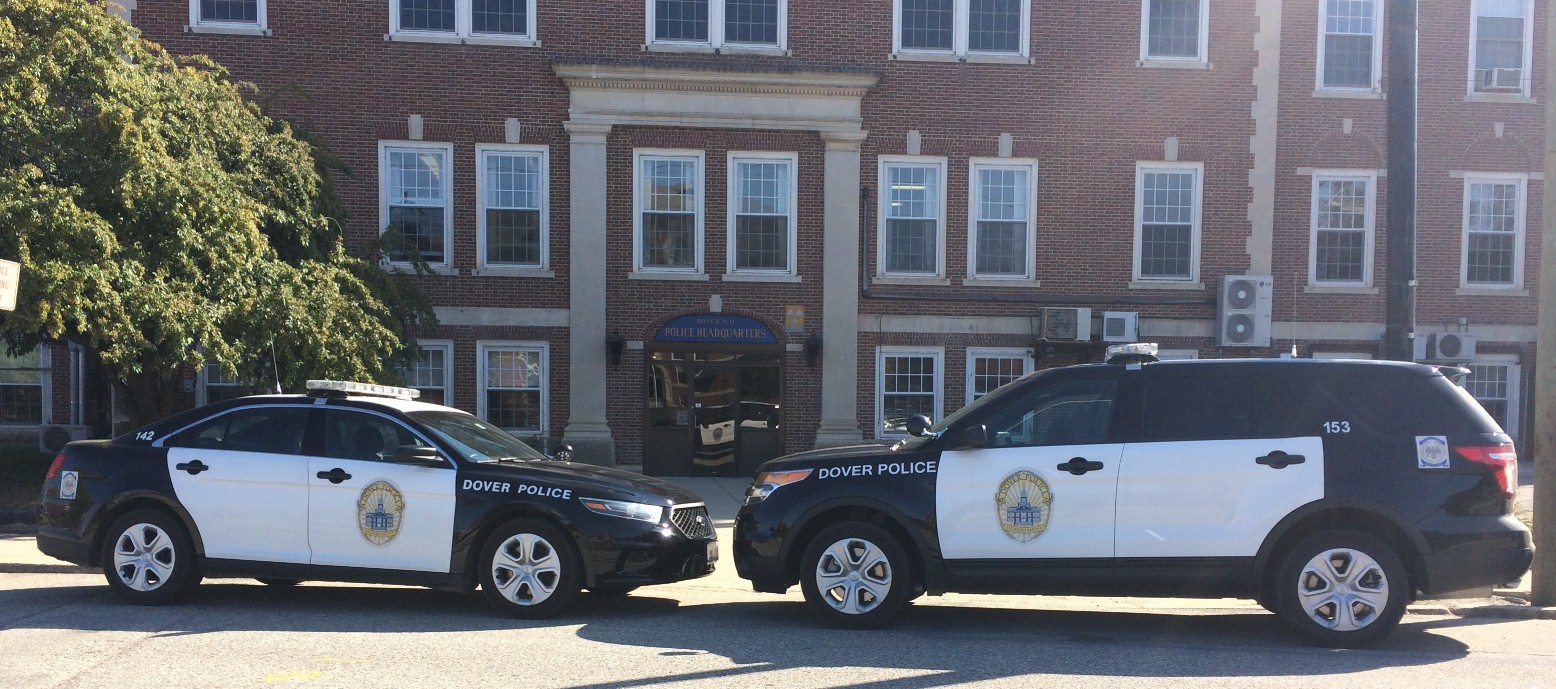 The fleet of cruisers used by the Dover Police Department are Ford Interceptors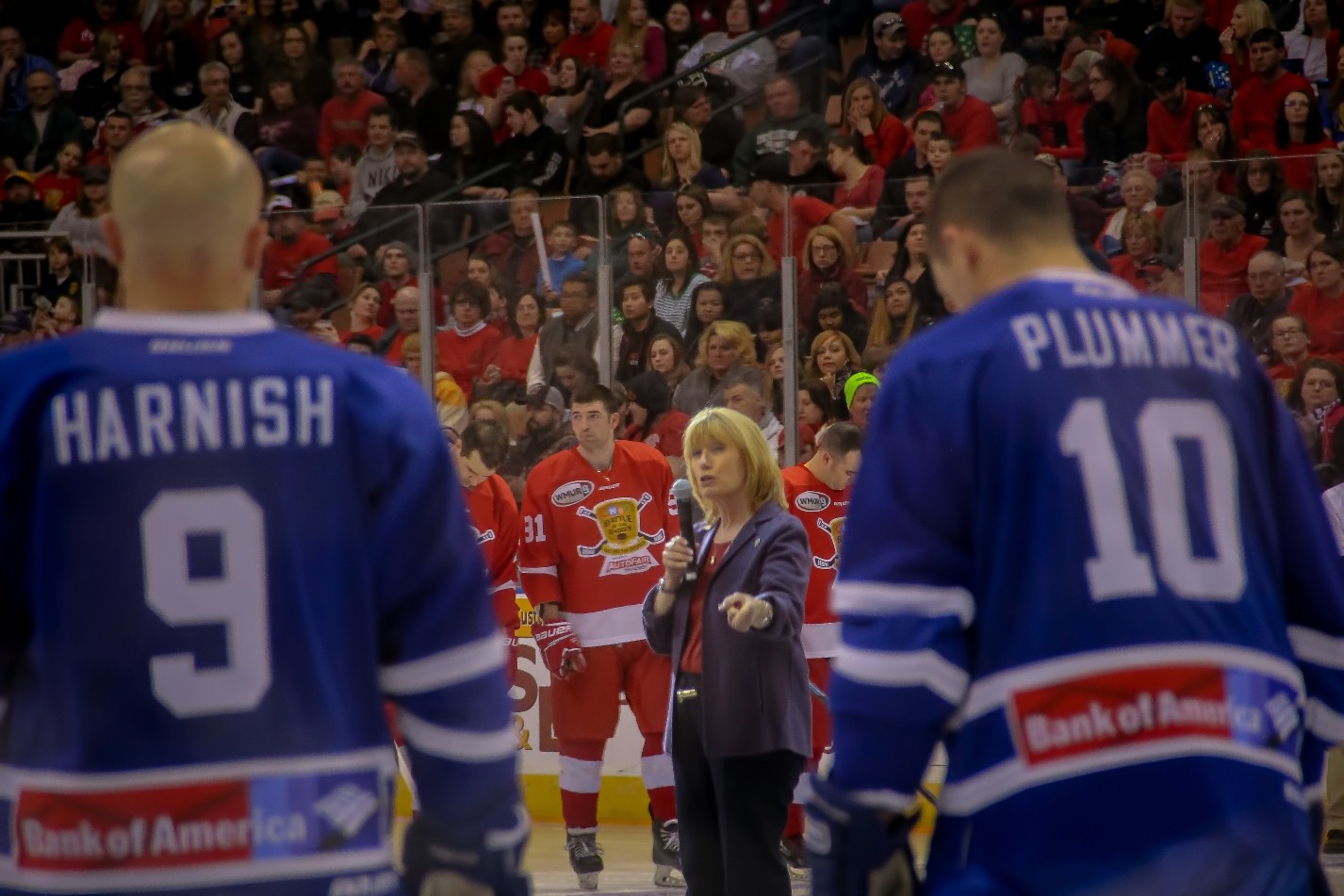 Officers Harnish and Plummer listen to Governor Maggie Hassan prior to the start of the 2015 CHaD battle of the Badges hockey game at the Verizon Wireless Arena.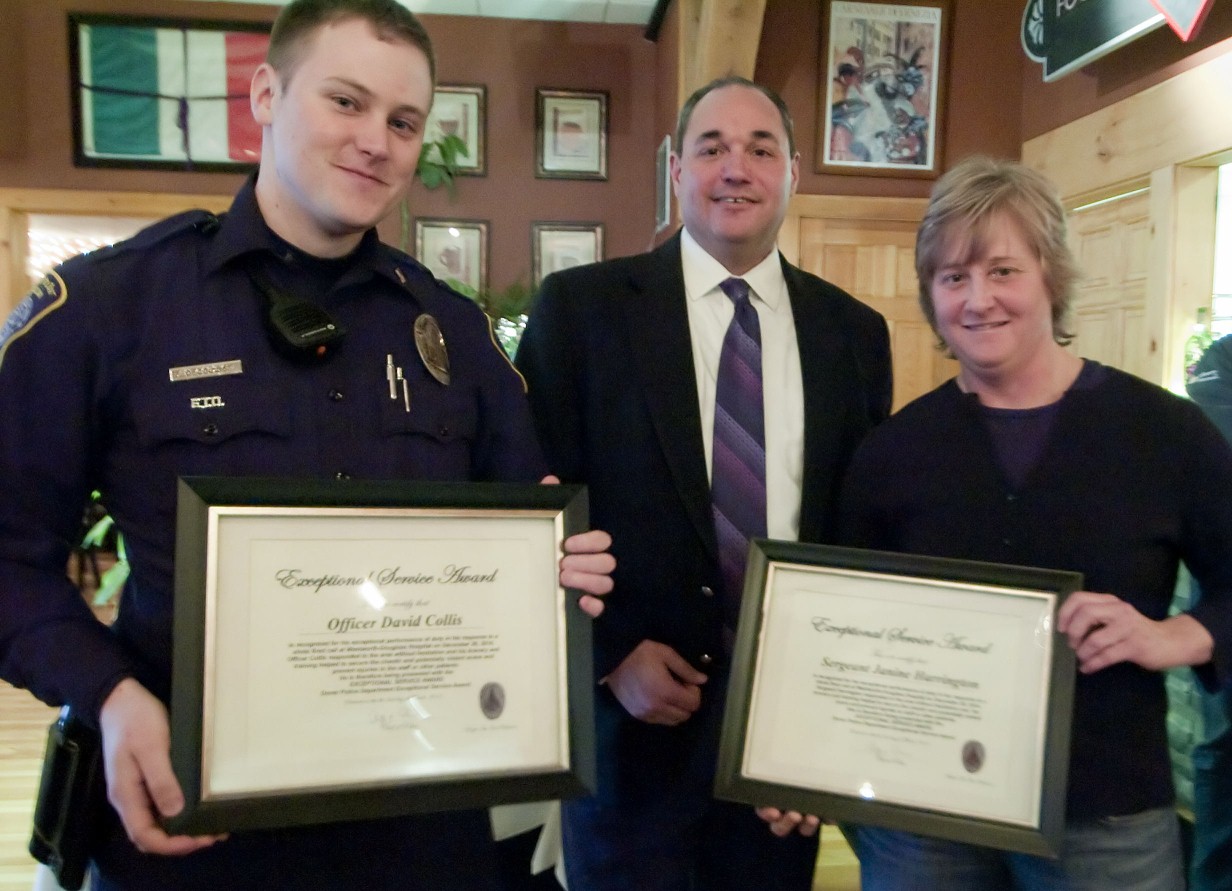 Officer David Collis and Sergeant Janine Harrington both received Exceptional Service Awards at the 2014 Employee Awards Banquet.  The recognition is for their response to the December 30, 2014 shooting at Wentworth-Douglass Hospital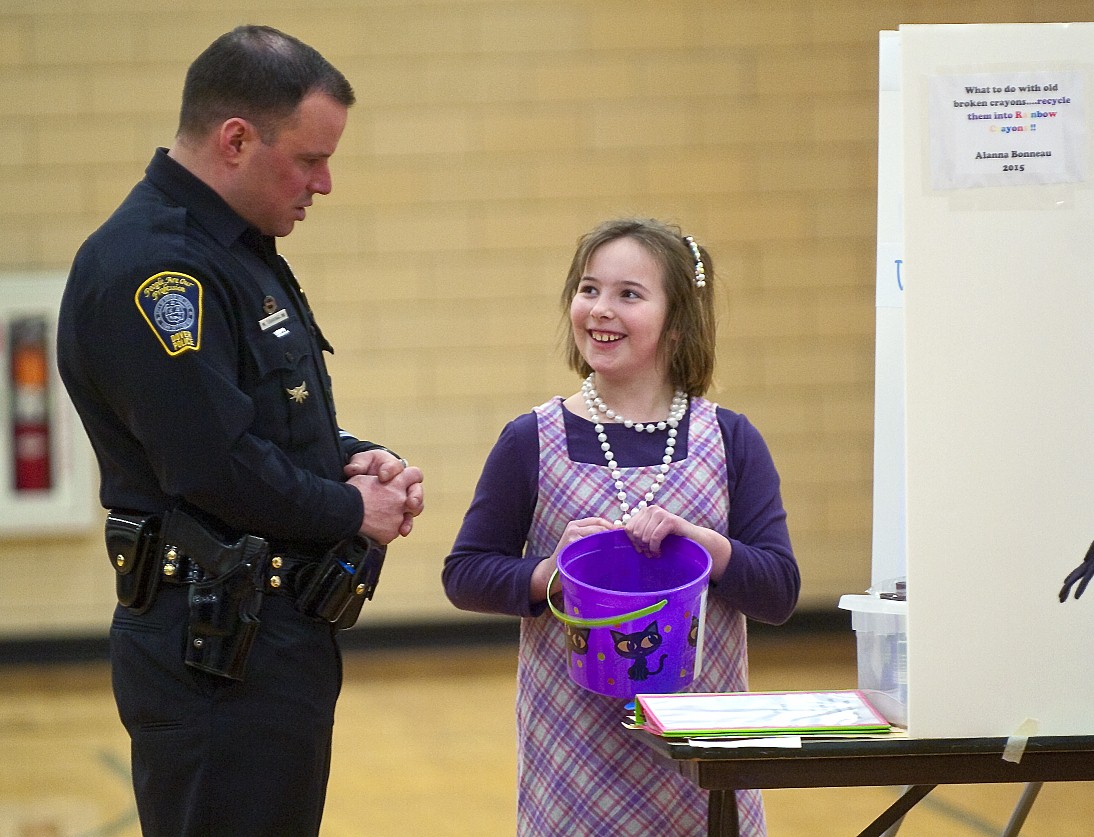 Detective Matt Travaglini listens as a Woodman Park School student describes her invention during the school's 2015 Young Inventors Competition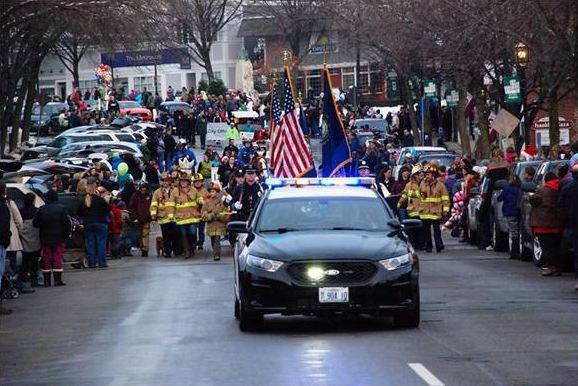 Dover Police lead the annual City of Dover Holiday Parade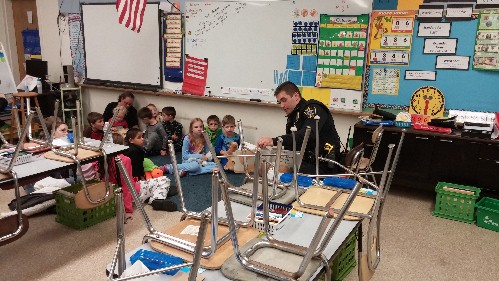 Officer Adam Gaudreault reads to children at the Garrison School during the school's "Fall Into a Good Book" literacy event.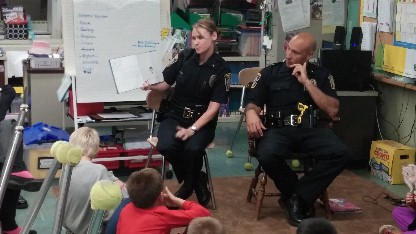 Officers Brynn Dunne (left) and Jason Feliciano read to children at the Garrison School on October 9, 2014 during the school's "Fall Into a Good Book" literacy event.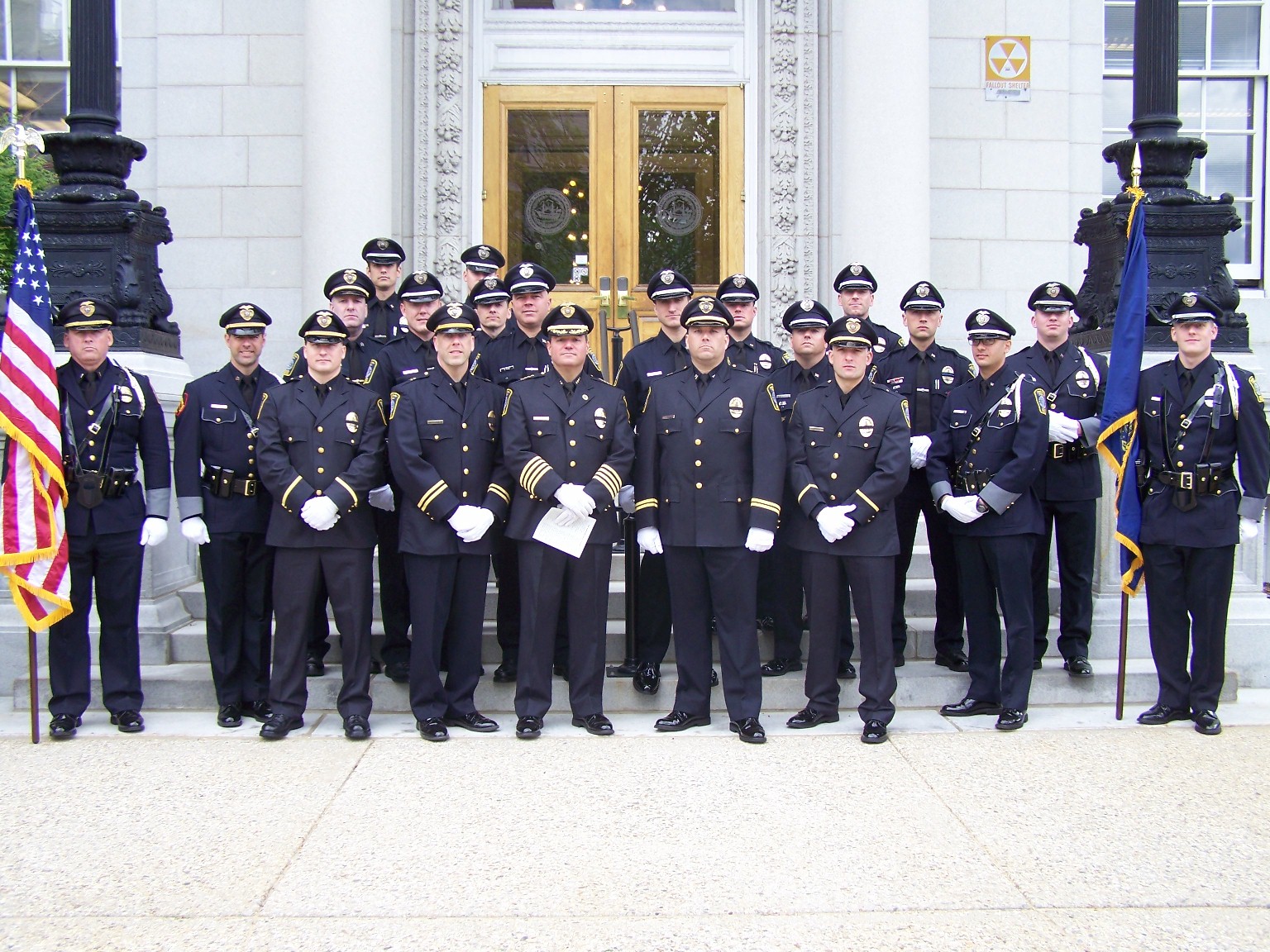 Several members of the Dover Police Department including Chief Colarusso gathered at the NH Law Enforcement Memorial for the annual ceremony.  Dover Police Department Special Officer George Pray who was killed in the line of duty in 1888 was honored for the first time at the event.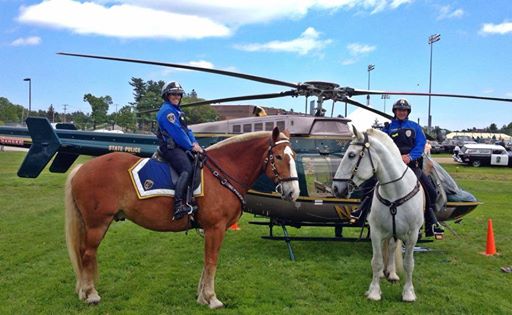 Dover Police Mounted Patrol Officers Murch and Caproni pause while assisting with the 2014 Special Olympics Summer Games to pose for a photo with the NH State Police helicopter.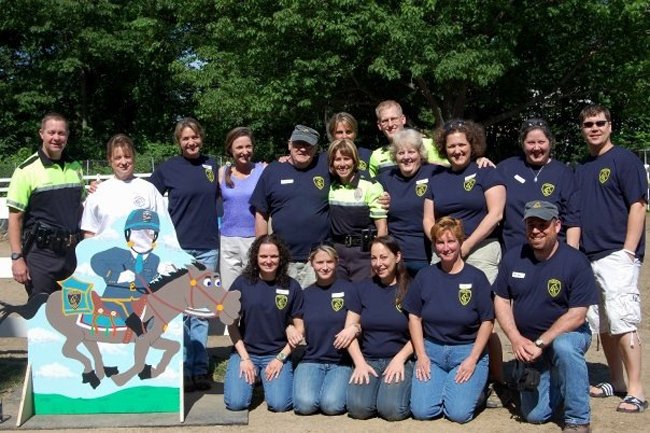 Dover Mounted Patrol Volunteers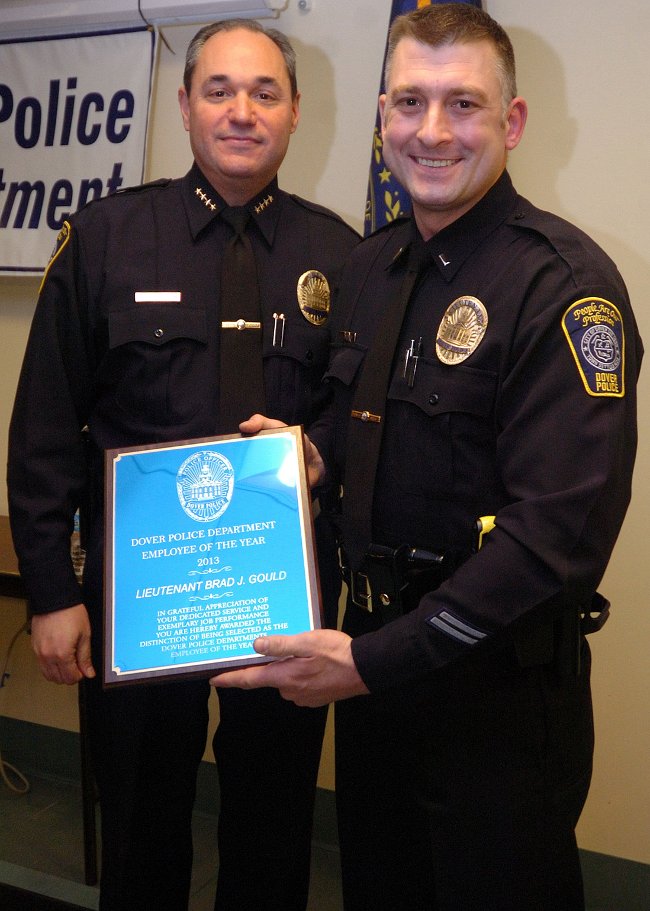 Chief Colarusso with Lieutenant Brad Gould, the 2013 Dover Police Department Employee of the Year.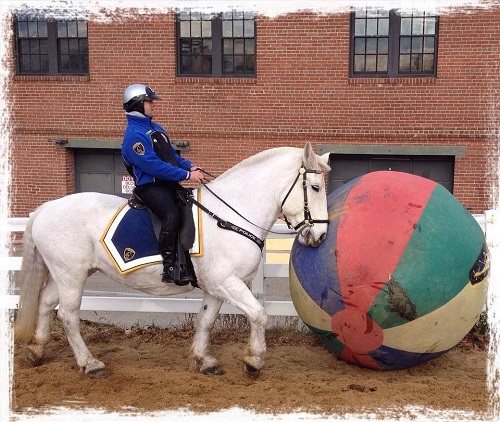 Officer Caproni and Monty participating in training at Boston Park Rangers facility in Franklin Park in December 2013.