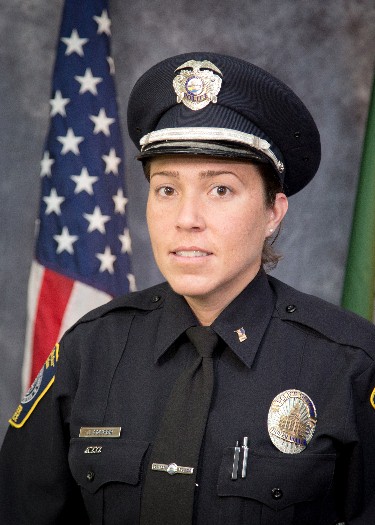 Officer Juel Cooper
Officer Cooper has worked for the Dover Police Department since 2010, bringing many years of law enforcement experience with her from the Colorado Springs Police Department.  Officer Cooper was nominated for the award by her supervisor, Lieutenant Martinelli, stating:
Officer Cooper has worked for me six of the last twelve months.  During that time, she has done an excellent job for me.  She is quick and efficient in handling her calls for service then completes reports in a thorough manner.  She rarely requires assistance as she has a complete grasp of her position as a Patrol Officer.
Also, Officer Cooper does an excellent job in field training.  It is uncommon for such a senior officer to still be training new officers; however, Officer Cooper appears to really enjoy the task.  In recent months, as a result of our significant number of new hires, she has had to train many new officers for several weeks in a row.  There have been times where she has had to change her shifts to accommodate training, which she did without complaint or hesitation.