posted on 9/21/2022
Dover Mayor Robert Carrier celebrated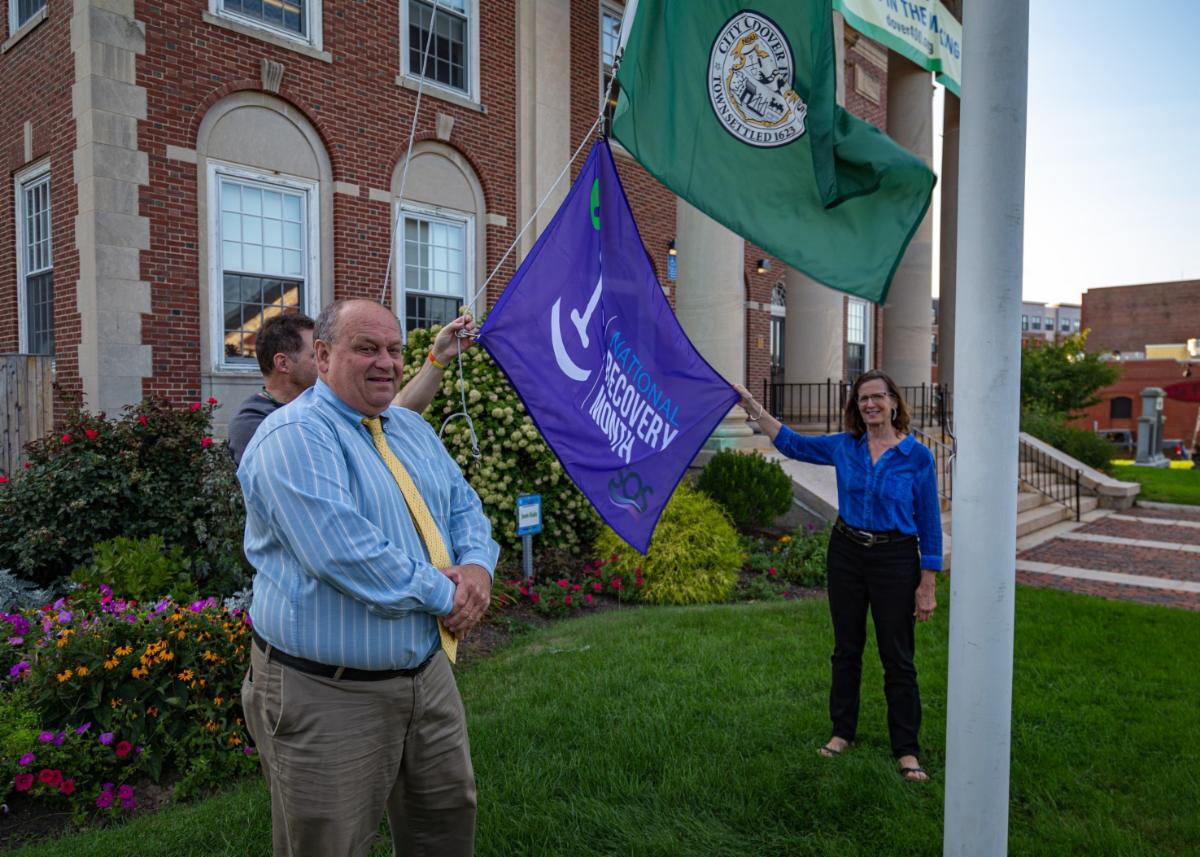 National Recovery Month by raising the National Recovery Month flag in front of City Hall on Wednesday, Sept. 14. He was joined by Eileen Lawton, a recovery friendly workplace coordinator with SOS Recovery Community Organization. The City Council recognized Recovery Month after the flag-raising with a proclamation.
National Recovery Month has been held every September since 1989 to celebrate sobriety and recovery and promote and support evidence-based treatment and recovery practices. SOS Recovery Community Organization held its fourth annual Recovery Rally at Henry Law Park on Saturday, Sept. 10, which included speakers, exhibitors and family-friendly activities.
Resources for those seeking and continuing recovery
SOS Recovery Community Organization: A collaboration of peers in recovery from substance misuse and their allies working together to create safe spaces and peer-based recovery supports throughout Strafford County. SOS and its Recovery Community Centers exist to bolster and grow the local recovery community through recovery coaching, crisis response, telephone recovery supports, meetings and workshops, support for all pathways to recovery, organized advocacy, partnerships with diverse community organizations, and volunteerism and social events and active activities. SOS has numerous locations; Dover's is located at 4 Broadway. Website: straffordrecovery.org. Phone: 603-841-2350.
Community Access to Recovery: Community Access to Recovery is a partnership of the Dover Police Department and SOS Recovery Community Organization. Those seeking help can visit the Dover Police Department headquarters or any Dover Fire Department stations 24 hours a day, seven days a week. After a brief intake, a police officer will provide transportation to the Doorway at Wentworth-Douglass Hospital or SOS Recovery Center to meet with a trained recovery coach to help them navigate treatment options and recovery support systems. Website: www.dover.nh.gov/government/city-operations/police/community-access-to-recovery/
The Doorway at Wentworth-Douglass Hospital: The Doorway provides a single point of entry for people seeking help for substance use, whether they need treatment, support, or resources for prevention and awareness. In addition, 24/7 access to services is also available by dialing 211 in New Hampshire. Dover location: 789 Central Ave. Website: www.thedoorway.nh.gov/doorway-operated-wentworth-douglas-hospital
Triangle Club of Dover: A meetinghouse and community for peer-driven recovery support groups, providing hope and support every day of the year since 1984. The Triangle Club offers individuals, families, and friends struggling with a substance use disorder or its impact a place to meet, share, and recover. Dover location: 120 Broadway. Website: www.triangleclubdovernh.org. Phone: 603-742-9803.
Dover Mental Health Alliance: An organization that envisions a culture that embraces and addresses the complexities of mental health in Dover. Its mission is to build a resilient community that is educated, responsive and conscious of the impact of mental illness. Crisis lines: (800) 273-TALK (8255); Non-crisis line: (800) 242-6264. Website: www.facebook.com/DoverMHA/.