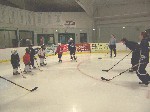 Youth Intro to Hockey
Please note: This is not a learn to skate program, basic skating skills are required.
Program designed for children ages 5-13 who have had Beginner Skating Instruction. Children will receive instruction on basic concepts of stick and puck skills along with skating skills as they relate to the game of Hockey. Qualified adult instructors. Skaters are in small groups based on ability. Full equipment required.
Summer Session:  July 9 - August 20, 2018 (Mondays)
Times:  6:00-6:50pm
Cost:  $150/7 skates
Dates:  April 2 - May 14, 2018 (Mondays)
Times:  6:00-6:50pm
Cost:  $150/7 sessions
Registrations are limited - please note:  This is not a Learn to Skate program!


Spring 3-on-3 League
The Dover Arena has started registrations for the spring 3 on 3 youth hockey league.  This is a fast paced game, not for the novice skater.  We recommend at least 1 year of organized youth hockey before signing up.  This program is designed so players can enhance their individual skills in a fun filled environment.  More ice time equals improved skating, puck handling, passing, and shooting skills!  Because of the offensive focus in 3 on 3, goalies will face many more shots than in a 5 on 5 game.  This will improve goalie skills for the regular season.  All players must sign up individually, teams will be chosen by the Arena to best ensure parity.  During the first three games players may be traded to ensure parity.

Check our website for information on rosters and schedules about 2 weeks prior to the program starting.  Space is limited so please register early.
Dates: March 29 - May 11, 2018
Squirts and PeeWee/Bantams play Thursdays
Mini Mites and Mites play full ice games Fridays
Rosters
Schedule
Cost:  $150 for each participant including goalies
Brochure

For more information, please call (603) 516-6060.