Disclaimer
The Dover Public Library website offers public access to a wide range of information, including historical materials that are products of their particular times, and may contain values, language or stereotypes that would now be deemed insensitive, inappropriate or factually inaccurate. However, these records reflect the shared attitudes and values of the community from which they were collected and thus constitute an important social record.
The materials contained in the collection do not represent the opinions of the City of Dover, or the Dover Public Library.
The Cloth Manufacturing Process--1. Opening


By Robert B. Marnoch, Overseer of Carding, No. 1 Mill

Cocheco Chats, June 1921


If cotton is not in proper condition, that is, not too wet or too dry, when baled , the process of compressing it into bales does not damage it. The cotton is put up in bales so that it will take up the minimum space in transit to the mills. Cotton fibre is tubular and too much compressing will flatten the fiber and thus injure it.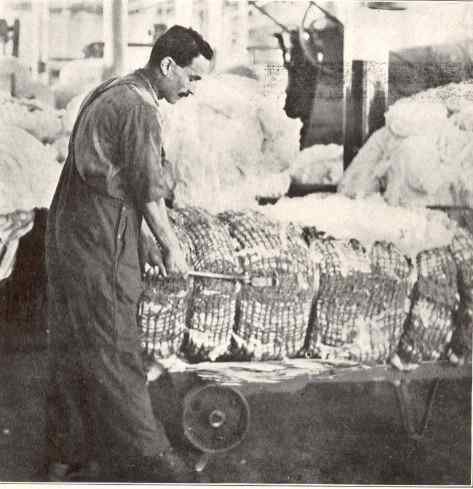 George Hassan cutting the ties of a bale of cotton

Cotton standing in a bale for months cannot be properly worked until it is loosened up, and to do this by machinery is very damaging to the quality of the staple and increases the amount of waste. The best way to prepare cotton for the first process is to cut the ties that bind the bales and remove the bagging so the air can circulate through the cotton and loosen it up before it is put in the opener. After this is done, an assortment of bales is put along the side of the openers. Some cotton form each bale is fed to the opener so as to mix the different grades. It there are some bales of cotton in which the staple is too long or too short, they ought to be kept out so as to have the cotton as nearly uniform as possible.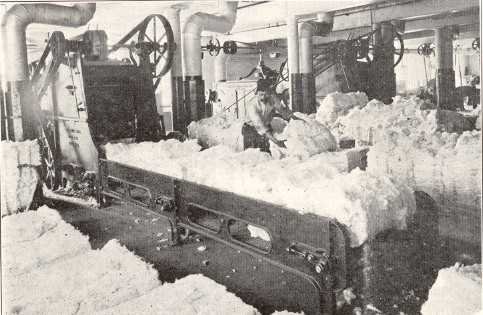 Anastis Kappas, Feeding

The opener is the first machine that the cotton goes through in the manufacture of cloth. It opens up the cotton, transforming it from a body of matted fibre to a light fluffy mass. During this process much sand and dirt is shaken out.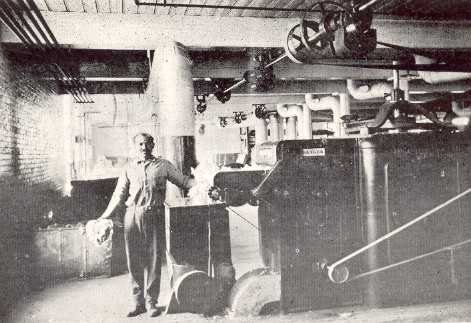 Pietro Gatrakas at Delivery End

 
This historical essay is provided free to all readers as an educational service. It may not be reproduced on any website, list, bulletin board, or in print without the permission of the Dover Public Library. Links to the Dover Public Library homepage or a specific article's URL are permissible.