Disclaimer
The Dover Public Library website offers public access to a wide range of information, including historical materials that are products of their particular times, and may contain values, language or stereotypes that would now be deemed insensitive, inappropriate or factually inaccurate. However, these records reflect the shared attitudes and values of the community from which they were collected and thus constitute an important social record.
The materials contained in the collection do not represent the opinions of the City of Dover, or the Dover Public Library.
Millworker - Mr. James Rogers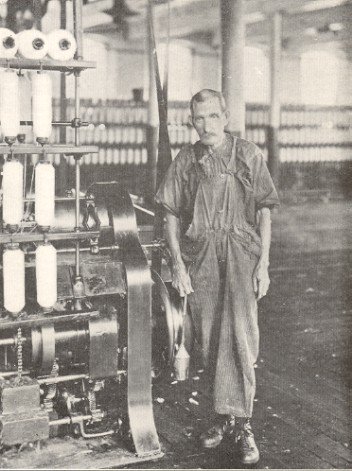 Mr. James Rogers- One of Our Oldest
Cocheco Chats, May 1921

To continue our labors in one department for 52 years is a record that few of us will ever attain. Yet that is what Mr. James Rogers has accomplished, having been connected with the Card and Picker Room for more than half a century. It is interesting to note that Mr. Rogers was born in 1855 on what is now the site of No. 1 Mill. He says that during his boyhood a row of houses stood along Washington Street while a brickyard occupied the water front. Mr. Rogers first entered the employ of these mills under Mr. Henry Hill as lap boy, soon after the close of the Civil War; assisting in starting up No. 3,4, and 5 Mills. He served several capacities in this department since that time.

To quote Mr. Rogers, "I have stayed in the Mill all these years because I have been treated well, because I have had steady work and because I like the work." "Jimmy," as he is familiarly known to his fellow workers, has the good wishes of all of us for many more years of active service amongst us.
This historical essay is provided free to all readers as an educational service. It may not be reproduced on any website, list, bulletin board, or in print without the permission of the Dover Public Library. Links to the Dover Public Library homepage or a specific article's URL are permissible.