Disclaimer
The Dover Public Library website offers public access to a wide range of information, including historical materials that are products of their particular times, and may contain values, language or stereotypes that would now be deemed insensitive, inappropriate or factually inaccurate. However, these records reflect the shared attitudes and values of the community from which they were collected and thus constitute an important social record.
The materials contained in the collection do not represent the opinions of the City of Dover, or the Dover Public Library.
Millworker - Mr. Daniel Buckley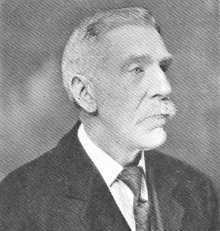 Daniel Buckley                         

Cocheco Chats, September 1921

 It is sixty-five years since Mr. Daniel Buckley first entered these mills as a back boy in No. 4 Mule Room, under Overseer George Thompson. He says that he well remembers his first year as an employee here, because it was in the year of the Buchanan-Fremont presidential contest, when as a barefoot boy, he followed the parade up to Central Avenue to Garrison Hill to watch the firing of the cannon which is now being moved to a position near the observatory, which accidentally killed three men.

Mr. Buckley was born in Ireland in 1842 and emigrated to the United State when he was eight years old. Six years after entering the mill as back boy in 1856 at twenty-five cents per day- an interesting comparison with present day wages- he worked his way to head spinner at seven dollars per week. He was made second hand of No. 5 Mule Room in 1872. He later served as second hand in No.2 and No. 3 Mule Rooms, continuing in the Mule Room until 1914, when the mules were replaced by ring spinning frames.

Mr. Buckley left the mill at that time for a long rest on account of poor health. He says that Agent Irving Southworth, then superintendent here, told him that with the discarding of the mules, that he must not think there was no further work for him, but that there would be a position for him at any time that he wished to return. Mr. Buckley re-entered the mill as an employee in the Cloth Room in 1917, and there you will find him every day, a vigorous man, despite the fact that it is sixty-five years since he began to earn his living.

Mr. Buckley was married in 1872 to Miss Catherine McCarthy, also a native of Ireland and a resident of Dover. There are three children, Mrs. Annie G. Farley, Mr. Daniel Buckley, Jr., druggist; and Dr. James Buckley, physician, all of this city. Mrs. Buckley died in 1912.

Mr. Buckley talked very interestingly on education, past and present. "Do you know," he said, "that I have always felt handicapped by lack of education. I attended public school, in a school house back of the site of the Washington Street Baptist Church, for a short time; later I attended evening school, where we had to pay one dollar for twelve lessons and furnish our own materials. We did not have the opportunities for education that the young people of today have, such as the many evening and correspondence schools. I was determined to give my children the education I believed they required. With the sacrificing help of my wife we succeeded. Daniel, after a thorough local education, attended and graduated from the School of Pharmacy in Boston and James is a graduate physician of Dartmouth Medical College. I think that all young people should try hard to obtain an education."
This historical essay is provided free to all readers as an educational service. It may not be reproduced on any website, list, bulletin board, or in print without the permission of the Dover Public Library. Links to the Dover Public Library homepage or a specific article's URL are permissible.