Disclaimer
The Dover Public Library website offers public access to a wide range of information, including historical materials that are products of their particular times, and may contain values, language or stereotypes that would now be deemed insensitive, inappropriate or factually inaccurate. However, these records reflect the shared attitudes and values of the community from which they were collected and thus constitute an important social record.
The materials contained in the collection do not represent the opinions of the City of Dover, or the Dover Public Library.
Marilla Marks Ricker: A Biographical Sketch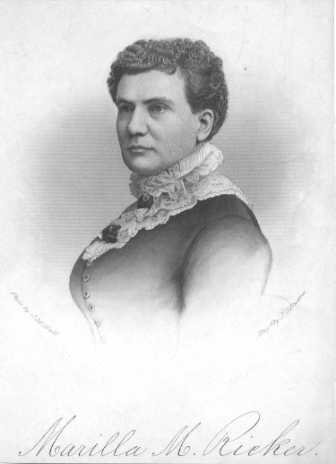 Marilla Marks Ricker, lawyer, author and humanitarian, was born at New Durham, N.H., daughter of Jonathan B. and Hannah D. (Stevens) Young. Her father, a farmer and cousin of Brigham Young, was a broad liberal-minded man, and a "free thinker," and she was brought up a "free thinker," a suffragist and a Whig. After a course at Colby Academy, New London, N.H., she taught school until her marriage to John Ricker, of Dover, N.H., a well-to-do farmer, who died in 1868, leaving her a wealthy widow. She went abroad in 1872, spending some years in study in Germany, and thoroughly mastering the language of that country. She began the study of law, in Washington, D.C., with Albert G. Riddle and Arthur B. Williams, in 1876, and was admitted to the bar of the supreme court of the District of Columbia in 1882, taking the examination with eighteen men, all of whom she outranked. She practiced in Washington for many years and was known as the "prisoners' friend," from her constant habit of visiting jails and prisons, and applying for releases and pardons, and supplying prisoners with reading matter, writing material and other comforts. Quite early in her legal career she made the test of the "poor convict's act," under which she believed great injustice was done in the fines usually imposed supplementary to confinement, and she succeeded in receiving judgement that the fine was illegal. She was one of the assistant counsellors associated with Col. Robt. G. Ingersoll in the famous "Star Route" cases, during the prolonged hours of the six months' trial. Her legal work has been almost invariably on the side of criminals, for whom she has the broadest charity, and for all oppressed, spending her means for them freely, and employing counsel when not able to attend the cases herself. In 1884 she was appointed examiner in chancery by the Supreme Court of the District of Columbia, and also U.S commissioner, in which capacity she heard many cases. She opened the New Hampshire bar to women in July 1890, when she was admitted to the bar of the state. She has written numerous letters on tariff, has done much political work on behalf of the Republican party. In 1891 she was admitted to the bar of the Supreme Court of the United States. She was the first woman in New Hampshire to demand the right to vote, paying her taxes under protest since refusal. In 1910 she announced herself as a candidate for governor of New Hampshire, and by many of her friends it was believed that her candidacy would help the cause of woman suffrage, to which Mrs. Ricker's life has been devoted for over fifty years. She has served as vice-president-at-large of the National Legislative League, as president of the New Hampshire Woman Suffrage Association and is a life member of The Woman Suffrage Association. She is an ardent "free thinker," a disciple of Paine and Ingersoll, and she has traveled widely and spoken forcefully in advocacy of her principles. She is the author of several "free thought" books: The Four Gospels, (1911); I Don't Know, Do You? (1915); and I Am Not Afraid, Are You? (1917).

James T. White & Company, copyright 1920.
This historical essay is provided free to all readers as an educational service. It may not be reproduced on any website, list, bulletin board, or in print without the permission of the Dover Public Library. Links to the Dover Public Library homepage or a specific article's URL are permissible.