The Indigenous Experience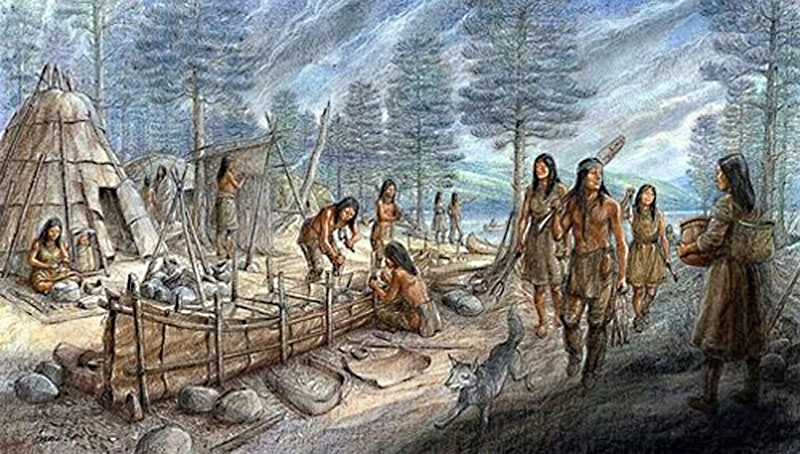 Wôbanaki Lifeways, circa 1600. Illustration copyright Francis Beck.
Image reproduced from "The Many Stories of 1704" website with permission from Pocumtuck Valley Memorial Association.
The Dover Public Library is located at Cocheco (CO-chi-co) within N'dakinna (n-DA-ki-na), now called Dover, New Hampshire, which is the unceded traditional ancestral homeland of the Abenaki (a-BEN-a-ki), Pennacook, and Wabanaki Peoples, past and present.
 We acknowledge and honor with gratitude the land, waterways, living beings, and the Aln8bak (Al-nuh-bak), the people who have stewarded N'dakinna (n-DA-kinna) for many millennia.
Click or scan here for more information on the City of Dover website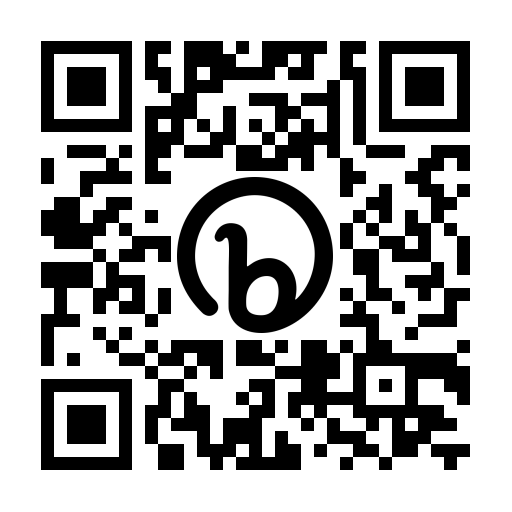 These websites contain information on indigenous people in the Dover area:
Abenaki Nation of New Hampshire
Abenaki Language Revitalization
The Pennacook Tribe of New England
The Cowasuck Band of the Pennacook Abenaki People
Indigenous New Hampshire Collaborative Collective
From the Fragments: The Places and Faces of Great Bay Archaeological Survey
Indigenous People of Piscataqua Watershed: A Dover400 Lecture
Dover in the 17th Century: Abenaki Life and History from an Indigenous Perspective: A Dover 400 Lecture
People of the Dawnland exhibit at Strawbery Banke Museum in Portsmouth,NH
New Hampshire Intertribal Native American Council
For more information on indigenous people in the Dover area, look at these books available at the Dover Public Library.
Belknap, Jeremy, Belknap's History of New Hampshire: an Account of the State in 1792. Hampton, N.H., P. E. Randall,1973.
Brooks, Lisa Tanya, The Common Pot: The Recovery of Native Space in the Northeast. Minneapolis, MN: University of Minnesota Press, 2008.
Brooks, Lisa Tanya, Our Beloved Kin : a New History of King Philip's War. New Haven : Yale University Press, 2018. https://www.ourbelovedkin.com/awikhigan/index (enter Waldron into the search engine) The Captivity at Cocheco William Waldron's Defense:The Capture and Return of Wabanaki Noncombatants
Bruchac, Jesse Bowman, Abenaki Dictionary. Greenfield Center, NY: Bowman Books, 2019.
Bruchac, Joseph, The Heart of a Chief. New York: Dial Books for Young Readers, 1998.
Bruchac, Joseph, The Winter People. New York, NY: Dial Books, 2002. 
Calloway, Colin G., Dawnland Encounters : Indians and Europeans in Northern New England. Hanover: University Press of New England, 1991.
Colby, Solon B., Colby's Indian History: Antiquities of the New Hampshire Indians and Their Neighbors. Exeter, N.H. : Colby, 1975.
Goody, Robert, A Deep Presence: 13,000 years of Native American history. Portsmouth, NH : Peter E. Randall Publisher, 2021.
Hardesty, Jared Ross, Black Lives, Native Lands, White Worlds: A History of Slavery in New England. Amherst, MA, 2019.
Heald, Bruce, A History of the New Hampshire Abenaki. Charleston, SC: The History Press, 2014.
Masta, Henry Lorne, Abenaki Indian Legends, Grammar and Place Names. Toronto, 2008.
Norton, Mary Beth, In the Devil's Snare: the Salem witchcraft crisis of 1692. New York: Alfred A. Knopf, 2002.
Parker, Trudy Ann, Aunt Sarah: Woman of the Dawnland. Lancaster, NH: Dawnland Publications, 1994.
Piotrowski, Thaddeus, Indian Heritage of New Hampshire and Northern New England. Jefferson, N.C.: McFarland, c2002.
Scales, John, Historical Memoranda Concerning Persons & Places in Old Dover, N.H. Dover, N.H.: 1900.
Scales, John,  History of Dover, New Hampshire. Containing historical genealogical and industrial data of its early settlers, their struggles and triumphs. Manchester, N.H.: Clarke, 1923.
Senier, Siobhan, Dawnland Voices: An Anthology of Indigenous Writing from New England. Lincoln: University of Nebraska Press, 2014.
Warren, Wendy, New England bound : slavery and colonization in early America. New York : Liveright Publishing Corporation, 2016.
Wiseman, Frederick Matthew, The Voice of the Dawn : an Autohistory of the Abenaki Nation. Hanover, NH: University Press of New England, 2001.
Potter, Chandler Eastman,The History of Manchester, formerly Derryfield, in New Hampshire; including that of ancient Amoskeag, or the middle Merrimack valley; together with the address, poem, and other proceedings, of the centennial celebration, of the incorporation of Derryfield; at Manchester, October 22, 1851. 
Sanborn, Benning W., "Indian History" from The History of Concord, From Its First Grant in 1725  to the Organization of the City Government In 1853, With a History of the Ancient Penacooks by Nathaniel Bouton, 1856.  
Lyford, James O.  "Aboriginal Occupation" from History of Concord, New Hampshire from the Original Grant in Seventeen Hundred and Twenty-Five to the Opening of the Twentieth Century Prepared Under the Supervision of the City History Commission, James O. Lyford, Editor, 1903.
Recommended reading not available at the library:
Bourque, Bruce, Uncommon Threads: Wabanaki textiles, clothing, and costume. Augusta, ME: Maine State Museum, 2009.
Dubin, Lois Sherr, The History of Beads: From 30,000 B.C. to the Present. NY: H.N. Abrams, 1987.
Hardy, Kerry, Notes on a lost Flute: A field Guide to the Wabanaki. Camden, Me: Down East, 2009.
Moerman, Daniel, Native American Ethnobotany. Portland OR: Timber Press, 1998.
Orchard, William C., Beads & Beadwork of the American Indian: a study based on specimens in the Museum of the American Indian. NY: Museum of the American Indian,1975.
Shea, John Gilmary, History of the Catholic missions among the Indian tribes of the United States, 1529-1854. New York: E. Dunigan and Brother, 1857.
Speck, Frank G., Penobscot Man: the life history of a forest tribe in Maine. Orono, Me: University of Maine Press, 1997.
Children's books not available at the library:
Bruchac, Margaret M., Malians Song. Lebanon, NH: Vermont Folklife Center, 2006.
Savageau, Cheryl, Muskrat Will Be Swimming. Gardiner, Me: Tillbury House, 2006.