Disclaimer
The Dover Public Library website offers public access to a wide range of information, including historical materials that are products of their particular times, and may contain values, language or stereotypes that would now be deemed insensitive, inappropriate or factually inaccurate. However, these records reflect the shared attitudes and values of the community from which they were collected and thus constitute an important social record.
The materials contained in the collection do not represent the opinions of the City of Dover, or the Dover Public Library.
Back River School was built in 1822.
Back River Shool District in 1807 included all the inhabitants in Dover on the westerly side of Back River, and Southerly of Israel Hodgdon's. There was a school house at Back River before 1800, how much earlier is not known. It was old, but still substantial in 1805. January 17, 1822, it was voted to build a brick school house. The new school house was set at the south end of the old one, and accepted by the district December 16, 1822.
Belknap School
1856-1953
The Belknap Grammar Schoolhouse, which stands at the junction of Silver and Belknap Streets, was built in 1856. The building had four rooms, and could accommodate 200 pupils. It stands on the spot where the house stood in which Rev. Dr. Jeremy Belknap lived, and wrote his history of New Hampshire. It existed as a school building for almost a hundred years. In 1953 Woodman Park School opened and the Belknap School was sold, renovated and is now used for medical offices.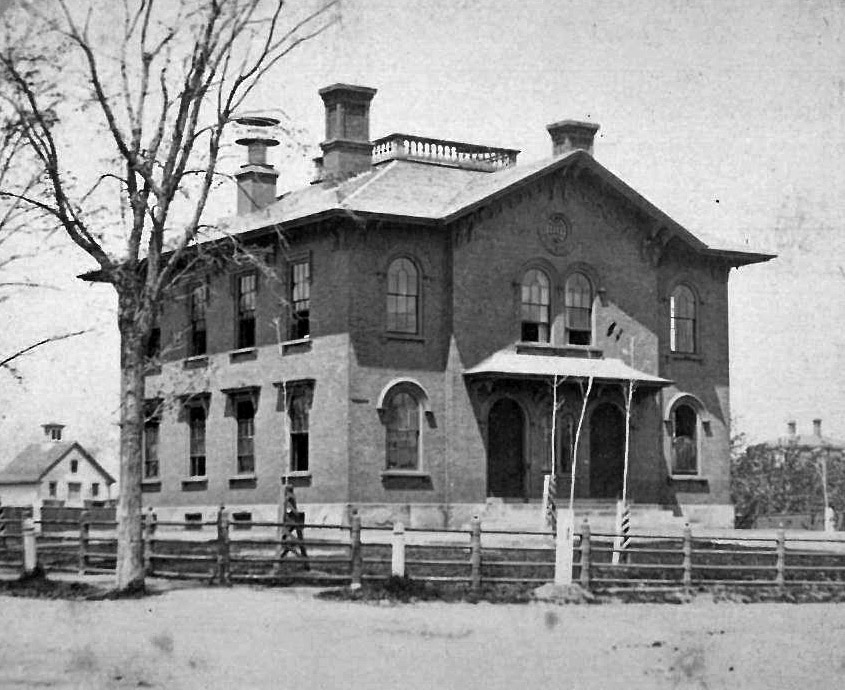 Blackwater School
Blackwater School was a one room wood school house with room for 24 students. It was considered new in 1870.
Brick Street School
Brick Street School was a two room school house on the corner of Mt. Vernon and Brick Street (now Sixth Street).
Dover High School on Chestnut Street
1851-1905
On the sight of the "Sham Battle" in the midst of the beautiful grove Dover's first high school was built in 1851. Land was purchased from the Cocheco Manufacturing Company for $600 and the building erected for $15,000. A three-year course of study was instituted, but only students from the north side of the river were allowed to attend. In 1869, the Dover school system was consolidated, the inequities remedied, and all Dover students welcomed. By this time, 80 students were in attendance. In 1873-74, the great grove of trees behind the school was cut down to make room for railroad expansion, and the beautiful west end of Chestnut Street was in decline. By 1904, the building was considered "poor in location and equipment" and a new facility was built on Locust Street (now the McConnell Center). The building on Chestnut Street reverted back to the mill owners in 1907, who tore down the old school to erect the warehouse that was eventually torn down in March, 1976, when it was known as Eastern States Warehouse.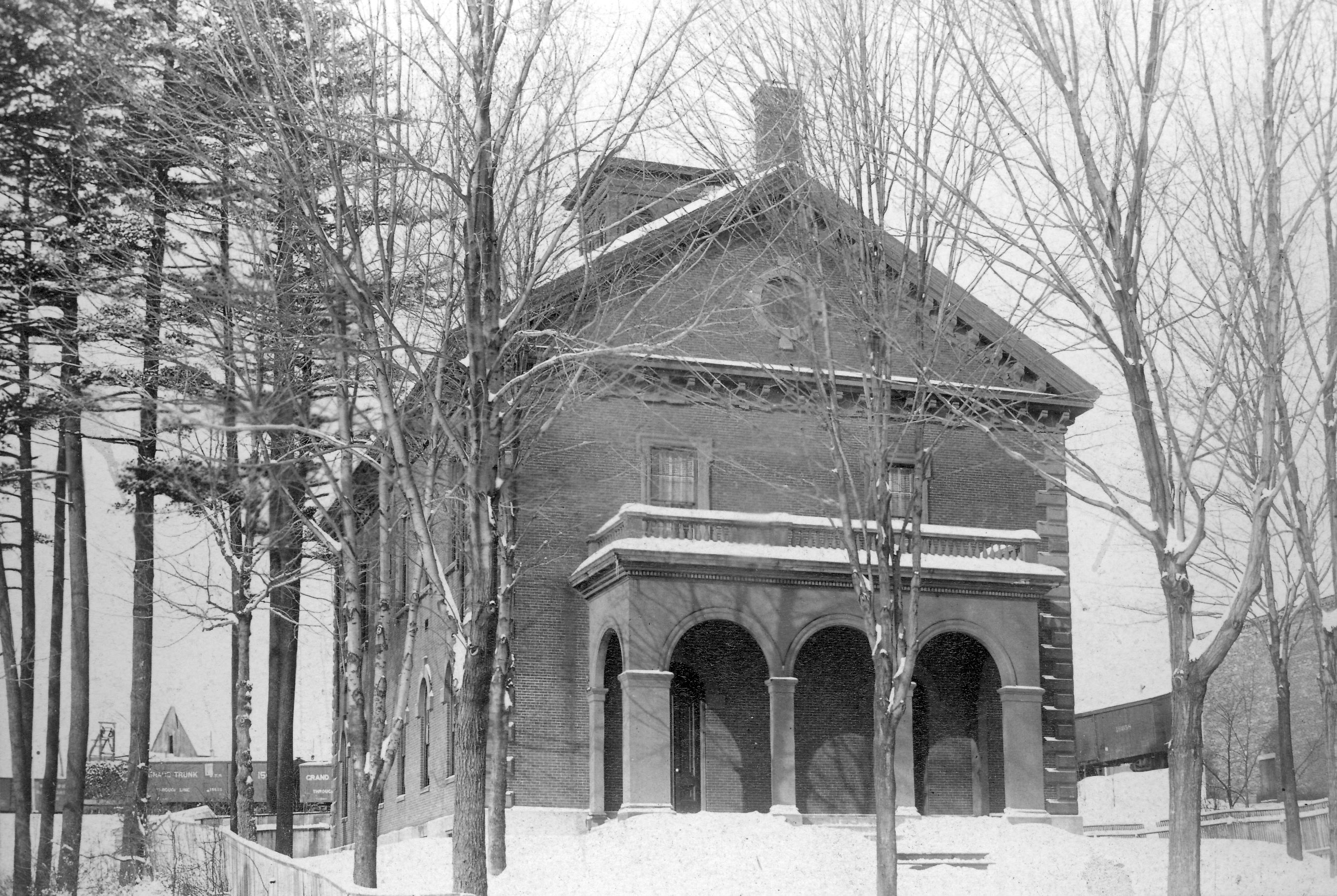 Dover High School on Locust Street
1905-2000
This was Dover's second High School. It was designed by Alvah T. Ramsdell, the architect of the Dover Children's home. The building was completed in 1905. By the mid-1920s, Dover High School was overcrowded. There was a strong emphasis on the Mechanical and Manual Arts programs and more classroom space was needed for labs and shops. In 1928 an addition was added and is now the middle section of the building. The architect of the addition was J. Edward Richardson who also designed the Dover City Hall. In 1967 the High School students moved to a new school on Durham Road and this building became the Dover Junior High School. In 2000 the Junior High students moved to the new Dover Middle School also on Durham Road. By 2002 the building became known as the McConnell Center, named after Korean War hero and Dover resident, Joseph McConnell. It currently provides space for City departments, the HUB Family Resource Center and the Dover Adult Learning Center.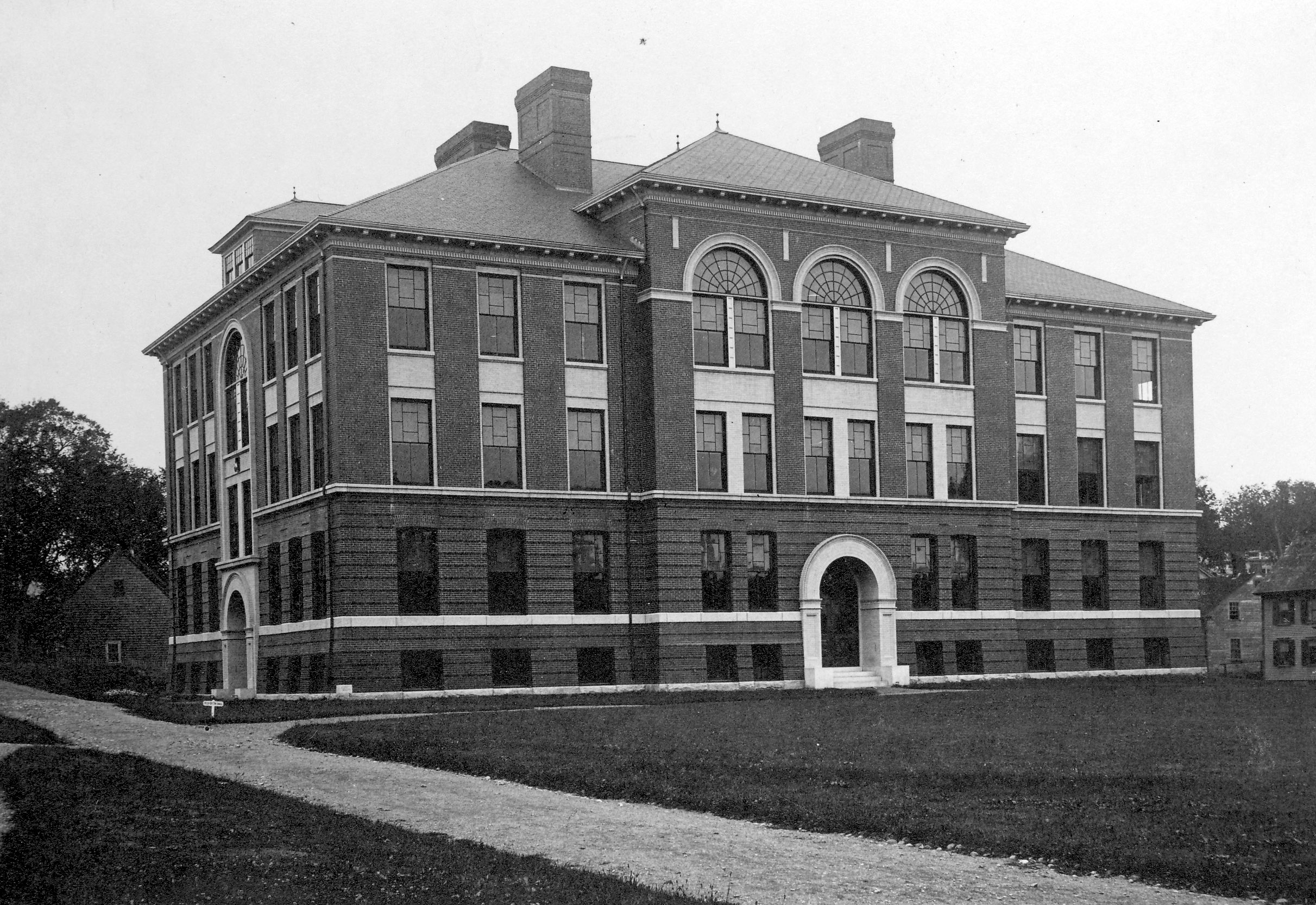 Dover High School on Durham Road
1967 to present time
Dover High School and Regional Career Technical Center is a public four-year high school and regional technical center located on 44 acres just outside of downtown Dover with an enrollment of over 1600 students.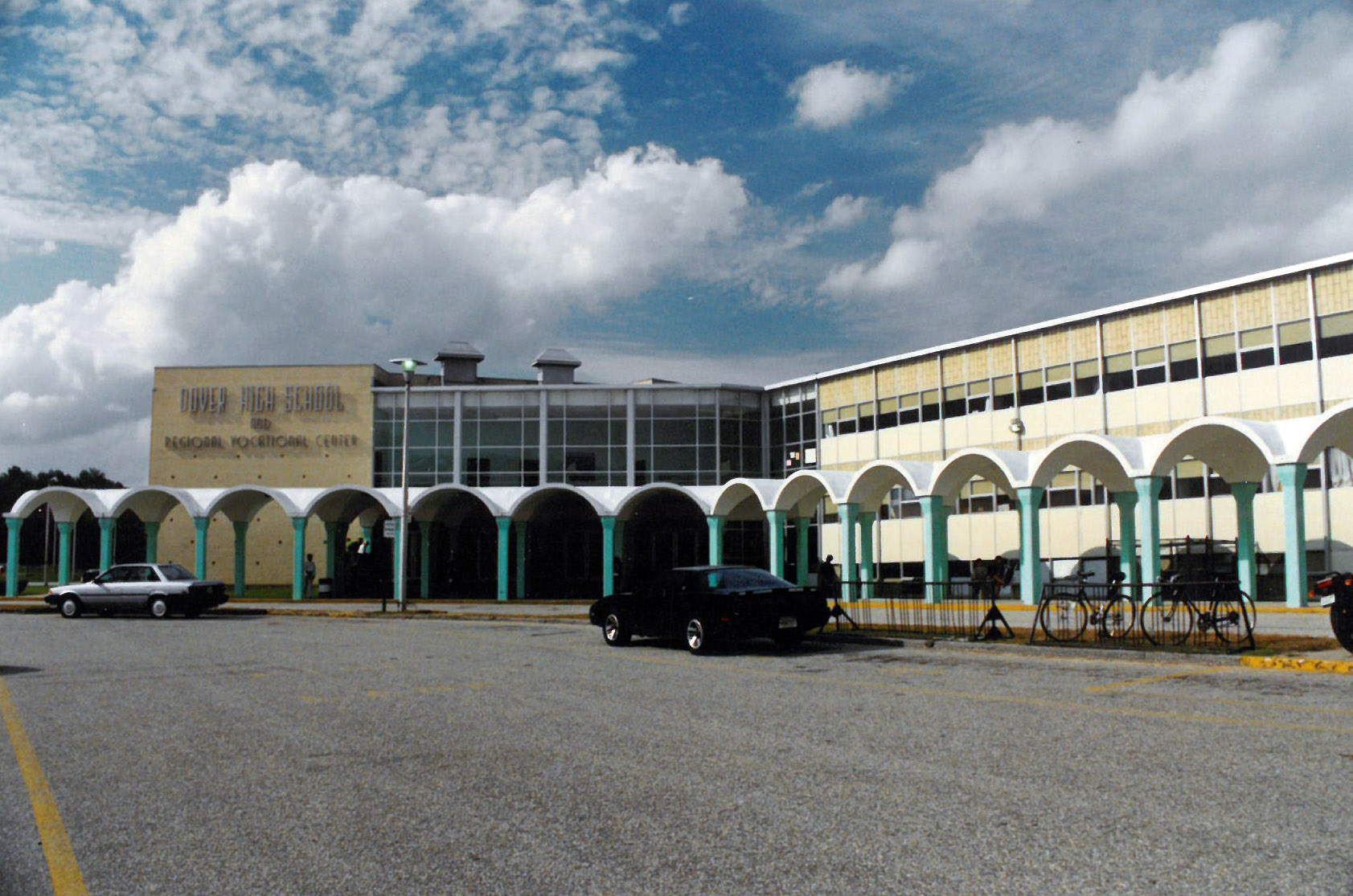 Dover Middle School on Durham Road
2000 to the present time
The school is designed in two story wings which can house nearly 500 students. The wings are separated by an administrative core on the first floor and the library/media center on the second floor. Wings are broken down into neighborhoods with common areas for students and faculty. Support services include a double student dining area to further reduce the impact of a large building.
Dover Neck Schoolhouse
Dover Neck Schoolhouse was Dover's first school house.
Fayette Street School
Fayette Street School opened in 1842.
Fourth Street School
Fourth Street School was located between Franklin and Chestnut Streets.
Franklin Academy
1818-1896
Franklin Academy was a private college preparatory school which stood at the brow of the hill on the west side of Central Avenue between Waldron Street and Orchard Street.

The building was built in 1818. It was two stories high and made of red brick with a bell tower up over the front door which faced the Avenue. It was the first public building in Dover built of brick. The dedication ceremony was held on Saturday, December 5, 1818 and two days later, on Monday, the first term started.

When the building was first built, there were beautiful lawns in front of the building, running down to Central Avenue and on the North side going to the river since Waldron Street had not been built at that time.

It is claimed that the bell was a gift of Captain William Flagg of Dover who was in command of a "Privateer" ship during the war of 1812 and he had taken the bell form a merchant ship which he captured. Captain Flagg, who built the beautiful home now known as the Tidewater Farm on the Cochecho near the Salmon Falls River was one of the original trustees of the school.

The school operated until 1896 and at the time of its closing was completely surrounded by homes and factories.The largest enrollment at the school was approximately 100 students in 1881.
Garrison Elementary School
1965 to the present
Opened in 1965, Garrison Elementary School grew from a small neighborhood school to a school with over 400 students within a few years. The growth of new neighborhoods by 1975 necessitated the addition of eight classrooms and a thousand square foot library. Rapid growth continued in the late eighties, requiring the addition of two temporary classrooms which remain in use today.
Garrison Hill School
Garrison Hill School was a one room brick schoolhouse built in 1835. It could accommodate 40 students. In 1835 land was purchased on Scatterwit Road from Taylor Page. Ezekiel Hurd built the school house for 600 dollars. It was 30 feet by 25 feet wide.
Hale School
1872-
The Hale School was named in honor of John P. Hale. City Council records of 1872 state "During the past year the Locust Street School has been added to the number of our school buildings." "It is a brick building of four rooms, 30 by 25 feet, 13 feet stories, with sittings for 175 scholars. It is pleasantly situated on Locust Street, south of Silver Street. It is substantially built and furnished, and will answer the demands in that part of the city for many years to come."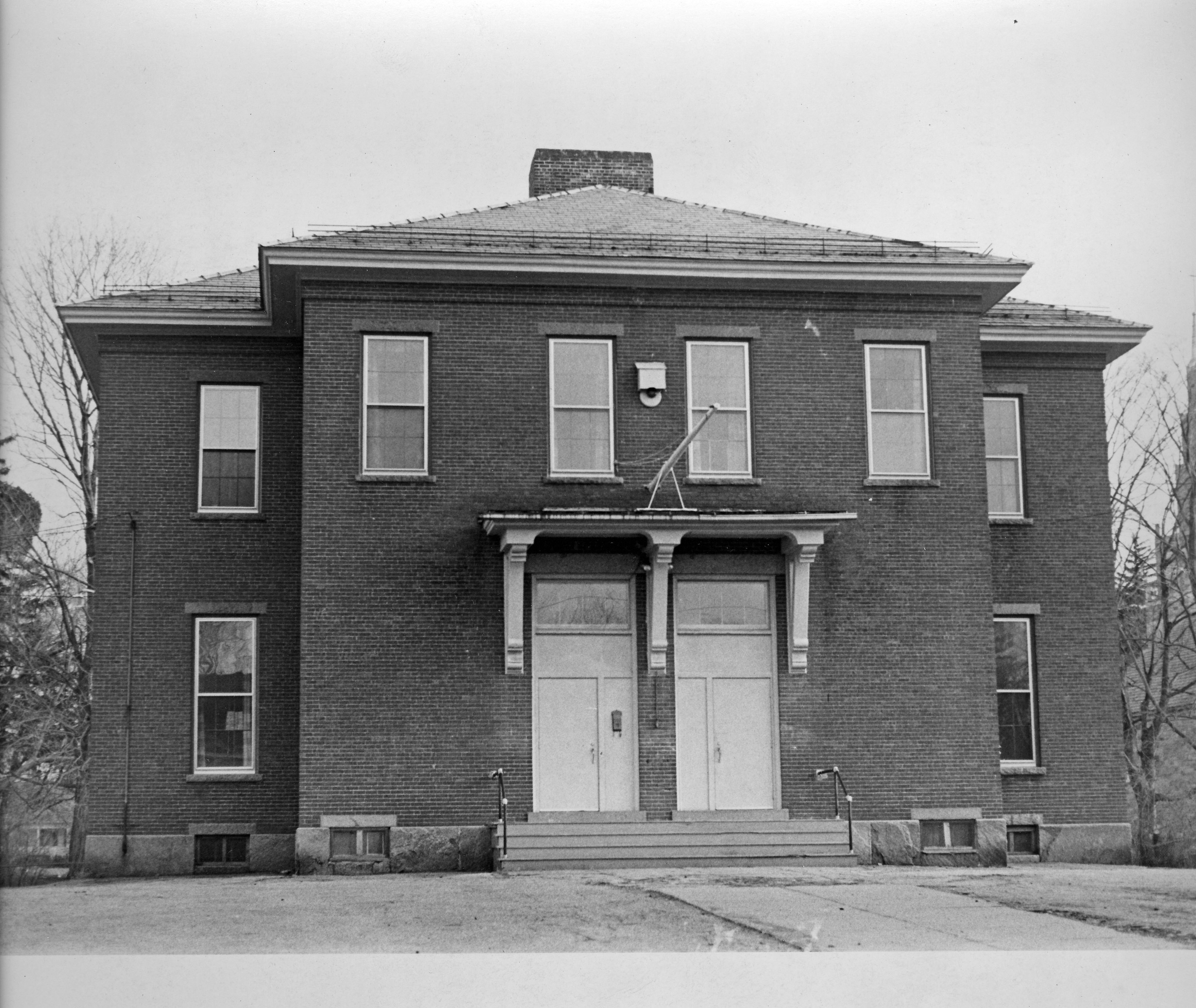 Horne Street School
1958 to the present time
Horne Street School was opened September 3, 1958, with an enrollment of 525 students in grades 1-8. It was built to serve the rapidly expanding population in the North side of the city. It had 19 classrooms; one a science room, an office, principal's office, conference room, health room with lavatory, teacher's room, and auditorium/cafeteria/gymnasium. The school is located on 12 acres if land allowing children to enjoy outside activities. In 1999, a large playground structure was added to the area to enhance outdoor physical education and recreation.
Hurd Street School or Pierce School
1858-
This four room wooden building was built in 1858 for a primary school located on Hurd Street. It was changed to a brick building sometime in the 1860s. It was originally called the Hurd Street School until the name was changed to Pierce School. It could accommodate 180 students.
Ida B. Hanson School
1934-
The school was dedicated November 12, 1934. The school was remodeled from the old armory located on St. Thomas Street, behind the McConnell Center. It was named for Miss Hanson who was a teacher in the Dover schools for 57 years. She started teaching third grade at the Sherman School in 1877 and was the principal of the Belknap School when she retired in 1934.
Knox Marsh School 
Knox Marsh School was abandoned in 1897. It was a wooden one room schoolhouse with room for 30 students.
Landing School
1810-1828
The Landing refers to the land north of the Cocheco River. By the early 1800s it was a bustling place, the center of business for Dover. The Cocheco River allowed passage of ships that drew as much as 17 feet of water all the way to the Landing. This made the Landing an ideal docking area; ships could come and pick up goods produced in Dover (mostly agricultural) and drop off foreign good obtained in trade. In 1810 a single-story, 35 x 40' wooden structure was built to serve as the Landing School. It was a single room with sloping floors and 7 rows of longs seats, with an large open fire place on the west side. It was used until 1828 when officials decided to build a brick school which became known as the Sherman School.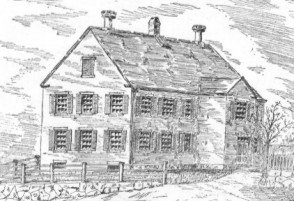 The Landing School
Littleworth School
Littleworth School was built in 1819 and closed in 1891. It was a wooden one room schoolhouse with room for 40 students.
Locust Street Primary
Locust Street Primary was located on Locust Street. It was a four room brick building, 30 by 25 feet and could accommodated 175 students. It was built in 1872.
Long Hill School
Long Hill School was abandoned in 1897.It was a wooden one room schoolhouse with room for 20 students.
Lower Neck School
Located on Dover Neck. It was a wooden one room schoolhouse with room for 35 students.
Pages Corner School
The school house at Page's Corner was located on Glenwood Avenue.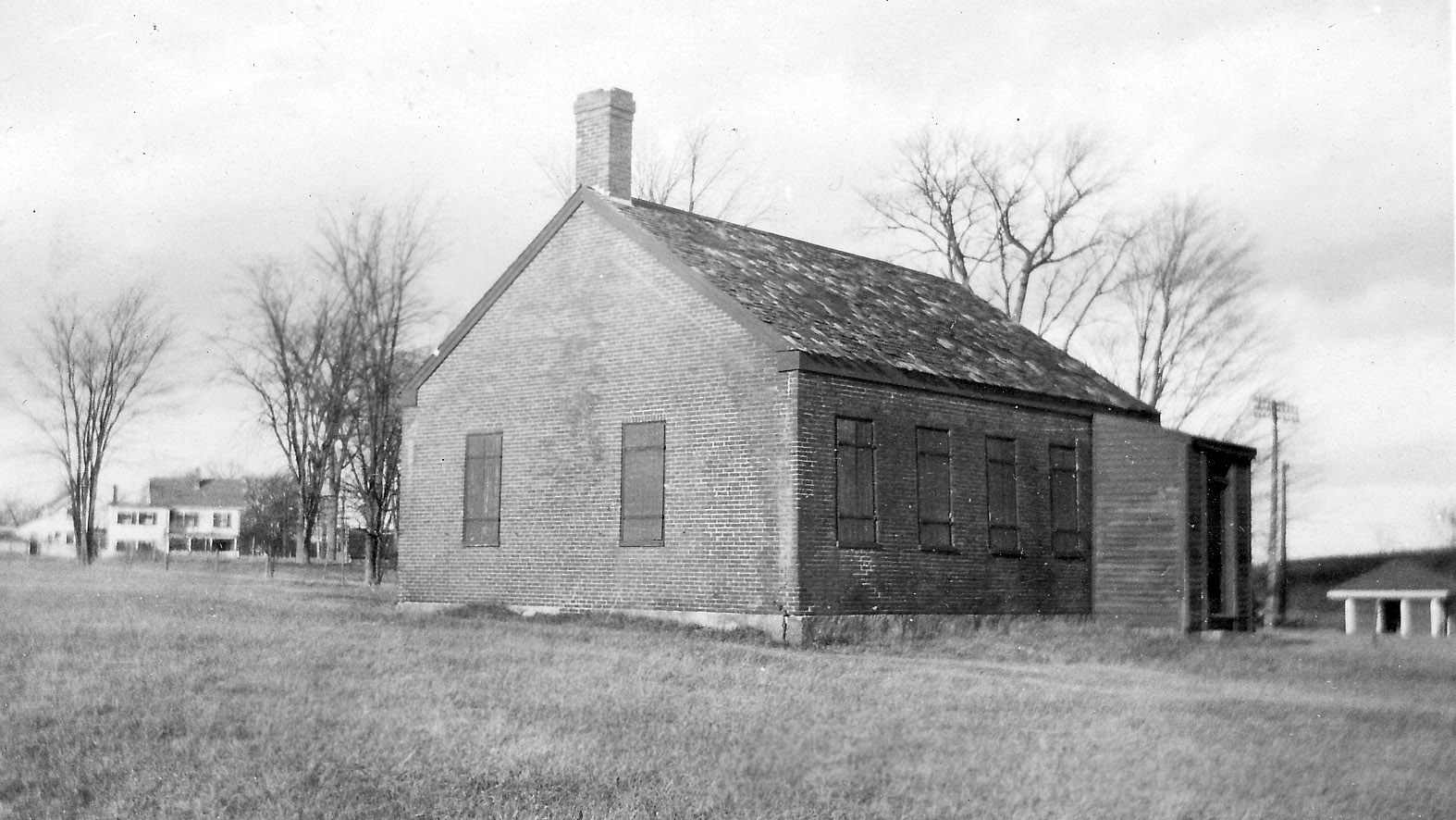 Pine Hill School
1712-1905
Immediately to the left of the cemetery entrance is the site of three Pine Hill Schoolhouses, the first a small wooden structure built in 1712. This was replaced by a two room wood frame school in 1790. A brick school, housing half primary and half secondary students, replaced the wooden building in 1824. Many generations of Dover students attended classes here, yet by 1904 only 40 students, one 5th grade and one 6th grade class, were housed here.

Additionally, the building was used as a Ward House at elections times for about 35 years. This was disruptive to the pupils and teachers and in 1905 its use as a school stopped. The building was abandoned and eventually condemned. It was transferred to the Cemetery Department in 1912. Workers there demolished it and extended the granite wall on Central Avenue northerly the entire length of the newly acquired property.
Pleasant Street Primary
Pleasant Street Primary was located near Pine Hill Cemetery. It was a wooden two room schoolhouse with room for 93 students. It was heated by two wood stoves.
St. Mary Academy
1912 to the present time
In 1826, the New Hampshire Hotel was built on this site. Mrs. Wyatt recalled in her memoirs, "In 1835, seeing and experiencing the great evils of intemperance, we fully decided to make the New Hampshire Hotel a strict temperance house, the first temperance hotel, it will be safe to say, that was established in New England. Some of our customers stood by us, by a larger portion turned away."

The Hotel was still owned by the Wyatts at least until 1843. By 1846 it had been sold to Levi Shaw, and went through a series of owners, being renamed New Hampshire Hotel House by 1859. In November of 1880, the building was bought by Father Blodgett of St. Mary's Church, who intended to remodel it into Sacred Heart Convent. Upon his death six months later, he was succeeded by Father Daniel W. Murphy, an Irish immigrant, who carried out Father Blodgett's plan. Sacred Heart School was built next door, opening in 1883 under a community of Sisters of Mercy from Manchester.

In 1912, the schools of the parish were consolidated in one place with the building of Saint Mary's Academy on the corner of Central Avenue and Church Street. The old convent building was torn down to make way for the Academy. In addition to grammar school grades, it offered two years of high school for boys and three for girls. It evolved into a four-year high school for girls. In 1963, with the building of co-educational St. Thomas Aquinas High School, St. Mary's reverted to a grade school. It is now known as St. Mary Academy, serving grades K-8.
From the 2000 Heritage Walking Tour booklet.
St. Thomas Street Primary School 
1846-1880s
St. Thomas Street Primary School was located midway between Atkinson and Hamilton (now Belknap) Street. This school was built in 1846 and used up to the 1880s. The building was sold at auction in 1883.
Sawyer School
1870-1979
The Sawyer Grammar School, with eight classrooms and room for 192 pupils, was named for the Honorable Thomas E. Sawyer of the Board of Education "who has been intimately connected with the Dover school system for nearly half a century." A major fire in 1890 destroyed much of the school, but it was rebuilt essentially as before. Disaster struck again, however, on June 30, 1979 when overheated basement wiring caught fire. This time the damage, estimated at $850,000, was irreparable. Just seven years before, in 1972, $140,000 had been spent on renovations to the building, including new wiring. The school's wood interior was gutted and the flames had burned through the roof. It was sold November, 1979 to Michael Spinelli Jr. for $21,000. The top floor was removed to better blend in with the neighborhood and the 11 unit Sawyer School Apartments opened in September 1980. Located on Fifth Street.
from the 1993 Heritage Walking Tour booklet.
School Street Primary
School Street Primary was located on School Street. It was a four room brick building with room for 180 students.
Sherman School
1828-1938
The Landing School was replaced in 1828 by a two-story brick structure. In 1883, the school was renamed the Sherman School in honor Enoch S. Sherman who became its headmaster in 1837. Under Master Sherman's leadership, this school became one of the best in the state. In addition to the usual school subjects, Sherman taught surveying, algebra, astronomy philosophy, bookkeeping, and chemistry. His salary was $35 a month. The Sherman School was damaged irreparably in the Hurricane of 1938 and had to be taken down.
From the 1994 Heritage Walking Tour booklet
St. Thomas Street Primary
St. Thomas Street Primary was located on St. Thomas Street, It was a two room wooden building with accommodations for 93 students. It was heated by two wood stoves.
Tolend School
1818 - 1896
In the spring of 1818, the building committee, Daniel Young and Daniel Horn, put up the school house on a piece of high ground procured from Aaron Watson, near what was called Faxon's Swamp. The lot was selected because of its costing nothing, and it was a ledgy, barren and exposed spot. Opposite was a pasture belonging to Dr. Green.
A grammar school master was never employed at Tolend. The Colonial laws required but one grammar school in Dover, and it was naturally kept near the center of population. The master was generally a learned man, he taught reading and writing as well as Latin and Greek. Not until 1789 was arithmetic a prescribed study. Early Tolend school masters were not paid well, and little influence came with the job. The school hours were largely occupied in hearing reading classes, mending pens and keeping order. The ferule and strap were resorted to in every difficulty.
The school house was a one room wooden building with room for 40 students.
Upper Factory School
1819- 1895
The land for the school was given by Jonathan Kimball. The one room building was constructed where the first house on Heather Lane now sits in 1819 at a cost of $292.82 cents. The school house was thirty feet square and tolerably high posted, fireplace in the east end and seats placed on an inclined floor; the rear row of seats two feet higher than the level of the floor. It had room for 30 students. Sumner D. Sterling, his brothers and sisters went to school there, grades one through eight. Sumner later drove the horse drawn school barge.
The school was established to accommodate the residents of Williamsville and the surrounding area. Williamsville was named for John Williams who built the first cotton mill in Dover about 1814. It and the village were along Upper Factory Road between the Cochecho River and Brick Street, now Sixth Street. The settlement also included a grist mill, machine shop, blacksmith shop, store house, seven dwelling houses and two barns, all company owned. There were several private residences on factory grounds as well.
Upper Neck School 
Upper Neck School was located on Middle Road, on the corner of Dover Neck Road. It was a wooden one room schoolhouse with room for 40 students.
Varney School
1861-1953
255 Washington St
A law firm currently occupies the brick building built in 1861 as the Washington Street Primary School. Thomas H. Cushing donated the land to the city and the schoolhouse was constructed with four classrooms able to house the 188 students. In 1882, the school was renamed in honor of Judge John R. Varney. Varney was a mathematics professor at Dartmouth, prominent local lawyer, editor, politician and school board member in Dover. He died in the 1882 fire that destroyed the Washington Street Baptist Church.

In 1890, the Varney School was designated as a training school for teachers. Many Dover women started their teaching careers at the Varney School. It closed in 1953 when the new Woodman Park School opened and by 1958 had become the law offices of Burns, Calderwood, Bryant and Hinchey.
Washington Street Primary
Washington Street Primary was located at the west end of Washington Street. It was a four room brick building that could accommodate 188 students.
Woodman Park School
1950 to the present time
In 1950 the Woodman Park School, the largest elementary school in New Hampshire at that time, was built off of Silver Street for approximately one million dollars. The Belknap, Hale and Varney schools were closed and their students were sent to Woodman Park Elementary School. Woodman Park School is a nationally recognized "Blue Ribbon School of Excellence".
This historical essay is provided free to all readers as an educational service. It may not be reproduced on any website, list, bulletin board, or in print without the permission of the Dover Public Library. Links to the Dover Public Library homepage or a specific article's URL are permissible.