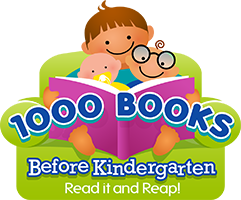 NH 1,000 Books Before Kindergarten follows a nationwide early literacy initiative that encourages families to read to their young children and to use the resources available to them at their public libraries. It is a fun, exciting, and free way to start your child on the path to reading!
How does it work?
Register for the program and get your first reading log. 
When you finish your first 100 books come in to show us your log. We'll give you an achievement sticker, a new reading log, and your very own library book bag with our special NH 1,000 Books Before Kindergarten logo on it!