Disclaimer
The Dover Public Library website offers public access to a wide range of information, including historical materials that are products of their particular times, and may contain values, language or stereotypes that would now be deemed insensitive, inappropriate or factually inaccurate. However, these records reflect the shared attitudes and values of the community from which they were collected and thus constitute an important social record.
The materials contained in the collection do not represent the opinions of the City of Dover, or the Dover Public Library.
Central Park Bowling Alley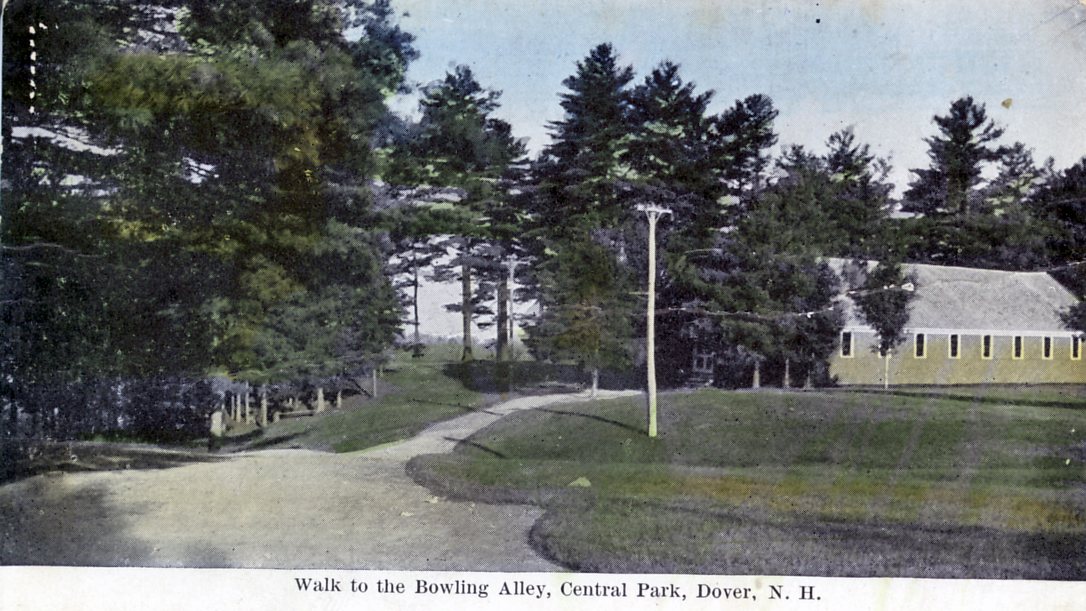 During the early 1900s at the peak of its popularity, Central Park's offerings included a dance hall with a highly-waxed 75,000 square foot hardware dance floor. The hall's twenty windows opened on three sides to a wide veranda with views of the pond. Its interior was decorated with floor-length plate glass mirrors. A 1600-seat open amphitheatre was also on the site and offered lots of nightly entertainment ranging from Vaudeville shows and summer stock to boxing matches. There was also a bandstand for concerts, a penny arcade, and merry-go-round, roller skating rink, bowling alley, a bear cage with two live bears, a horseshoe pit, swings, several picnic areas, a lawn tennis court, baseball and football fields, a track for bicycle races, and rowboats, sailboats, and canoes to rent and steamboat rides around the pond for ten cents.
This historical essay is provided free to all readers as an educational service. It may not be reproduced on any website, list, bulletin board, or in print without the permission of the Dover Public Library. Links to the Dover Public Library homepage or a specific article's URL are permissible.