Disclaimer
The Dover Public Library website offers public access to a wide range of information, including historical materials that are products of their particular times, and may contain values, language or stereotypes that would now be deemed insensitive, inappropriate or factually inaccurate. However, these records reflect the shared attitudes and values of the community from which they were collected and thus constitute an important social record.
The materials contained in the collection do not represent the opinions of the City of Dover, or the Dover Public Library.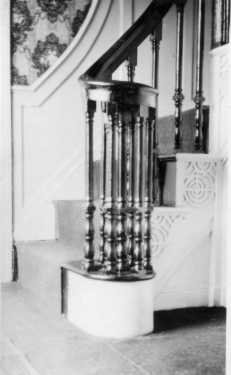 43 Main Street

This circa 1780 house is one of the few dwellings of the pre-industrial era surviving in downtown Dover. It was placed on the National Register of Historic Places in 1980. The home's builder was Michael Reade, Sr., born in 1741 in Kilkenny, Ireland. Reade came to Dover before the Revolutionary War and was one of the town's first Irish immigrants. Reade was an ambitious entrepreneur who made a great deal of money in Landing real estate speculation and limber exporting. Bey 1800, he was called the "principal merchant" on the Landing. His home is significant for the high quality and detail of its interior woodwork. Reade's house represents an era when this section of town was an important commercial center dominated by relatively fes substantial homes. Most of these homes were destroyed as the mills were built and expanded and as worker housing for the operatives was constructed.

Reade's son, Michael Jr., was born in 1778 and inherited a small fortune when his father died in 1821. Michael Jr. stayed in this house and enjoyed a life of leisure acquiring a reputation as a storehouse of local history. He was described as a man who "kept away from temperance meetings and antislavery lectures and rarely went to church". Michael never married, "rarely smiled, never laughed". He objected strenuously when ledge on Main Street was blasted in the 1830s to lower the steep grade, ultimately requiring him to climb six steps to his front door. He is said never to have walked on a sidewalk in Dover from that time until his death. He lived frugally here with his sister  and "refused to buy butter when the price rose over $.24 a pound." From 1812 until his death in 1864, he kept Interlinear almanacs which recounted ship arrivals, Landing events, weather, and some political and economic commentary about the Dover of his day.
    From the 1994 Heritage Walking Tour Booklet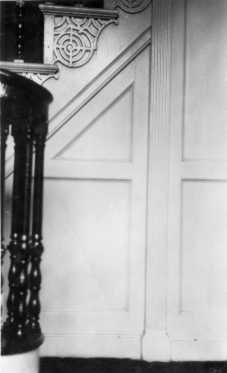 The Michael Reade house is known to be standing in 1788 and young Reade ran from his house to Swasey's Hill to see Elisha Thomas hanged.

This house has a beautiful Colonial stairway, wooden panels in both front rooms, corner cupboard in the dining room and is in a fine state of preservation inside.  The front hall and staircase are noted in Dover.

This house occupies the brow of the hill on Main Street and is one of the very substantial dwellings of the Revolutionary period.

This was the home of Michael Reade who was a leading merchant on Dover Landing which flourished with its maritime trade more than a century before the advent of the railroad.

When Reade built it, it was one of the finest the village boasted. The cellar was excavated from solid ledge. Reade engaged largely in the lumber business so he used the best of timber in the construction. The fireplace is of chaste design. There are two landings on the stair way.               
    From "Old Houses Built Before 1840, many before 1780, Dover, NH" By Florence E. McDaniel
This historical essay is provided free to all readers as an educational service. It may not be reproduced on any website, list, bulletin board, or in print without the permission of the Dover Public Library. Links to the Dover Public Library homepage or a specific article's URL are permissible.