Disclaimer
The Dover Public Library website offers public access to a wide range of information, including historical materials that are products of their particular times, and may contain values, language or stereotypes that would now be deemed insensitive, inappropriate or factually inaccurate. However, these records reflect the shared attitudes and values of the community from which they were collected and thus constitute an important social record.
The materials contained in the collection do not represent the opinions of the City of Dover, or the Dover Public Library.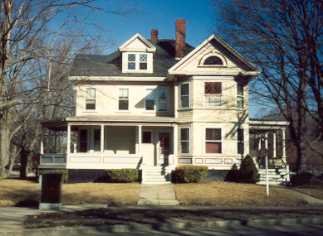 In 1865 John Laskey bought 4 acres at the corner of Silver and Coffin Streets including a 9 room house (now 137 Silver Street) from the Towle family, Two years later Mr. Laskey sold the property to Luther Burlingame, the publisher of the Morning Star newspaper, who lived here for about 12 years and then sold the property to Levi Elder. Mr. Elder, a stone cutter, lived here until his death in 1887, and his widow Mary lived here for and additional 20 years,

 In 1904 Mary Elder sold a lot on the corner to Edwin L. Burnham who built the house that is now 141 & 143 Silver Street. The Burnham family lived here until 1950 when Edith Burnham, the daughter of Edwin, sold the property to Burns, Inc. and it became rental property until Molly O'Gara bought the house in 1964 and lived here for about 10 years.
        From the 1999 Heritage Walking Tour booklet
This historical essay is provided free to all readers as an educational service. It may not be reproduced on any website, list, bulletin board, or in print without the permission of the Dover Public Library. Links to the Dover Public Library homepage or a specific article's URL are permissible.