Disclaimer
The Dover Public Library website offers public access to a wide range of information, including historical materials that are products of their particular times, and may contain values, language or stereotypes that would now be deemed insensitive, inappropriate or factually inaccurate. However, these records reflect the shared attitudes and values of the community from which they were collected and thus constitute an important social record.
The materials contained in the collection do not represent the opinions of the City of Dover, or the Dover Public Library.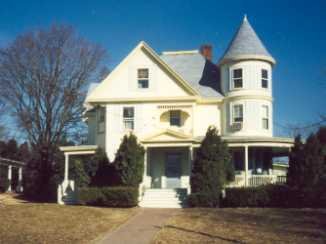 This lot, part of the Robert Christy estate until it was subdivided in 1895, was purchased by Sarah A. Ham Glass for her niece Mary Edith Ricker and her husband James. By 1897, the Gallaghers were occupying their new home here. In 1898, Mary Edith fell off a horse and died of peritonitis; James then sold the home in 1903 to Dwight Hall.

May Edith's mother, Mary Abby Ham Ricker, bequeathed her estate for the construction of a memorial chapel, located in Pine Hill Cemetery, was completed in October 1912.

In 1908, Dwight Hall sold the house to William Hall Roberts. Clerk of Court and direct descendant of one of Dover's first settlers, Thomas Robert. Mr. Robert and wife Lila Burgess had two children, Wade and Wilma. Wilma Roberts Thorin Sowerby taught for many years at the Verney School and still resides in Dover.
        From the 1990 Heritage Walking Tour booklet
This historical essay is provided free to all readers as an educational service. It may not be reproduced on any website, list, bulletin board, or in print without the permission of the Dover Public Library. Links to the Dover Public Library homepage or a specific article's URL are permissible.