Disclaimer
The Dover Public Library website offers public access to a wide range of information, including historical materials that are products of their particular times, and may contain values, language or stereotypes that would now be deemed insensitive, inappropriate or factually inaccurate. However, these records reflect the shared attitudes and values of the community from which they were collected and thus constitute an important social record.
The materials contained in the collection do not represent the opinions of the City of Dover, or the Dover Public Library.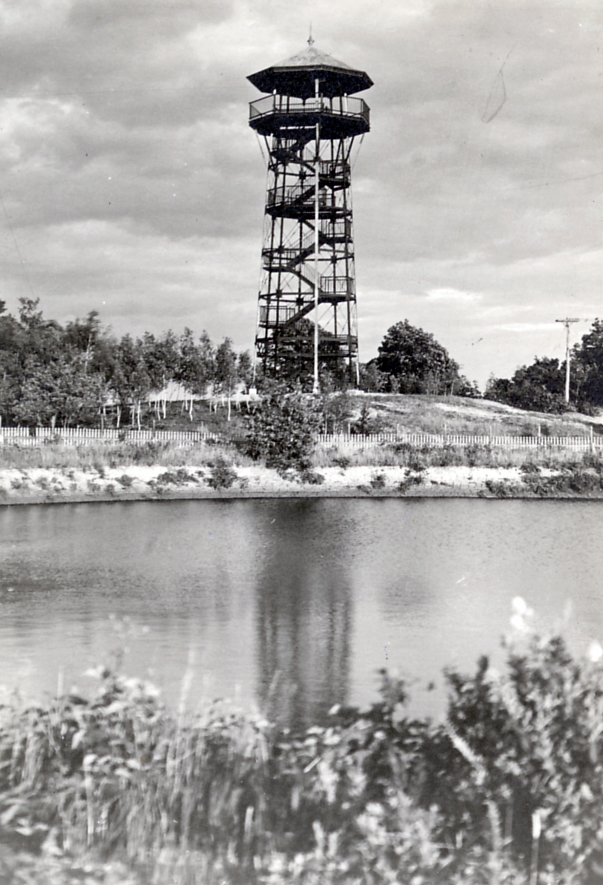 Garrison Hill Tower stands 76 feet tall atop Garrison Hill which is 298 feet high. Three towers have stood in this spot. The first,  a wooden tower built in 1880 burned in 1911. Abby Sawyer commissioned the next tower, made of steel, in 1913 to honor her husband. It was taken down in 1990 as it was no longer safe. A third tower was raised through the efforts of volunteers and once again provides unparalleled views from the White Mountains to the Isles of Shoals.
By 1880, the top of Garrison Hill was jointly owned by Joseph Ham and a young entrepreneur  who was cashier at the Cocheco National Bank, Harrison Haley. Haley built, for $1000, a wooden observatory 65 feet high, designed by architect B.D. Stewart, and modeled on a similar structure at Coney Island. Known as "Haley's and Ham's Outlook", the tower was five stories high with a mansard rood and open balconies on every floor. A 10 cent admission was charged to climb to the top where Haley had installed a telescope through which the public could see Mount Washington, ninety miles away. Over 6000 tickets were sold the first year. The observatory also had a small 25 square foot restaurant in the base where light lunches and cold drinks could be purchased. The top of the hill was landscaped with hiking trails and a six acre picnic grove and a roller skating rink with removable sides. Young Dover men came in droves to play in the roller hockey league games at the rink. Haley also had plans to install a 102 foot high toboggan run that would extend 2000-3000 feet down the hill, but this project never materialized.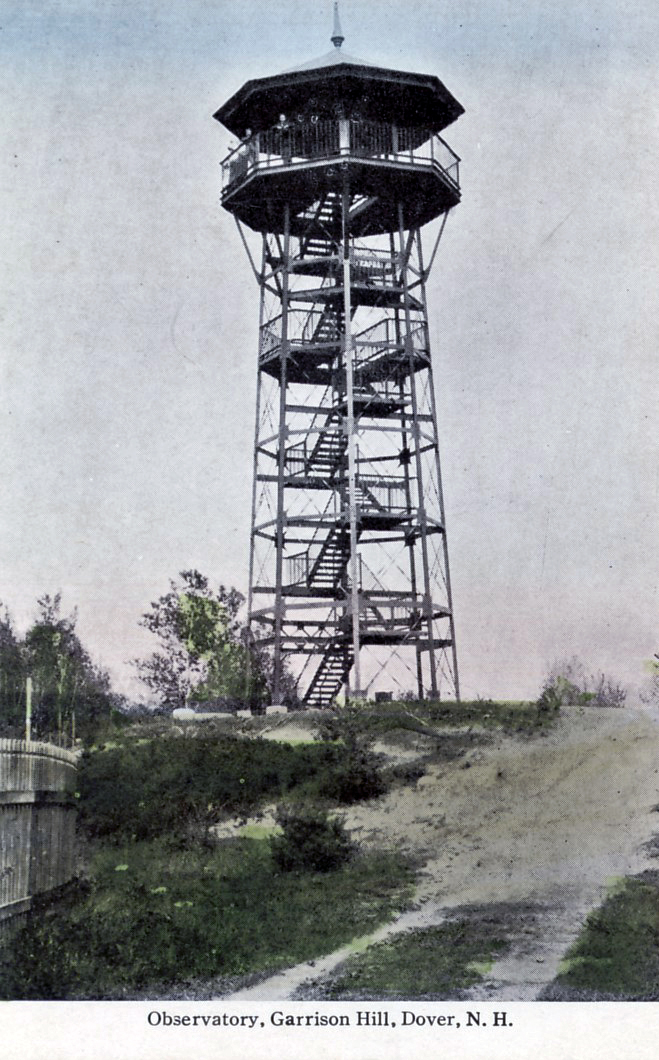 In 1882, Harrison Haley incorporated the Dover Horse Railroad Company with $20,000 borrowed from local investors. Four cars, two open-air and two closed, were teamed with fourteen horses to carry passengers along a 2.39 mile route from Sawyer's Bridge to Garrison Hill, Each car could carry from 26-30 passengers who road on 110 tons of wrought iron rails. Trolleys ran every thirty minutes and the fare was six cents. Over 5000 tickets were sold each week.

 In 1888, Haley sold out his shares of the railroad and Mrs. Mary Edna Hill Gray Dow became president. She immediately made national news as the first woman president of a railway company.
        From the1986 Heritage Walking Tour booklet
This historical essay is provided free to all readers as an educational service. It may not be reproduced on any website, list, bulletin board, or in print without the permission of the Dover Public Library. Links to the Dover Public Library homepage or a specific article's URL are permissible.