Disclaimer
The Dover Public Library website offers public access to a wide range of information, including historical materials that are products of their particular times, and may contain values, language or stereotypes that would now be deemed insensitive, inappropriate or factually inaccurate. However, these records reflect the shared attitudes and values of the community from which they were collected and thus constitute an important social record.
The materials contained in the collection do not represent the opinions of the City of Dover, or the Dover Public Library.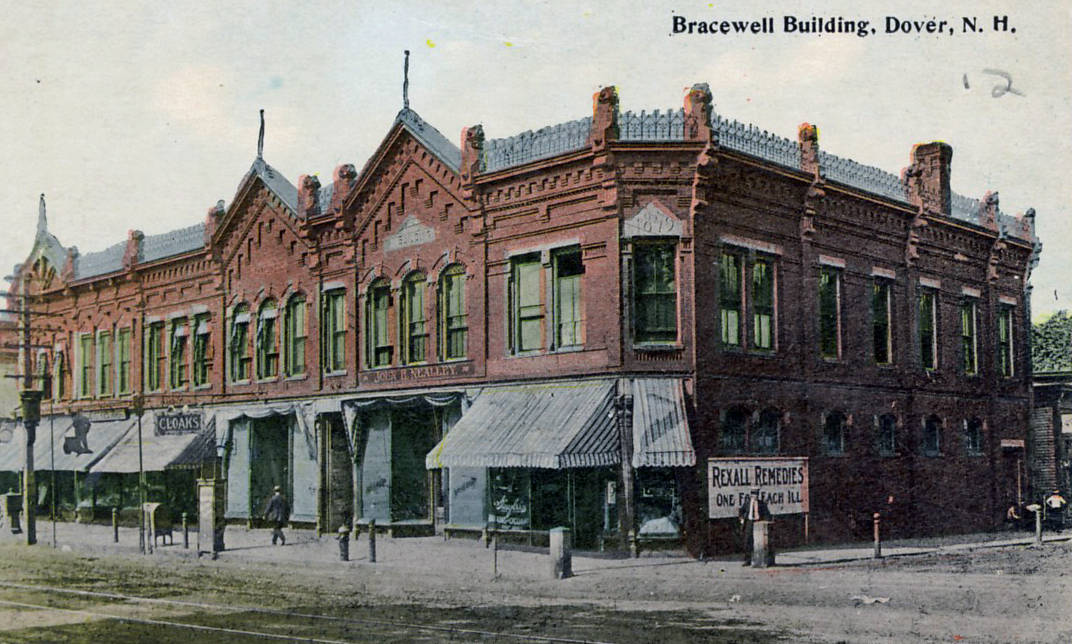 Donated by Robert Marston

 The original block was constructed in 1877-79 by Colonel John Bracewell, a wealthy Print Works supervisor. It cost $40,000 and extended over the Cocheco River on a span of granite piers. It housed eleven businesses. One-third of the block was lost, however, in the famous flood of March 1, 1896, "Dover's Black Day".
 A severe storm had caused the river to rise ten feet above normal and when loose ice chunks hit the piers the Central Avenue bridge and three stores at the end of the Bracewell Building fell into the river tearing down most of the power lines for the Avenue as well. Dover lost three bridges that day and total losses from the storm were estimated at  $300,000.
        From the 1984 Heritage Walking Tour Booklet.
This historical essay is provided free to all readers as an educational service. It may not be reproduced on any website, list, bulletin board, or in print without the permission of the Dover Public Library. Links to the Dover Public Library homepage or a specific article's URL are permissible.