Disclaimer
The Dover Public Library website offers public access to a wide range of information, including historical materials that are products of their particular times, and may contain values, language or stereotypes that would now be deemed insensitive, inappropriate or factually inaccurate. However, these records reflect the shared attitudes and values of the community from which they were collected and thus constitute an important social record.
The materials contained in the collection do not represent the opinions of the City of Dover, or the Dover Public Library.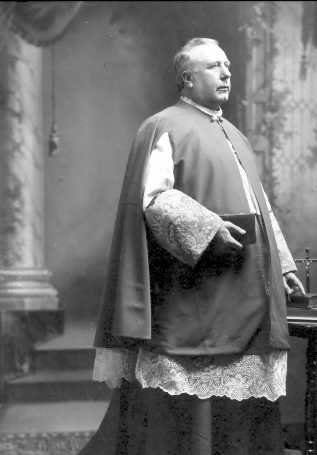 Father Daniel Murphy was born in Liscarroll, County Cork, Ireland on November 24, 1838. He finished his studies at the Grand Seminary of Montreal. He was ordained by Bishop Bacon in Portland, Maine, August 1861. He served in many Maine and New Hampshire communities before being transferred to Dover. In 1881 Father Murphy was appointed pastor to St. Mary's Catholic Church. He built the Sacred Heart School for Girls and remodeled a house to serve as a convent for the Sisters of Mercy. In 1887 he converted a building to serve as an orphanage. In 1888 Father Murphy built St. Joseph's School for Boys. In 1891 he installed a bell tower of St. Mary's Catholic Church. Father Murphy was also responsible for the installation of St. Mary's beautiful stained glass windows. In 1901 he was made a Monsignor. Father Murphy passed away April 3, 1911. His funeral is said to have been the largest Dover has ever seen.
This historical essay is provided free to all readers as an educational service. It may not be reproduced on any website, list, bulletin board, or in print without the permission of the Dover Public Library. Links to the Dover Public Library homepage or a specific article's URL are permissible.