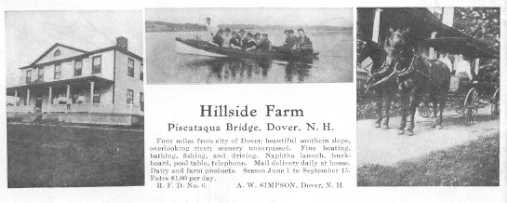 Hillside Farm, Piscataqua Bridge, Dover, N.H.


Four miles from the city of Dover, beautiful southern slope, overlooking river; scenery unsurpassed. Fine boating, bathing, fishing, and driving, Naphtha launch, buckboard, pool table, telephone. Mail delivery daily at house. Dairy and farm products. Season June 1 to September 15. R.F.D. No. 6, A.W. Simpson, Dover, N.H.

Postcard donated by Robert Marston.