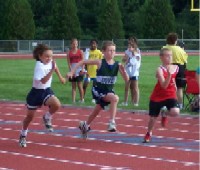 Come learn how to run, jump, and throw! This program is an introduction to track as well as being a lead up to the Granite State Track Meet, which is held in early July. Running shoes are recommended (racing spikes are not allowed). This program is for those students who will be ages 9 - 14 by 12/31/2018. Practices will be twice a week - normally Tuesdays & Thursdays, but subject to change based on weather or other conflicts.
Emphasis is on having fun & seeing improvement!  Athletes compete in two-year age groups (roughly 9 & 10, 11 & 12, 13 & 14 year olds).
Tentative start date:  mid/late May.
Fee: $50

Practices will normally be held at the DHS track.
Click here to download the registration and mail it in!