New multi-space pay and display meters have been installed throughout downtown. Drivers need to find the nearest meter, pay by coin or credit/debit card and then go back and leave the receipt on the dash. 
The new meters DO NOT accept bills, only nickels, dimes, quarters, dollar coins, and credit cards to include Visa, MasterCard and Discover. Card users should allow around 8-10 seconds for their card to be approved by the bank. The meter will let you know as it performs each step; once approved, just hit the green add time button to get your desired amount of paid parking time, and then get your receipt.
Solar-Powered Electronic Multi-Space Pay & Display Parking Meter Facts 

Office Hours: Dover City Hall, Ground Floor, (46 Locust Street side)
Monday – Thursday 8:30 am to 4:30 pm; Friday 8:30 am to 4 pm.
Phone: (603) 516-6132 

E-mail: Parking Bureau: click here
What Are the Hours of Operation?
Dover's multi-space meters are used Monday through Friday from 9 am to 7 pm. 

Can I Use the Remaining Time on My Ticket Somewhere Else?
Any time purchased at an on-street meter may be used in any of the metered locations' parking spaces.

Receipts purchased in any parking lot are valid in any other lot.

How Do I Know Where to Pay?
Signs indicating the location of the meters are located throughout the area covered by the meter.

What Are the Meter Rates?
$.75 per 1 Hour for the Parking Garage and Lots.   $1.00 per 1 Hour for on-street spaces.

The minimum charge for coins is twenty five (25) cents. The minimum charge for credit card payments is seventy five (75) cents.

How Does It Work?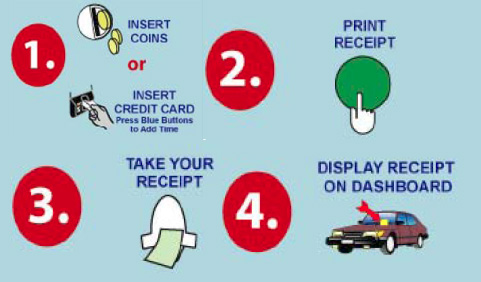 A driver will insert coins or a credit card into the meter.
Once the driver has selected the duration of their stay, they will press the green button to produce the receipt.
This receipt must be displayed on the drivers side dashboard so that an enforcement officer may view it.
 Pay and Display Meter Operating Instructions