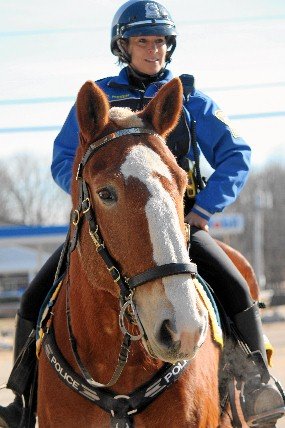 In May of 1998, the Dover Police Mounted Patrol began its deployment in our downtown area. Our goal with this program was twofold. First, our primary goal was to increase the Police Department's sense of presence in the downtown area and secondly, we hoped to promote a positive image and enhance personal communication with members of the public. To date, we feel we have done well at accomplishing these two goals.


Although most of the response to this program has been very favorable, it is a fact of life that from time to time, our horses will leave droppings on the streets downtown. We have researched this issue with other existing Mounted Units and have determined that this does not create a health risk that anyone needs to be concerned about. At times, this will even occur without the officer being aware of it. In these cases, we ask that members of the public contact the Dover Police Department Dispatch Center at 742-4646 and let our Dispatchers know. They will make arrangements to have the droppings removed and discarded properly. 



We appreciate the warm reception and support that we have received in the community and hope that you will continue to enjoy the presence of "Rasa" and "CJ" as members of our downtown community.