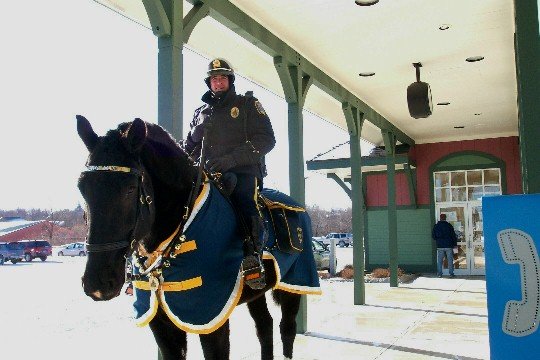 Mounted Units are commonly utilized for their effectiveness and efficiency in crowd control. The efficacy of a mounted officer in a crowd control situation is staggering. Most estimates show that a horse and rider can do the job of 10-20 officers on foot, oftentimes with greater success and less injury to the officer or the perpetrator. Additionally, the unit also participates in speed and traffic enforcement, parking enforcement, search and rescue operations, block club get-togethers, parades, festivals, and other special events around the city.
While the above mentioned duties are essential, the primary function of the Police Mounted Unit is support of patrol operations. This is necessitated due to the make-up of our city. We do not regularly experience large riot situations or large crowds, with the exception of special events and festivals.
The main focus of this support is neighborhood patrol. All of our neighborhoods benefit from having mounted patrol, but in varying ways. From a criminal standpoint, the Mounted Unit responds to certain areas of the city through citizen or command staff request, and also through proactive placement.
Given the nature of patrol on horseback, it is advisable that mounted officers respond to street level criminal concerns. Many of these concerns can be characterized as "quality-of-life" crimes. These crimes and types of behavior reflect negatively on a neighborhood. They increase the perception that a neighborhood is unsafe. Criminals are emboldened and good citizens are discouraged. Some types of behavior that would be considered as quality-of-life concerns consist of urination in public, vagrancy, disorderly conduct, noise complaints, traffic offenses, littering, vandalism, drug dealing, public intoxication, theft, loitering, and trespassing.
While officers on patrol in squad cars have a wide range of mobility and are expected to answer calls-for-service, mounted officers can stay in a small geographic area and are not usually subject to dispatched calls. This means that if a certain grid is identified as experiencing a high number of quality-of-life street level crimes within the downtown area.
It goes without saying that interaction with children may be one of the most important things a mounted officer can engage in. Children and citizens who may not normally interact with police will do so with a police officer on a horse. We go to great lengths to establish positive community relations with our youngest of citizens. Answering questions, smiling, laughing, and making ourselves available for photos...these are all ways of creating a bond with the people we serve. While our uniforms and mode of transport may hearken back to bygone peaceful days of police history, it is evident that the existence of this unit in its current form leads to greater realization that, in the words of Sir Robert Peel, "...the police are the public and the public are the police".