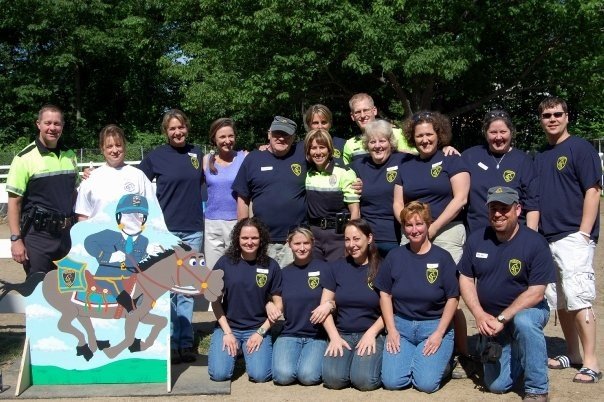 Left to right back~ Officer Joe Caproni, Sylvia Kibler , Beth Barnhorst, Gretchen Hatfield (artist), Ray Stackpole, Officer Michelle Murch, (Amber & Officer Ben Lilyestrom are behind behind Officer Murch), Amy Peterson, Martha Mason, Holly Roche, Kenny from Central Paints(volunteer for the day)
Front Row~ Jennifer Lingeman, Rachel Castellez, Stephanie French, Amy Moynahan & Mike Cicchese
The Dover Police Mounted Patrol currently receives no tax funding. Therefore, we look to the community for sponsorship and volunteer support.

The Dover Police Mounted Patrol relies on volunteers to accomplish a number of tasks from stable management to horse exercising. Some volunteers have extensive equestrian backgrounds, while others have none, but have been willing to "learn on the job". Volunteers must be at least 16 years of age, and have parental permission if under 18. Experience with horses is not a requirement, but a willingness to work with and around our horses is.

Businesses in the community are able to offer an annual "Paddock Sponsorship" in the amount of $500. This allows us to purchase feed for our horses, and in return, each paddock sponsor receives a 3'x 5' sign, which is displayed on the fence surrounding the paddock of our stable facility on Cocheco Street.
Our Paddock Sponsors Include:

La Festa
Brick & Brew Pizzeria
300 Central Avenue, Dover, NH 03820
(603) 743-4100
Call ahead for easy pickup!

Relyco
121 Broadway, Dover, NH 03820
800-777-7359
http://www.relyco.com

Relyco delivers innovative business printing and fraud prevention solutions—including laser and digital applications, high-security documents, and e-payment software—to meet the requirements of global customers and personalized service to exceed customer expectations.

Edward Jones - Financial Advisor: Eliot Lazenby
100 First St Suite 115, Dover, NH 03820
(603) 740-4600

Holy Rosary Credit Union (HRCU)
490 Central Ave, Dover, NH 03820
(603) 743-3999


Our hay comes from generous donations from area farmers. Anyone interested in making a donation of hay or; Persons interested in a sponsorship or a volunteer position, please contact Support Services Division Commander, Captain David Terlemezian at 742-4646.

Donations are accepted, and greatly appreciated.

Mail donations to:

Dover Police Charities 
46 Locust Street
Dover, NH 03820