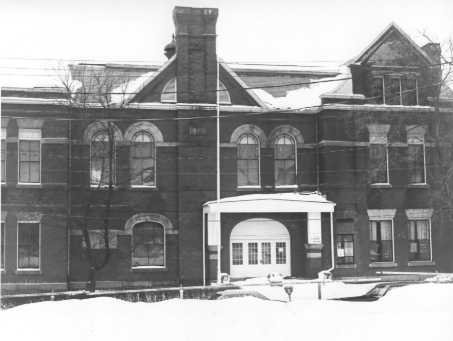 In 1890, the Strafford County Court House was erected on the site of the old stockade with the Probate Office in the Court House built directly over the spring used by Major Waldron. Fine writing in musty leather books whose pages are yellowed with age, tells the story of the Strafford County court before there was any court house. The earliest record is in a book labeled 1774-1789, and inside "Anno Regni Regis Georgii."  The first case was that of Joe Prince of Boston in a suit against Daniel Warner of Portsmouth.

The first case ever tried in the court house was the trial of Isaac Sawtelle for murder of his brother Hiram, whom he buried in the Lebanon woods. This case came to a speedy conclusion on Christmas Day, nine days after it had begun. The verdict being "guilty," Isaac was sentenced to be hanged, but died of apoplexy a few days before the hanging.

An unusual story in the trial history if the court occurred in 1918, when the influenza epidemic took its heavy toll. A murder case in session at the time was forced to be suspended because two of the jurors and the court stenographer were taken ill. That case  was continued and a few days later the defendant paid the supreme penalty, a victim of the epidemic.

Leaving the more sordid part of the courthouse and coming to the building itself- the court room seats between three and four hundred people. Pictures of well known judges decorate the walls, among which are those of Chief Justice Kivel, Chief Justice Pike and Judge Woodman, The picture of Judge Snow of Rochester will be hung this fall. Rooms for the petit and grand juries, judges chambers, attorney's room and witnesses' rooms complete the upstairs section of the building. On the first floor are rooms for the Register of Deeds, the Register of Probate, the Sheriff and the Clerk of Court. At present, the County Commissioners and the Relief Workers have their headquarters here.

The Court House is a busy place—especially during the tow sessions beginning on the second Tuesday in February and the second Tuesday in September.  

 Time, with her subtle sense of humor, smiles quietly, for on the site of the home of Major Waldron, who was distrusted by the Indians because of his practice of placing his hand, supposed to weigh one pound, on the scales, there is now a court represented by Justice fairly balancing the scales of right and wrong.
From Roving over Dover, the Oldest City in New Hampshire.