It is not on record that Dover sea captains went to Africa and got cargoes of Negroes in exchange for rum, as English captains did, and carried them to the West Indies, and sold them to the sugar planters, but it is a well known fact that they bought some of those men from the slave dealers and brought them to Dover and sold them to rich men here, who held them as slave to the ends of their lives. Some of these Negroes were living at the beginning of the Revolution, and some of the slaves served with their masters in the army that was fighting for American Freedom.
Of course only a few of the wealthier men in Dover could afford to purchase Negro Slaves, and those who did were not hard masters, but treated their servants kindly; gave them plenty to eat and , no doubt, gave them plenty of work to do. There is a record of one marriage of slaves in Dover. It can be found on page 174 of the "Dover Historical Collections":--
            "December 26,1774.—Richard, Negro servant to Mark Hunking, Esq., of Barrington, and Julia, Negro Servant to Stephen Evans, Esq., of Dover, by consent of their respective masters."
Rev. Jeremy Belknap officiated. Colonel Stephen Evans was the most distinguished military officer Dover had in the Revolution. Captain Mark Hunking was a wealthy retired sea Captain of Portsmouth, who spent the last twenty-five years of his life in Barrington. His residence was at "Beauty Hill," near Winkley's Pond.
    From History of Dover, New Hampshire. vol. 1. : Containing historical, genealogical and industrial data of its early settlers, their struggles and triumphs by John Scales, c. 1923.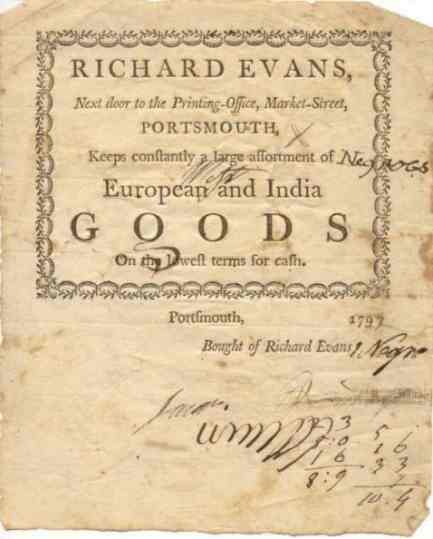 Receipt for a Negro sold in Portsmouth, New Hampshire, 1797.
 December 1775
 "By a census of the State taken this year "For the purpose of establishing an adequate representation of the people," Dover was found to contain males under 16 years if age 410, males from 16 years of age to 50 not in the army 342, males above 50 years of age 74, persons gone in the army 342, all females 786, negroes and slaves for life 26—total 1666". 
 December 1777
The "institution of slavery" existed, (though it could hardly be said to flourish) in Dover, until after the Declaration of Independence. December 6, 1773, Colonel Otis  Baker bought of Henry Ward of Newport , Rhode Island, "a negro boy named Cato," which boy aforesaid Ward, for and in consideration of the sum of "one thousand four hundred pounds, old tenor," promised the said Baker to "defend him and his assigns forever, against the lawful claims of all persons whatsoever." June 4,1777, Colonel Baker gave Cato his freedom, the certificate of emancipation being signed by Jeremy Belknap as witness.  As already stated, by census of 1775 there were "26 negroes and slaves for life" in Dover that year. These were mostly emancipated by their nominal owners during the revolution, or all became free by general consent and the adoption of the State Constitution soon after. Many of them however, remained for life in the families which they had faithfully served as slaves, preferring the protection of their old masters to the larger liberty which was offered to them.
From Notable Events in the History of Dover, N. H. by George Wadleigh, c. 1913.