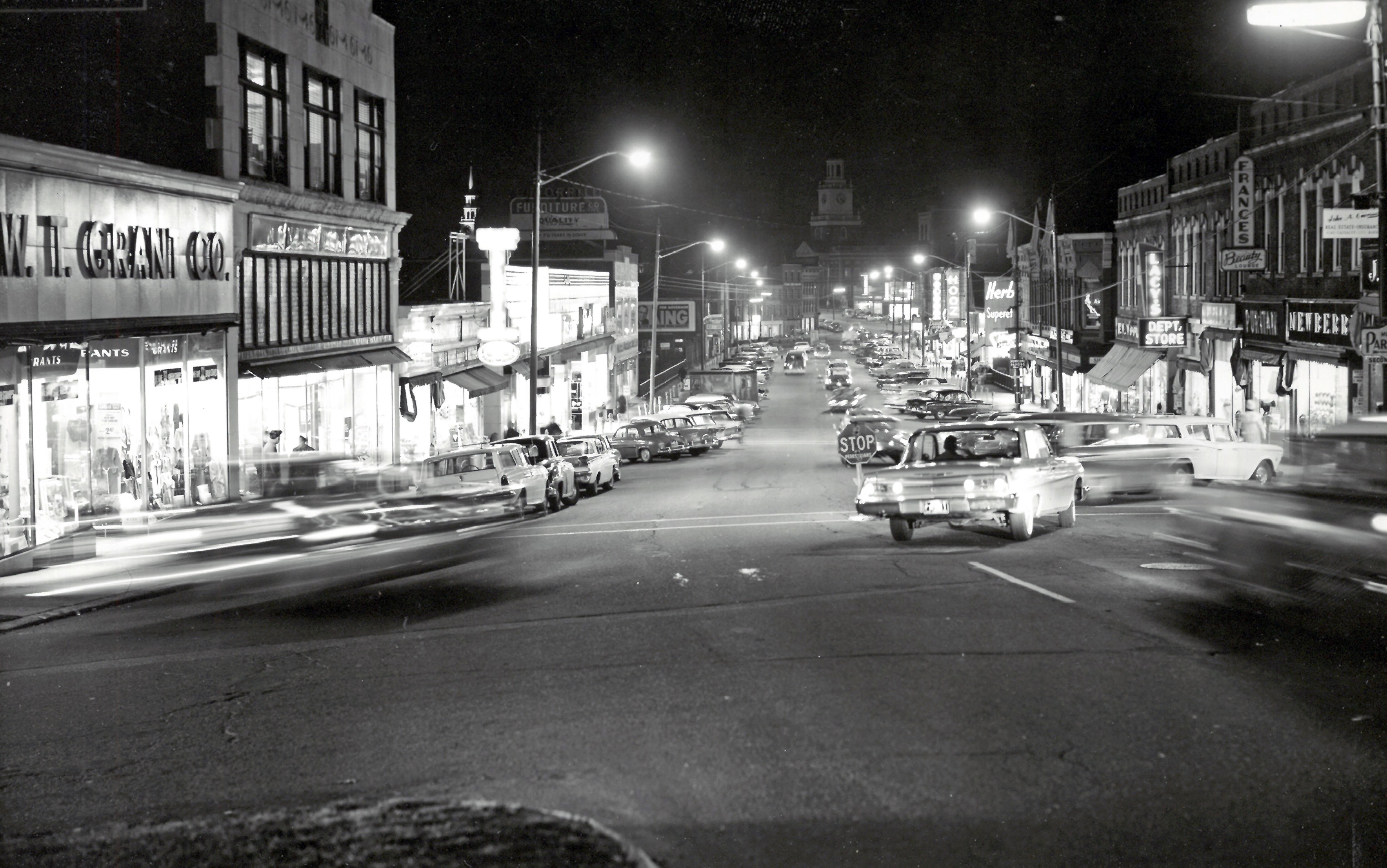 Central Avenue, circa 1960s.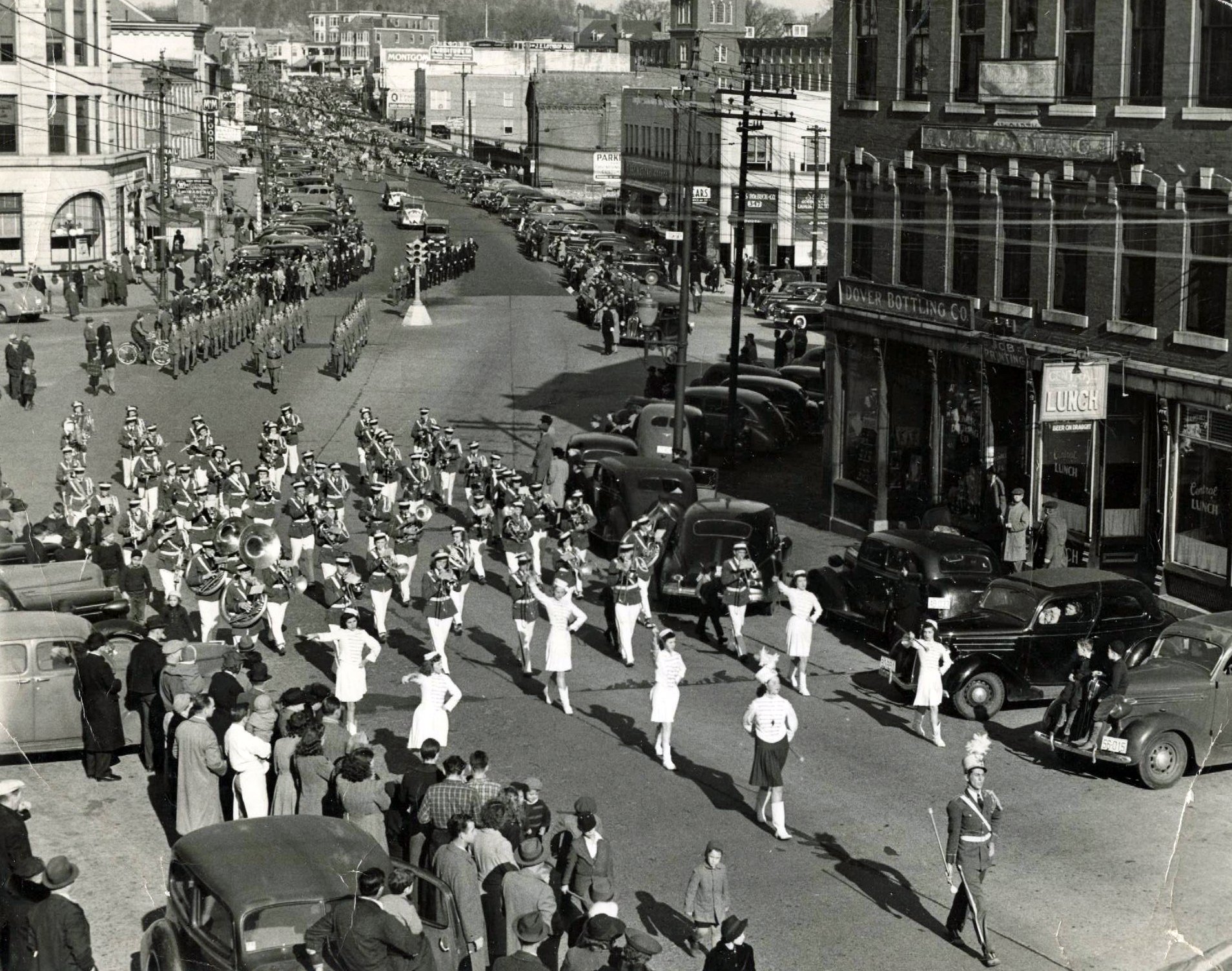 Parade wending its way past Montgomery Wards, Sears, Central Lunch, and the Dover
Bottling Company,  circa 1930s. The oldest bottling company in the area was begun in
1884 by Reuben G. and Henry G. Hayes. They bottled beer, cider, and ginger ale. By 1905,
the brothers had sold the company and it became known as the Dover Bottling Company
and expanded the product line to include tonics and soda water.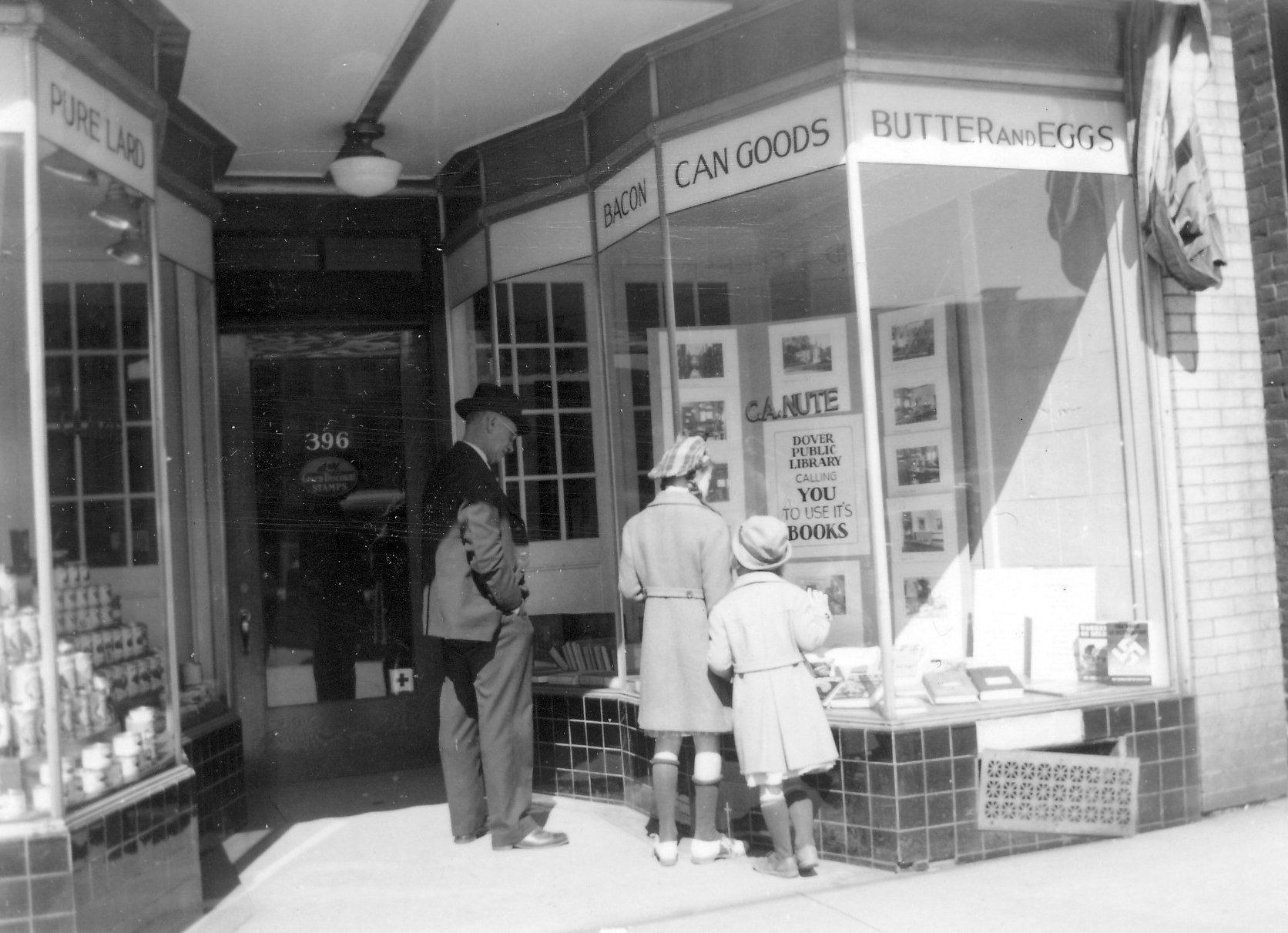 Special library display in local store on Central Avenue during World War II.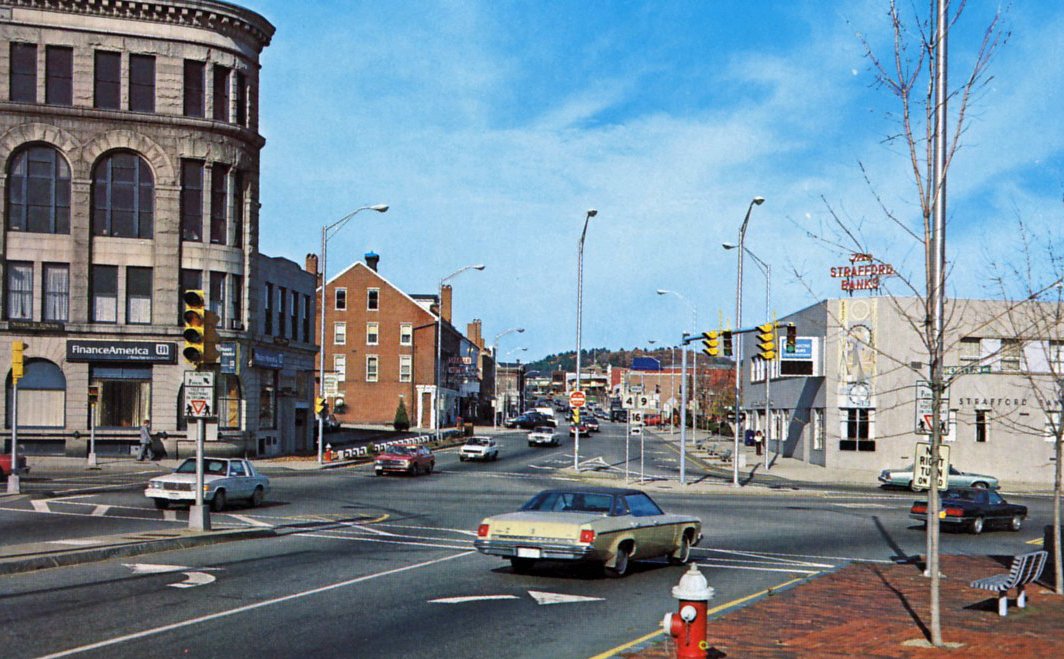 Intersection of Washington Street and Central Avenue, probably early 1980s.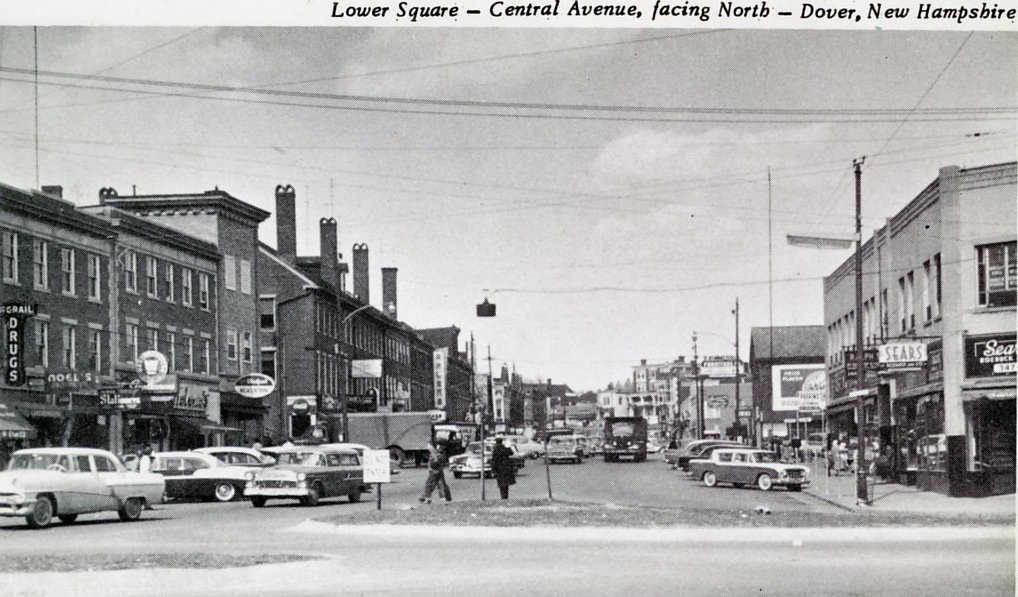 Lower square, circa 1950s.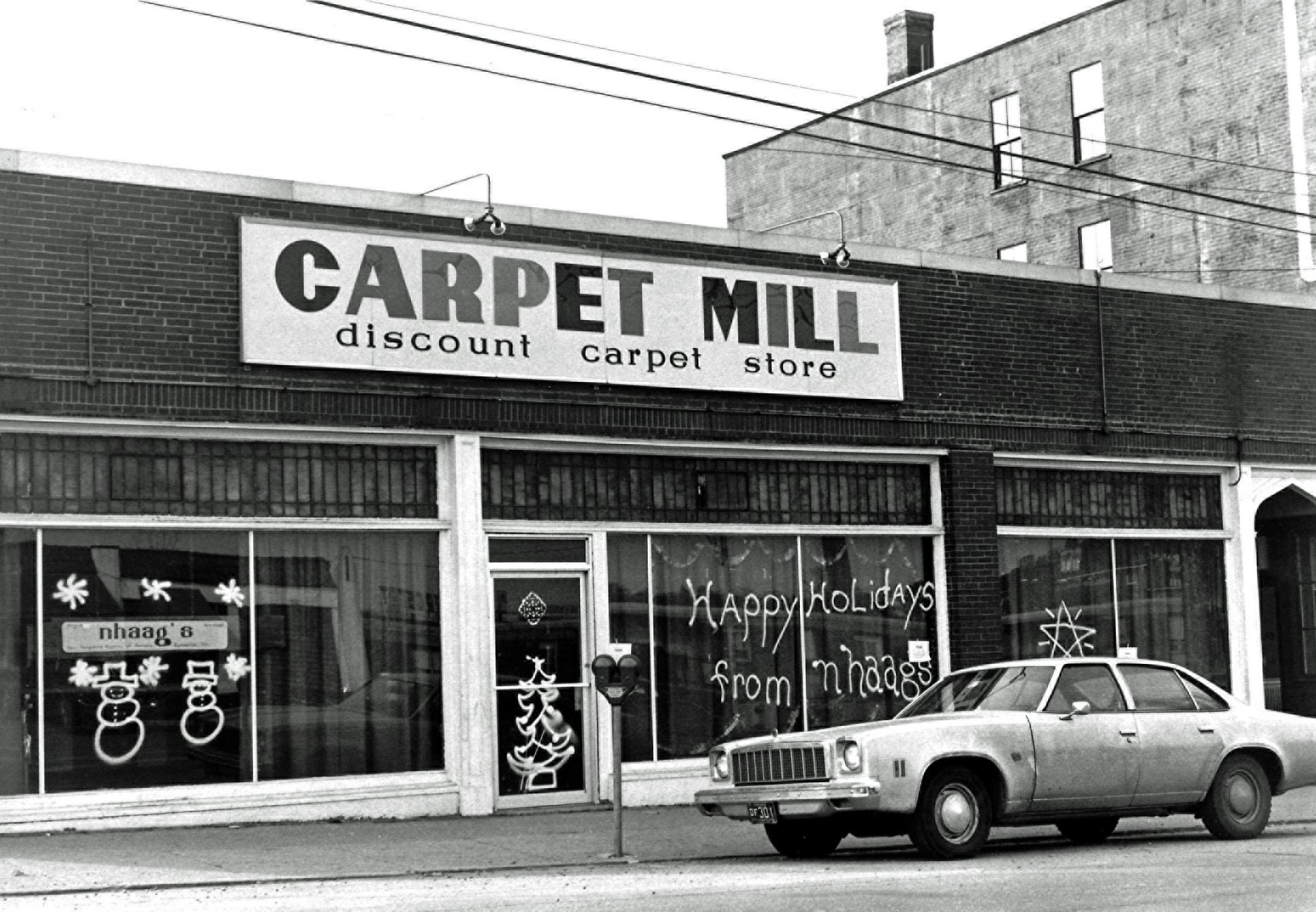 The Carpet Mill on Central Avenue.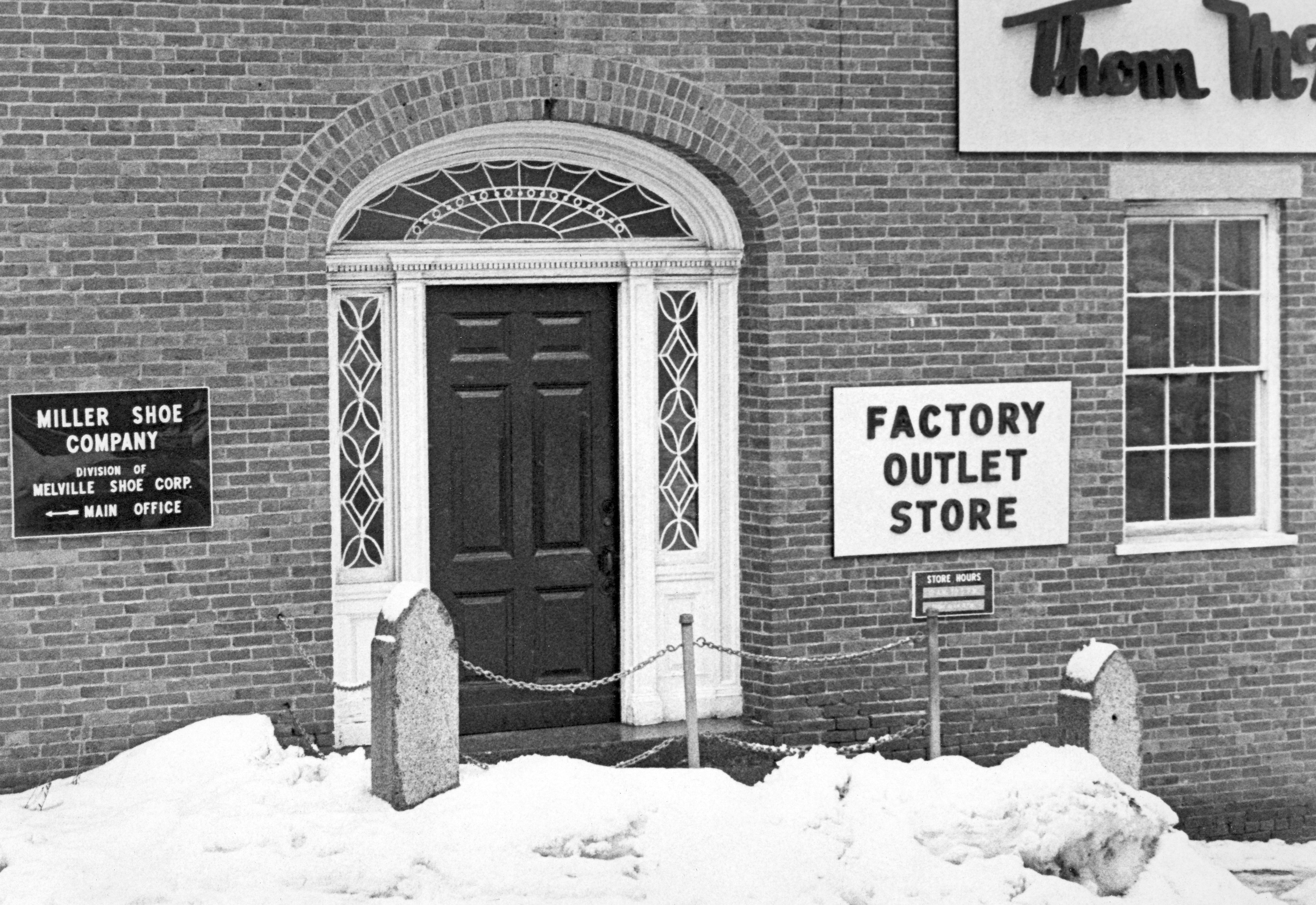 The Miller Shoe Company entrance in the Pacific Mills.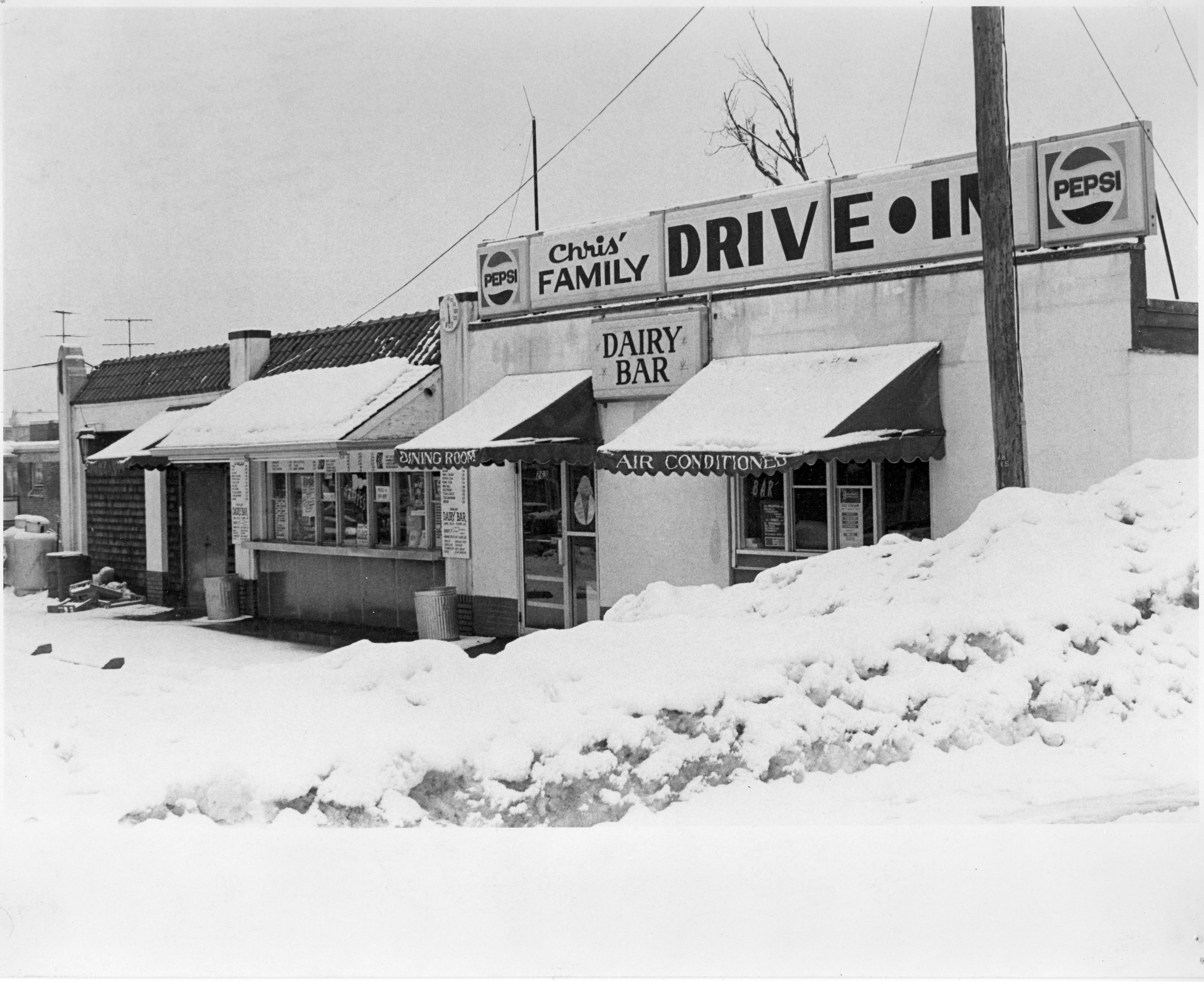 Chris' Family Drive In was the place to go for late night food and was reputed to have
better hot dogs than Flo's. It was located by Horizon Travel and Photosmith.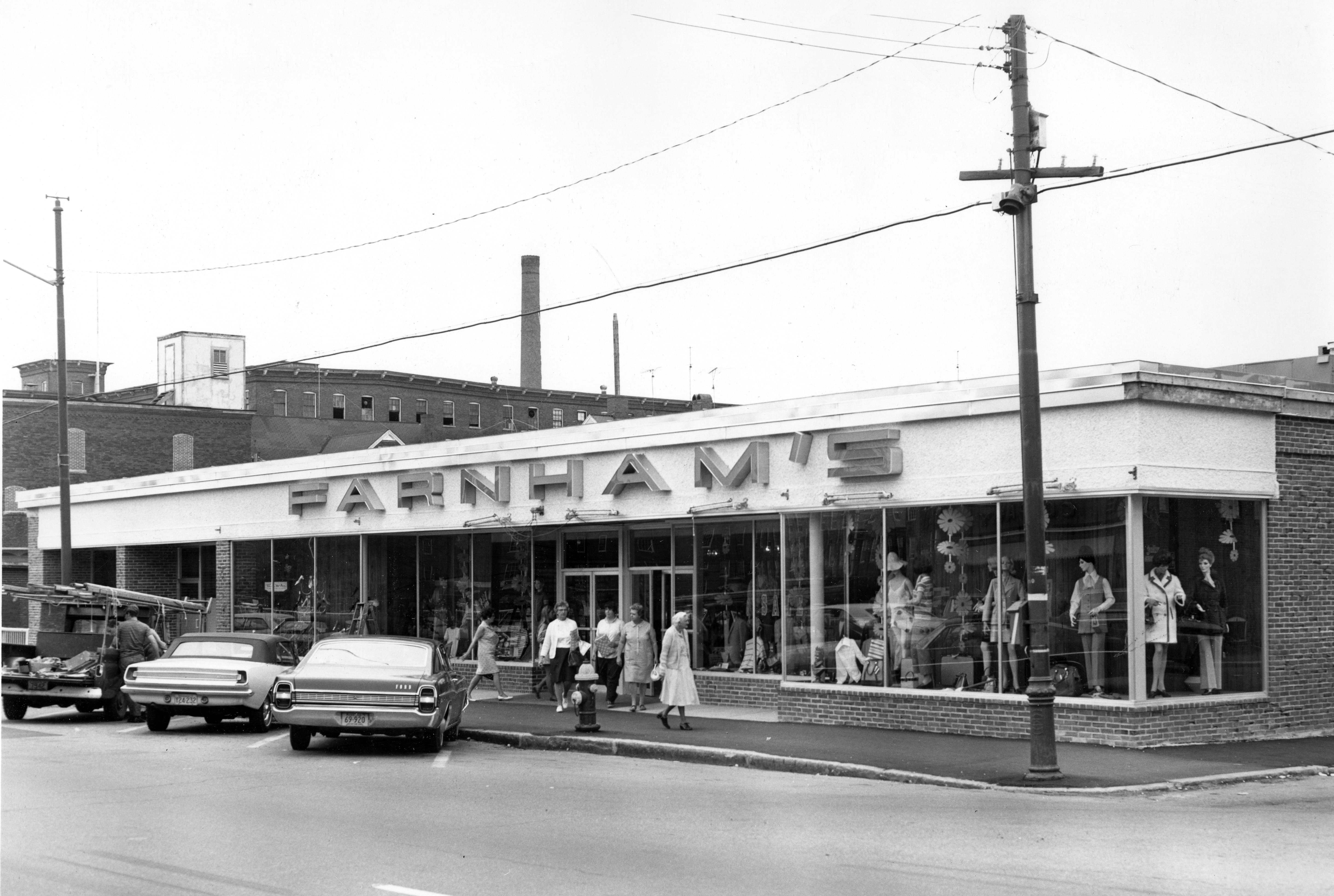 Farnham's Clothing Store on Central Avenue. 
"One highlight for any young person on a trip to downtown was a stop at Farnham's, a clothing store in the space now occupied by Earcraft. The first attraction was a system of small metal canisters that would carry a purchase invoice from anywhere in the store to the main office for processing with a pneumatic "whoosh" and clatter on its way to the front of the store. But the prime attraction was found in the shoe department — supervised by Mike Kenney — a console the size of a large floor-model radio. You would take one step up, place your feet in an open slot, push a button, and there would be an x-ray of your feet, bones and all. Since this was likely to be a monthly ritual it is a wonder — knowing what we now know about x-rays — that there are not several generations of former Dover youth with serious mobility issues." Tony McManus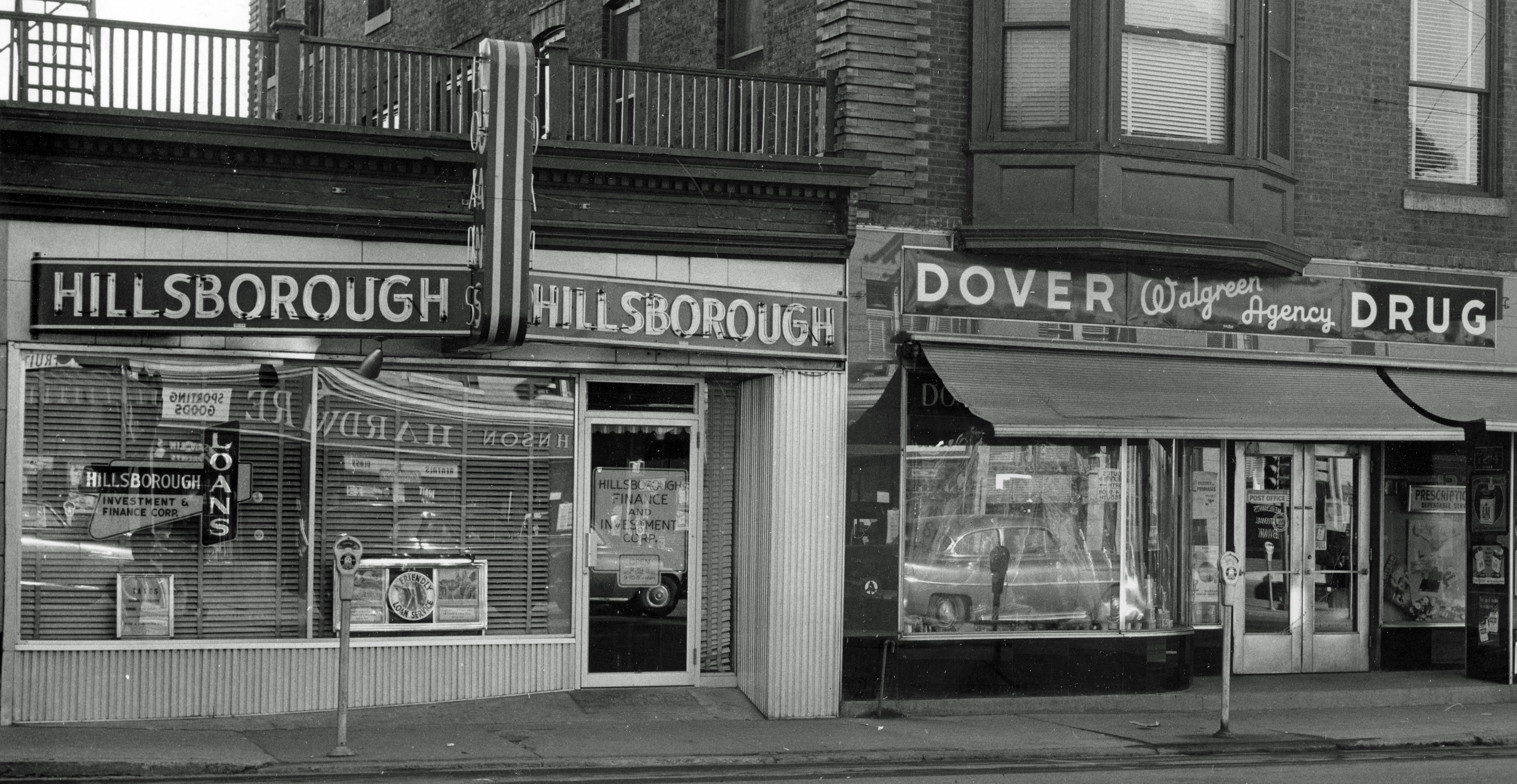 Hillsborough Finance & Investment Company and
Dover Drug at 505 Central Avenue, circa 1950s.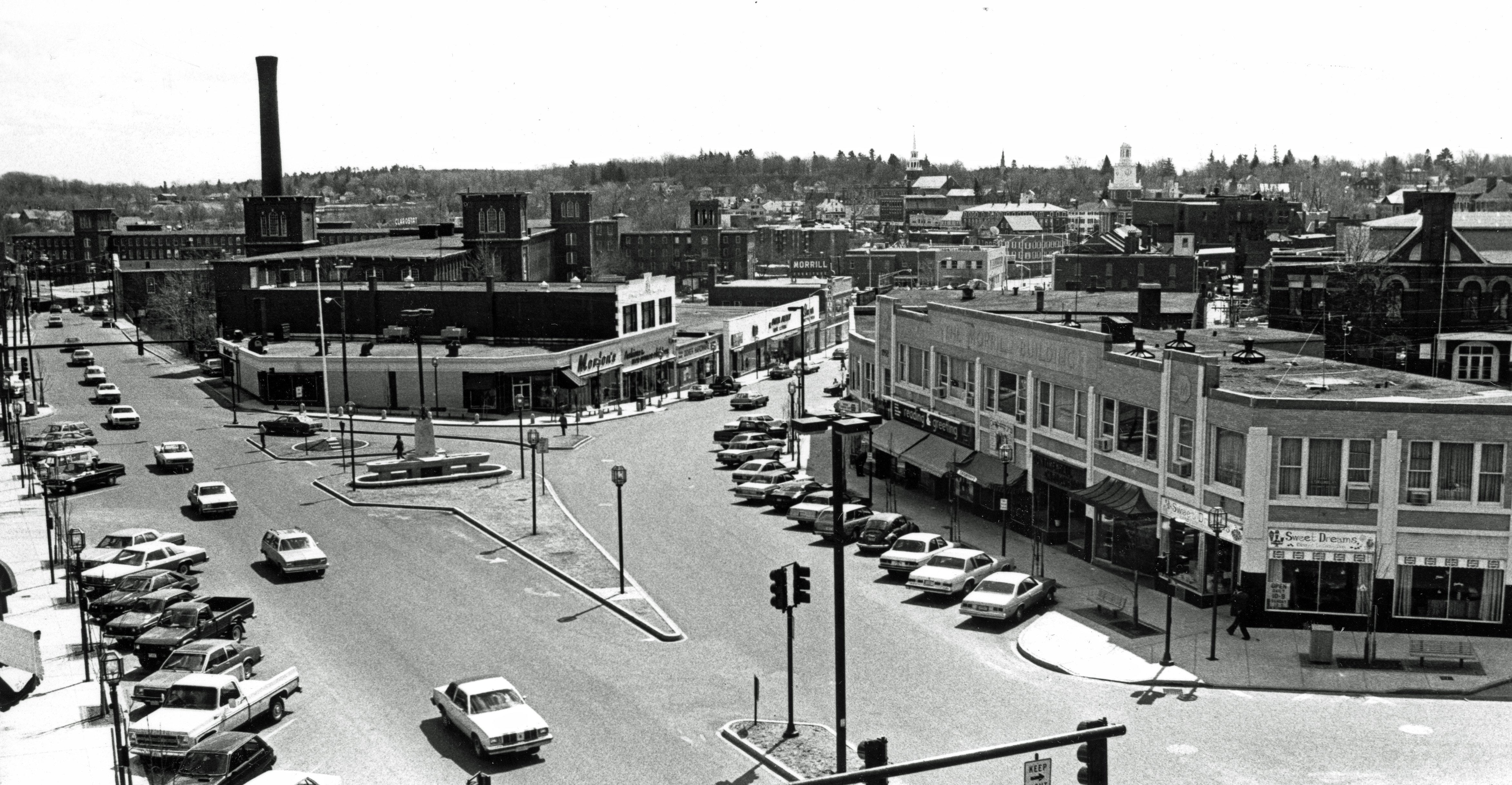 Central Avenue: Morton's Fashions and Dover Hardware on the left,
Sweet Dreams and Reading 'N Greeting in the Morrill building on the right.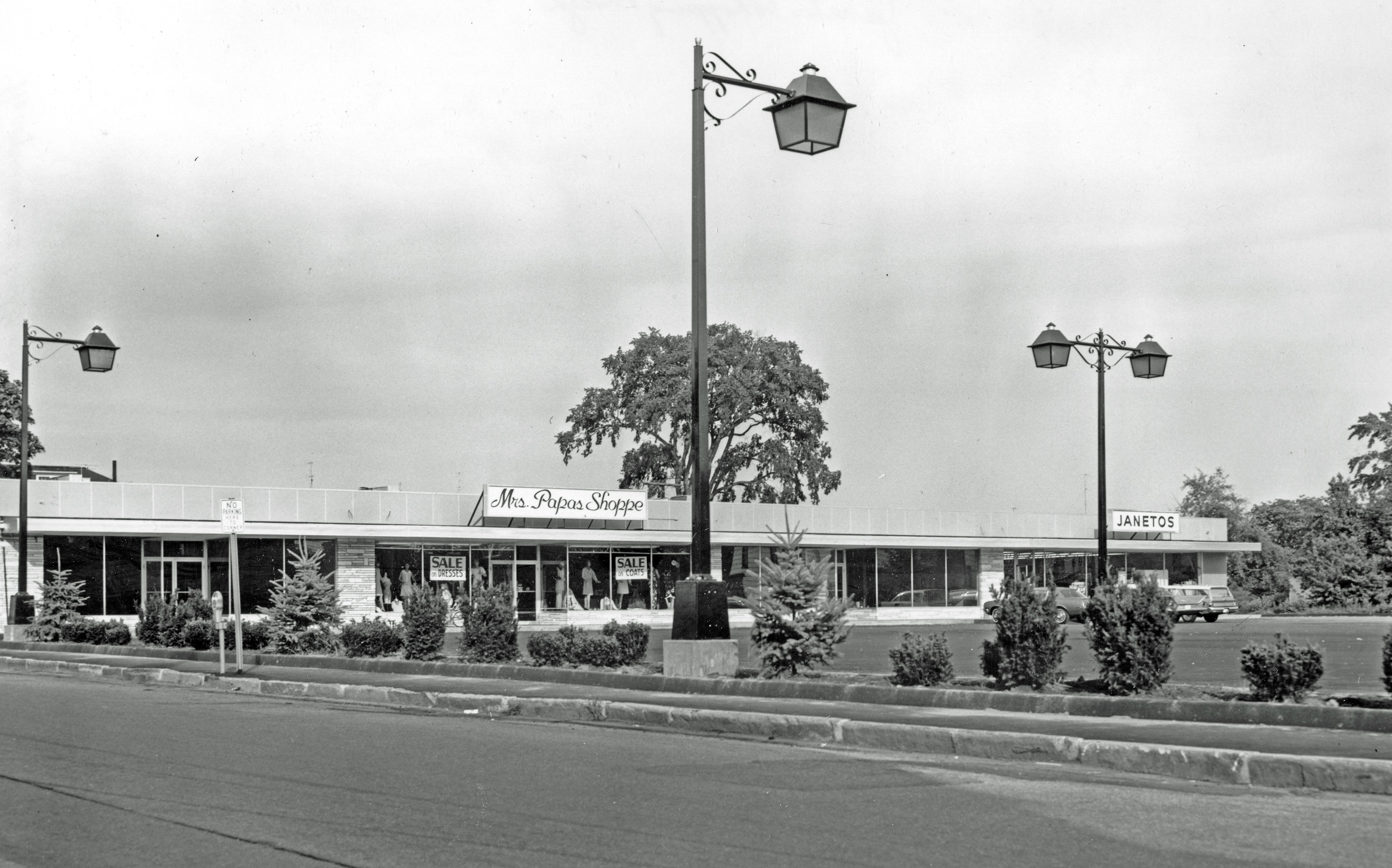 Mrs. Pappas Shoppe was a clothing store on Central Avenue in the later half of the twentieth century. It temporarily relocated to the Janetos plaza in 1968 after a fire in the Morrill building.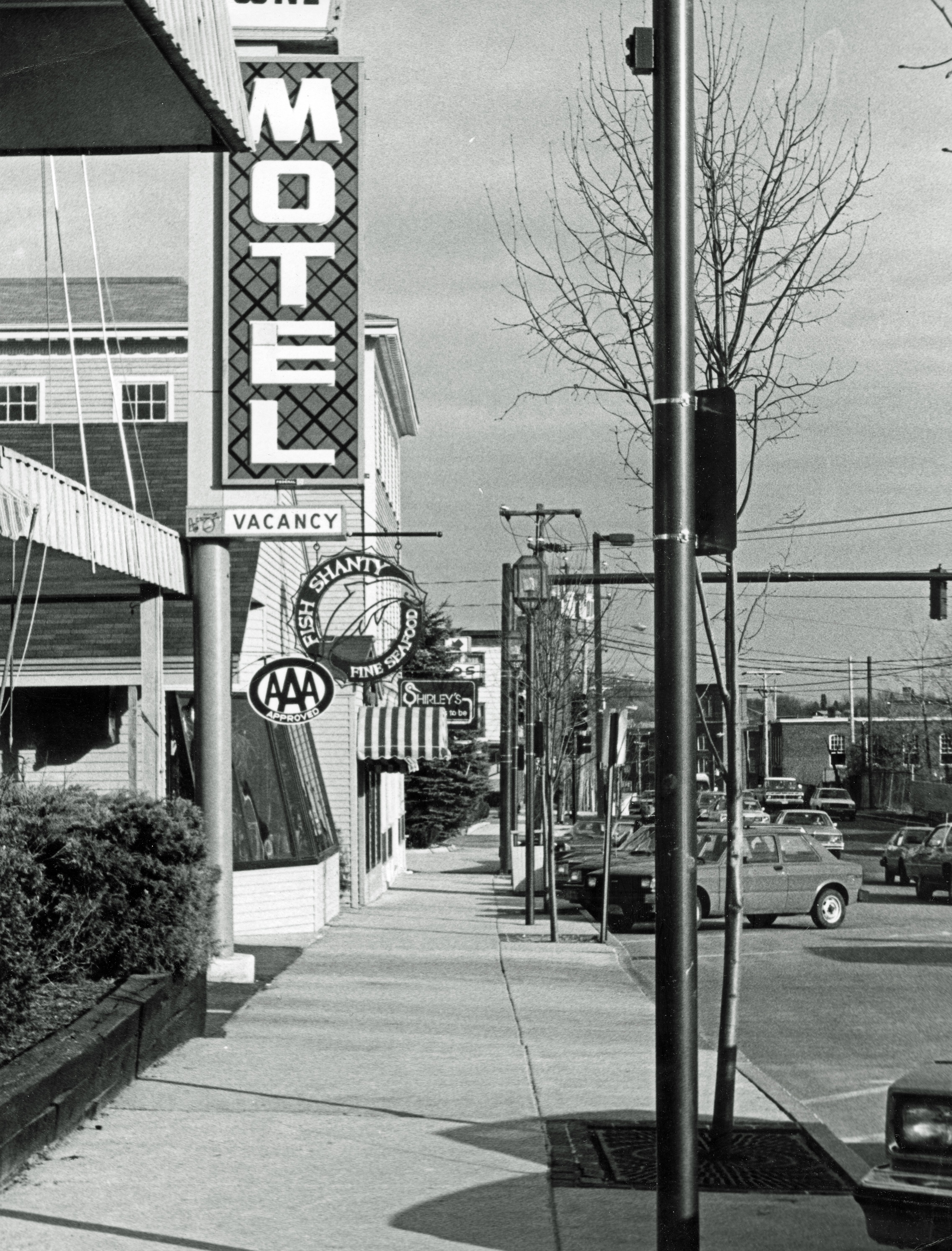 Fish Shanty at 475 Central Avenue.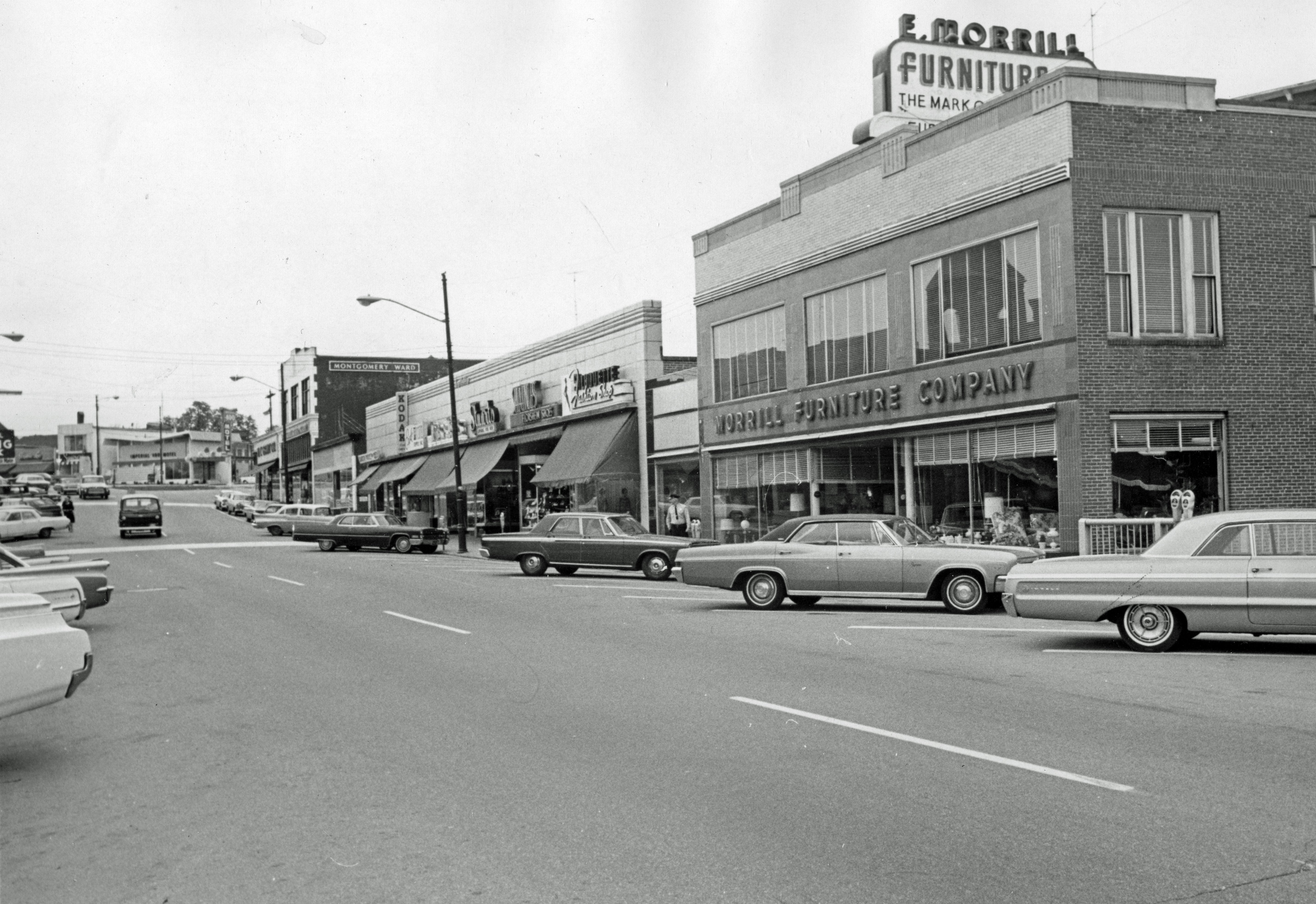 Morrills Furniture Store on Central Avenue.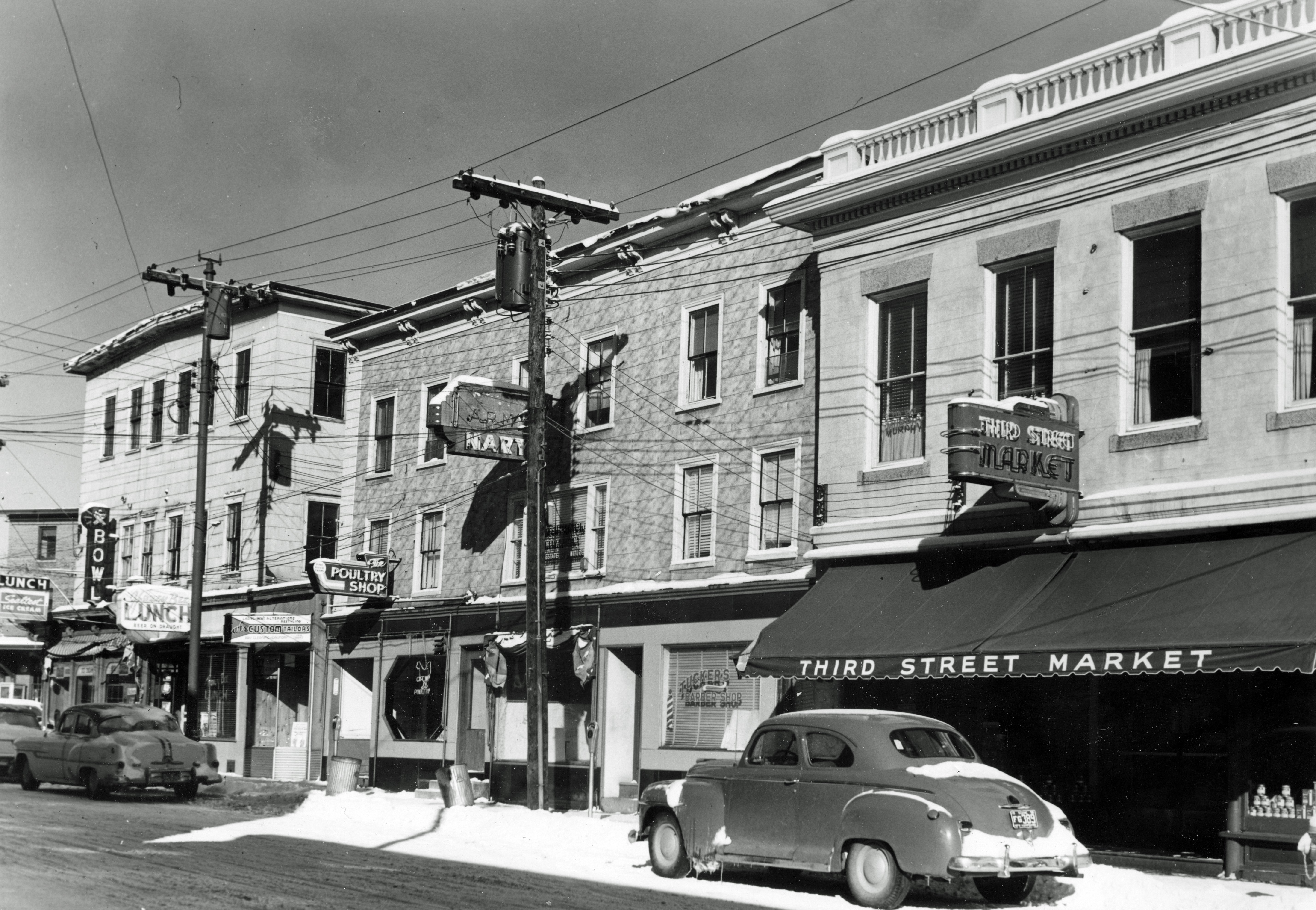 Third Street market, Tucker's Barber Shop next to Poultry shop,
Carl's Custom Tailors, and Honey Bee lunch, circa 1950s.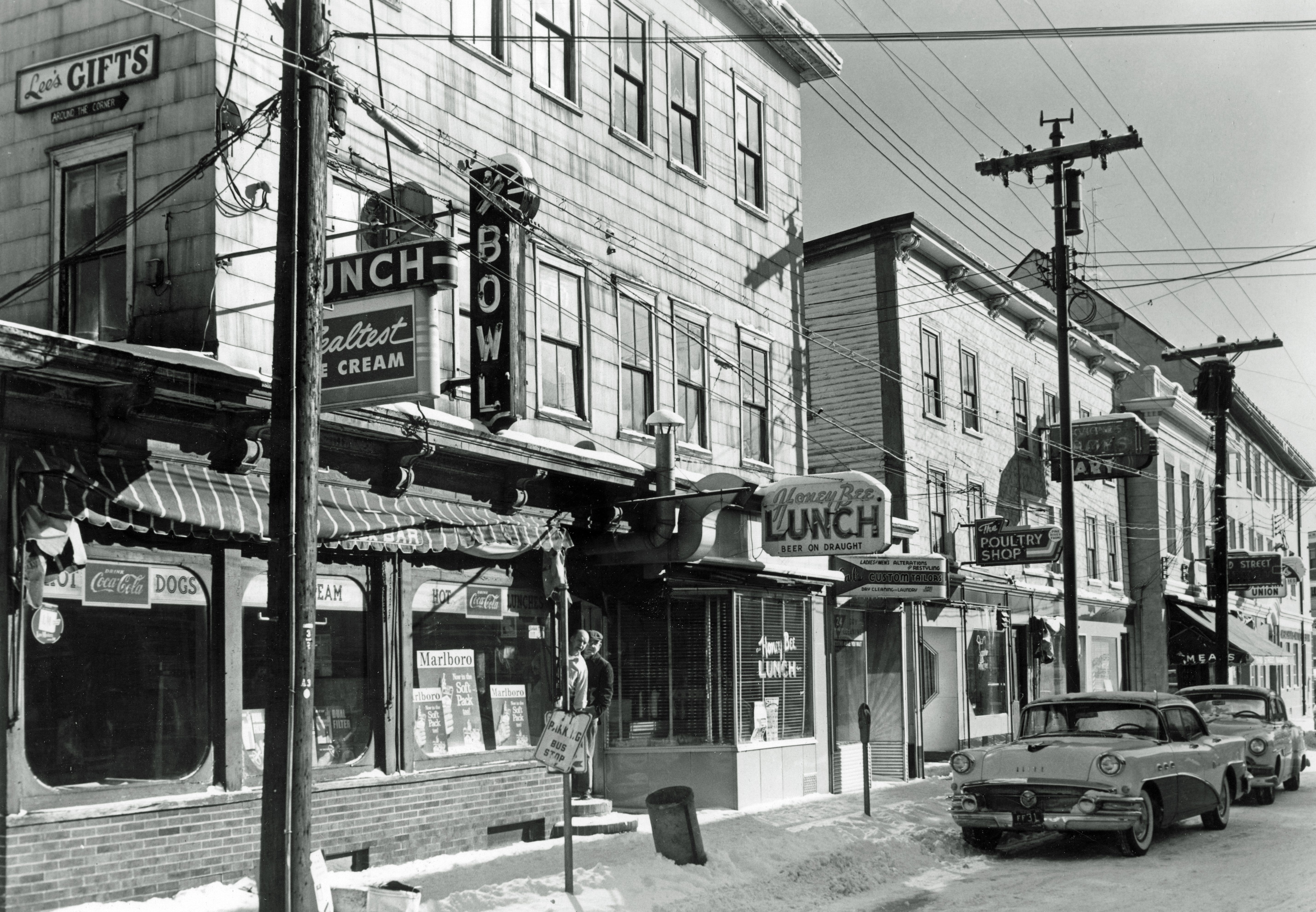 Third Street circa 1950s.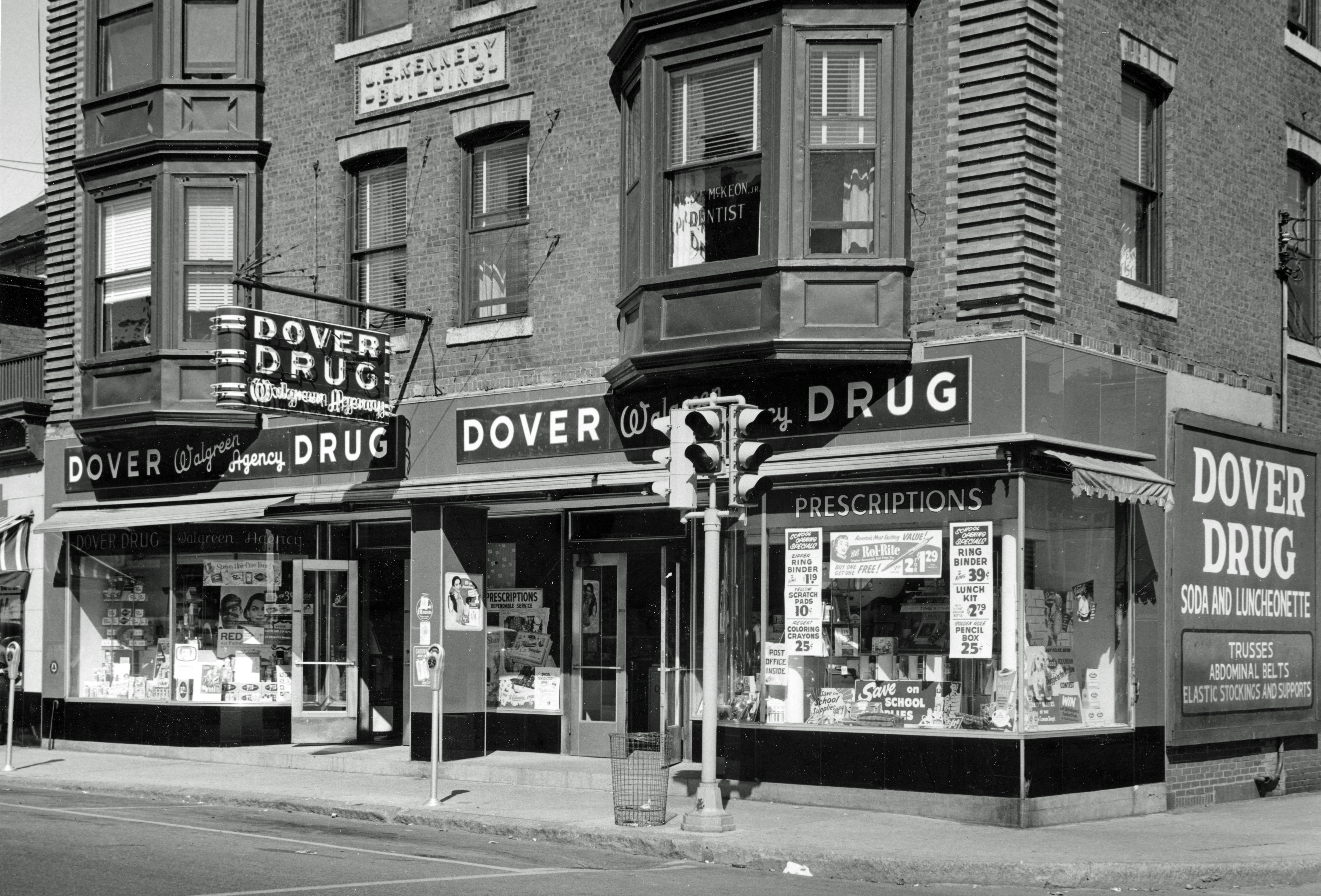 Dover Drug at 505 Central Avenue, established 1921.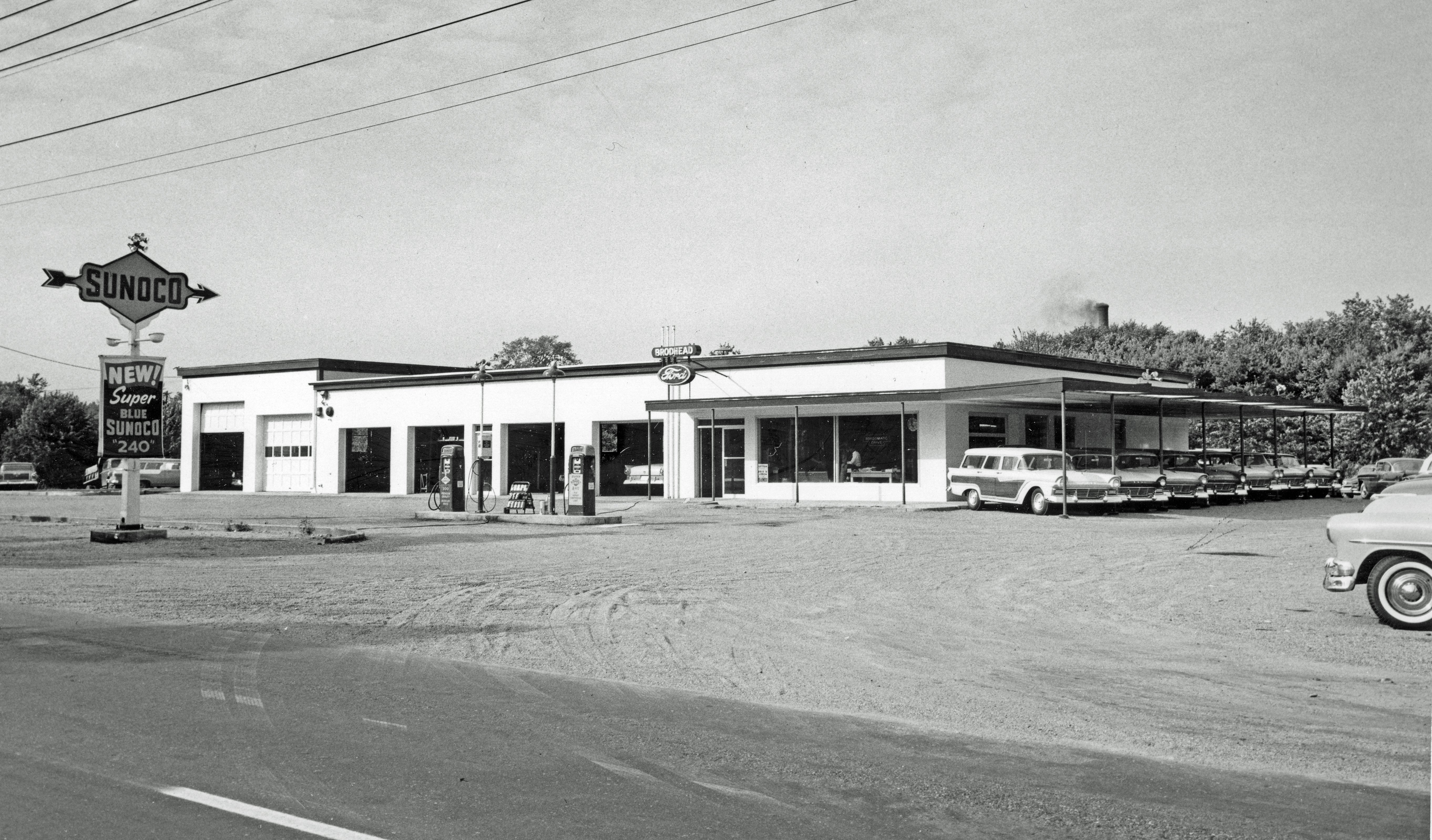 Brodhead's Ford Village on Dover Point Road, circa 1950s.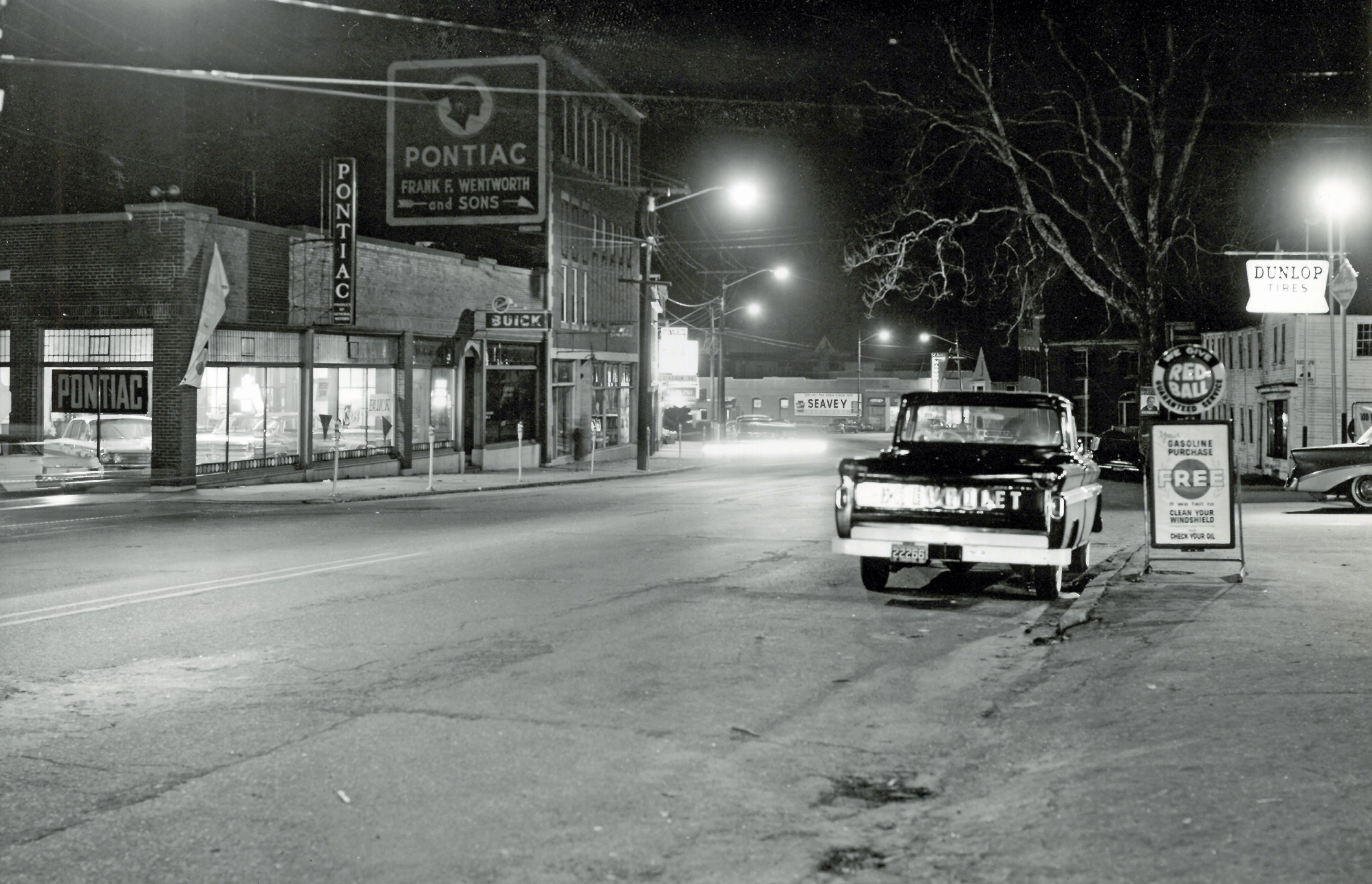 Frank F. Wentworth & Sons Pontiac & Buick 264 Central Avenue, circa early 1960s.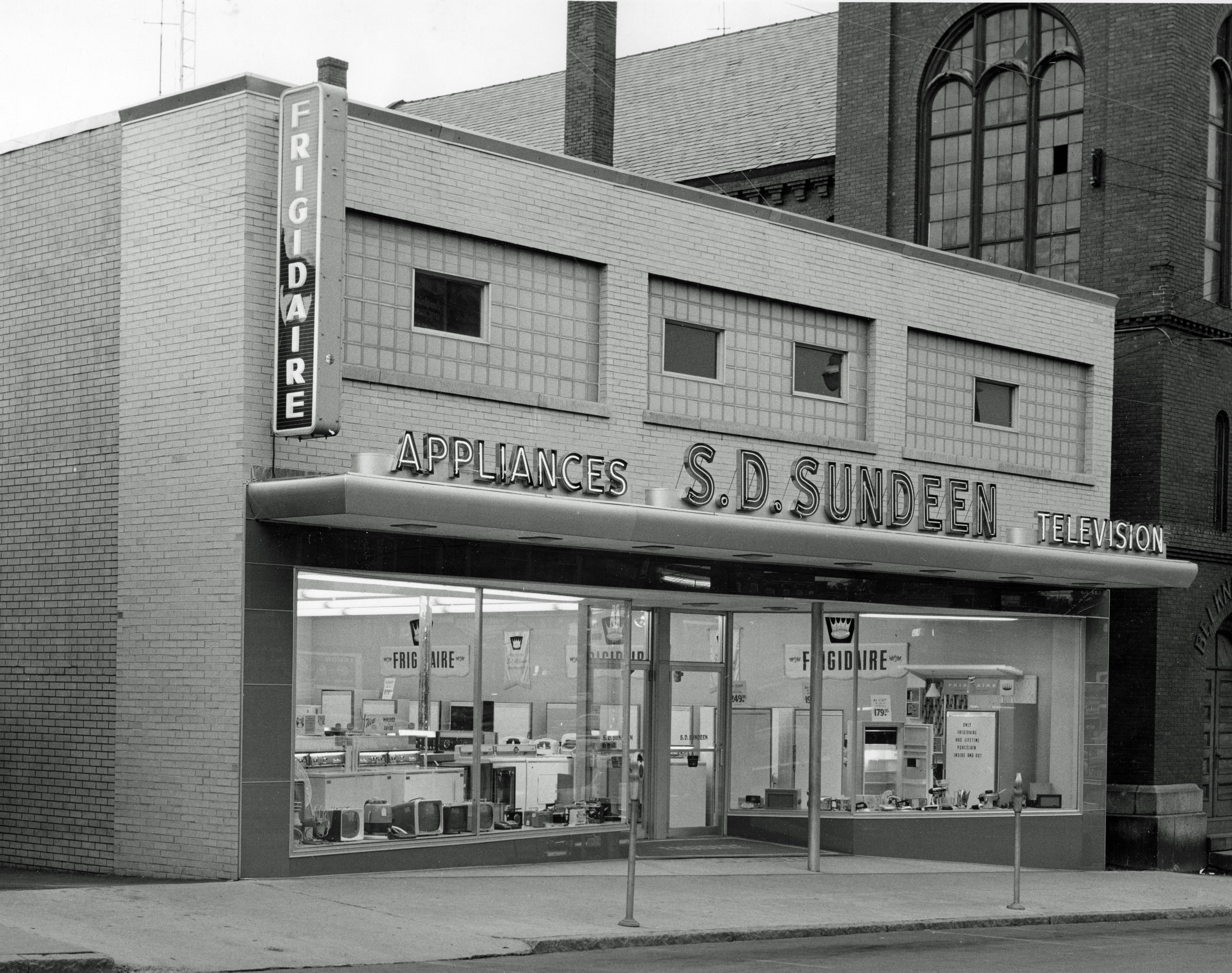 S.D. Sundeen company moved to this building in 1954.
Sundeen had been located in the Belknap Society building next door since 1936.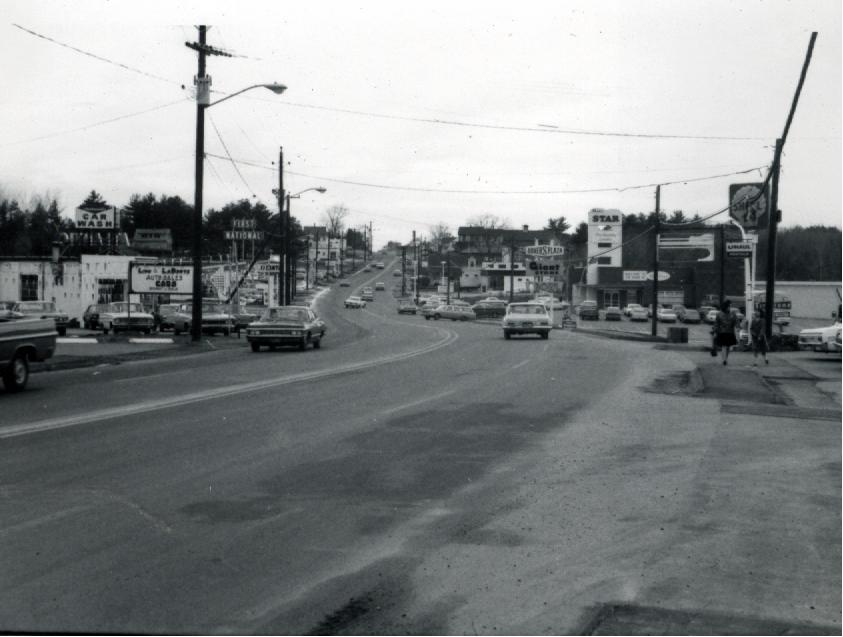 Dover's Miracle Mile, circa 1968.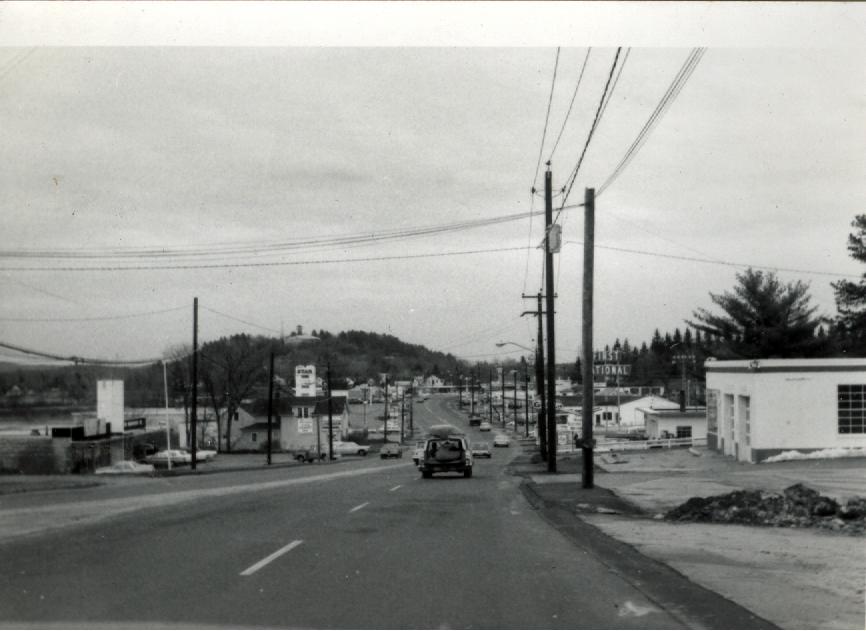 Miracle Mile circa 1968, with Garrison Hill in the background.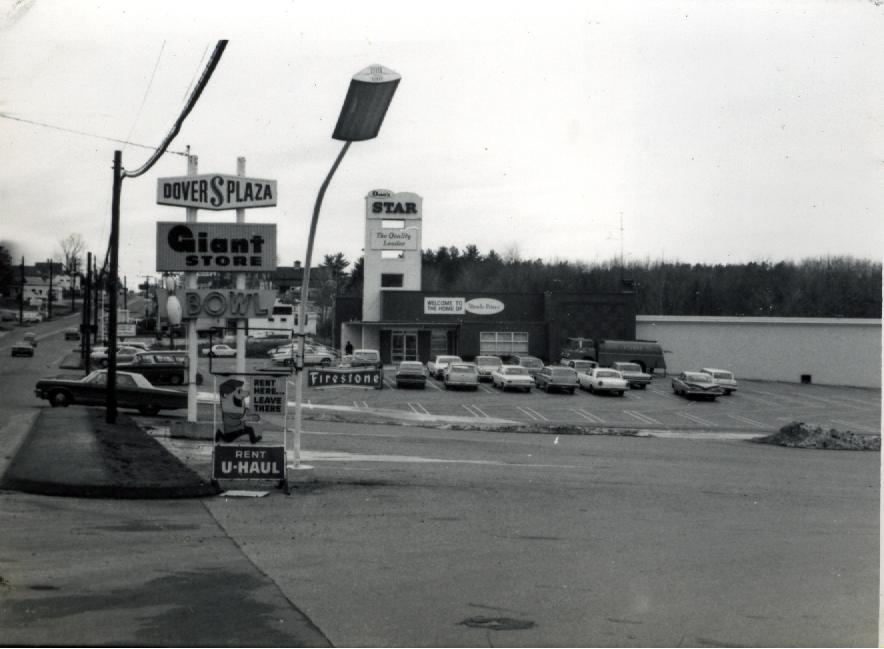 Dovers Plaza circa 1968.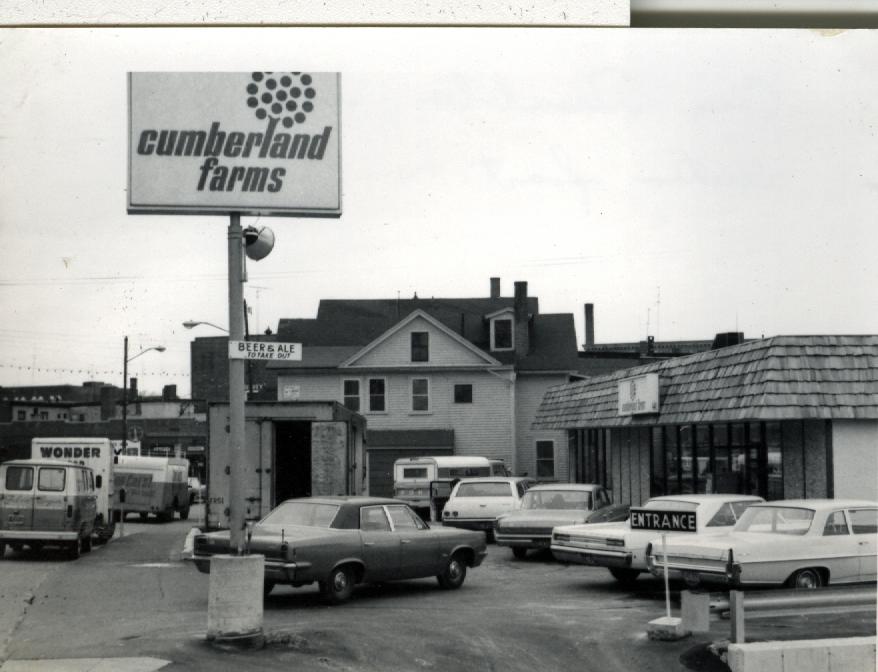 Cumberland Farms circa 1968.