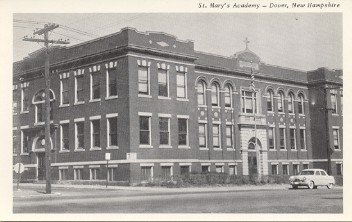 In 1826, the New Hampshire Hotel was built on this site. Mrs. Wyatt recalled in her memoirs, "In 1835, seeing and experiencing the great evils of intemperance, we fully decided to make the New Hampshire Hotel a strict temperance house, the first temperance hotel, it will be safe to say, that was established in New England. Some of our customers stood by us, by a larger portion turned away."     The Hotel was still owned by the Wyatts at least until 1843. By 1846 it had been sold to Levi Shaw, and went through a series of owners, being renamed New Hampshire Hotel House by 1859. In November of 1880, the building was bought by Father Blodgett of St. Mary's Church, who intended to remodel it into Sacred Heart Convent. Upon his death six months later, he was succeeded by Father Daniel W. Murphy, an Irish immigrant, who carried out Father Blodgett's plan. Sacred Heart School was built next door, opening in 1883 under a community of Sisters of Mercy from Manchester.     In 1912, the schools of the parish were consolidated in one place with the building of Saint Mary's Academy on the corner of Central Avenue and Church Street. The old convent building was torn down to make way for the Academy. In addition to grammar school grades, it offered two years of high school for boys and three for girls. It evolved into a four-year high school for girls. In 1963, with the building of co-educational St. Thomas Aquinas High School, St. Mary's reverted to a grade school. It is now known  as St. Mary Academy, serving grades K-8. 
    From the 2000 Heritage Walking Tour booklet.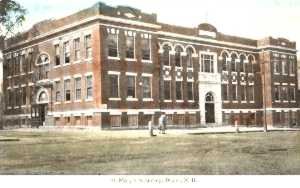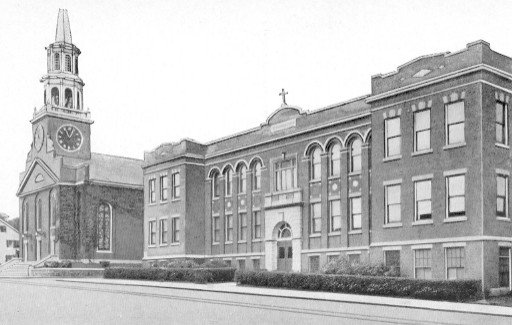 St. Mary Academy is on the right, the Congregational Church is on the left.