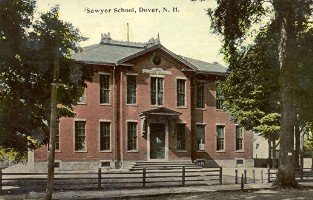 The Sawyer Grammar School, with eight classrooms and room for 192 pupils, was named for the Honorable Thomas E. Sawyer of the Board of Education "who has been intimately connected with the Dover school system for nearly half a century." A major fire in 1890 destroyed much of the school, but it was rebuilt essentially as before. Disaster struck again, however, on June 30, 1979 when overheated basement wiring caught fire. This time the damage, estimated at $850,000, was irreparable.  Just seven years before, in 1972, $140,000 had been spent on renovations to the building, including new wiring.
The school's wood interior was gutted and the flames had burned through the roof. It was sold November, 1979 to Michael Spinelli Jr. for $21,000. The top floor was removed to better blend in with the neighborhood and the 11 unit Sawyer School Apartments opened in September 1980.
    from the 1993 Heritage Walking Tour booklet.