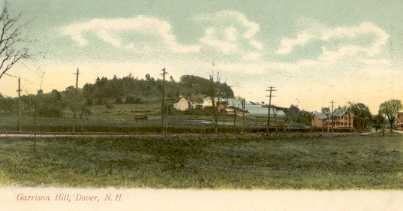 The Garrison Hill name originally belonged to the small hill in the highway. This hill was so called form the Heard Garrison House which stood a little back of the Bangs house.

No Garrison ever stood on the Garrison Hill of today. The first mention of this hill that can be found was in 1652, when John Heard had a grant of 50 acres under the "Great Hill of Cochecho." In a petition of Paul Wentworth and others of Somersworth in `743 to enlarge the bounds of that town it was called "Varney's Hill." When Ebenezer Varney married a niece of the famous Christine Otis Baker he acquired this farm  and then the name of Varney's was given to the Hill. When or how the name of Garrison was transferred from the small hill to the height at the eastward "no man knoweth", but it was surely a hundred years and more.

A well founded tradition gives the distinction on being the "oldest house in town" to what was called the "Ham house" at the foot of Garrison Hill, At the time of the killing of Major Waldron in 1689 every house and barn at Cocheco were burned except this house, the Heard and Coffin Garrison houses, The tradition is that the old farmhouse at the foot of the hill was occupied at the that time by a Quaker family who had been kind to the Indians and that they spared this house and family. It is certain that the so-called Ham house was built to long ago that at the time of the "raising" there were not men enough in Cochecho to do the job and help was summoned from Portsmouth.




    From Historic Rambles about Dover by Robert A. Whitehouse c1999.