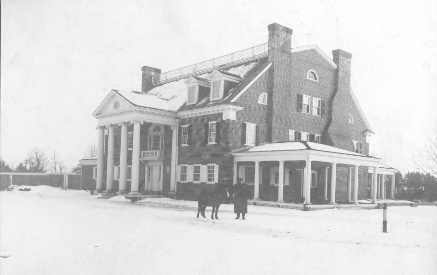 Among the many beautiful homes of the old Granite State none have greater claims to consideration from both architectural and decorative view points than Three Rivers Farm, the magnificent residence of Mr. E. W. Rollins, the prominent Boston banker. Situated on five hundred acres of forest and cultivated lands, bounded as its name implies by three waterways- the Cochecho and Salmons Falls rivers and Fresh Creek- the estate has the advantage of an exceptional location.

Mr. Rollins comes of a distinguished family. His father represented New Hampshire in both the National House of Representatives and the Senate. In the former he served three terms during the Civil War, and was a personal friend of President Lincoln. Mr. Rollins' brother, the late Frank W. Rollins was one of the Granite State's most progressive governors.

James, Rollins, the ancestor, came to America in 1632. The old Rollins House, built about 1656, is still standing at Bloody Point. The name of Rollins is one of the most prominent among the pioneer settlers of New Hampshire. The town of Rollinsford is named for the family.
From "Early Dover History" by Robert Whitehouse

Three Rivers farm was built in a Southern Colonial style and furnished with the finest Chippendale antiques, oriental rugs and a Chickering grand player piano. The mansion has nine bedrooms, eight fireplaces, an 18' wide central hallway, solid mahogany doors, and a California Redwood paneled dining room. The Rollins family owned Three Rivers farm until 1998, when the local landmark was auctioned off.