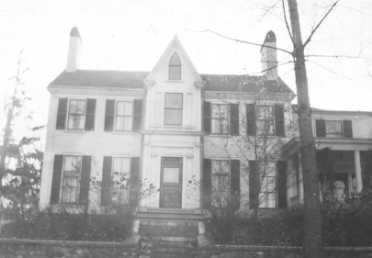 16 Nelson Street

 This house was built in 1827 on the site of the Tristram Coffin Garrison. The builder was Stephen Toppan who occupied it until 1831. Reverend Samuel Lothrop, first pastor of the Unitarian Church, lived here until Dr. Noah Martin bought in in 1835; the Martin family occupied it until 1912. Dr. Martin was elected governor of New Hampshire in 1852 on the Democratic ticket. He was the first of two Dover governors. He was also one of the founders of the Dover Medical Society.

 The ends of the house are brick. It has recessed windows with folding panel shutters in both parlors and with triple folding doors between the rooms. It has the only spiral stairway remaining in Dover, going two flights to the turret. It has long French windows on the street floor and wheel windows in the attic. The doors in the rooms have Christian Cross pattern.
    From the 1980 Heritage Walking Tour booklet.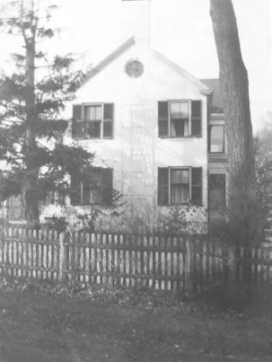 A wheel window is visible in this photo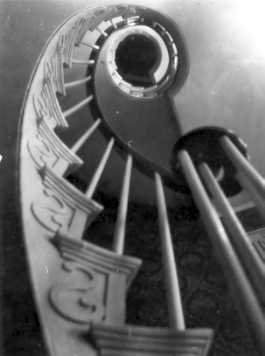 The spiral staircase from the lower hall to the third story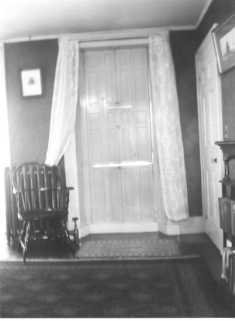 Folding panel shutters     
      
Noah Martin was born in Epsom, N.H. on July 26, 1801, the son of Samuel and Sally (Cochrane) Martin. Hegraduated from Dartmouth Medical College in 1824.

 In 1825 he married Mary Jane Woodbury, the daughter of Dr. Robert Woodbury of Barrington, and started practicing medicine in Somersworth. In 1834, Dr. Martin moved to Dover and lived at 16 Nelson Street.

 Dr. Martin served in the Legislature in 1830, 1832, and 1837, and in the N.H. Senate in 1835 and 1836. He was elected Governor of New Hampshire in 1853, and served for only one two year term. He was president of the Strafford Medical Society in 1841 and 1842 and was president of the New Hampshire Medical Society in 1858.

 He was vice president for New Hampshire of the New England Historical Genealogical Society in 1855 and vice president of the state Agricultural Society in 1851. Dr. Martin was president of the Strafford Savings Bank from 844 to 1852 and a director of the Strafford National Bank from July 1860 until his death on May 28, 1863. His wife Mary died June 30, 1880.

 Noah and Mary Jane Martin had to daughters, Elizabeth A. and Caroline M. Neither of the daughters married and they both lived in the house at 16 Nelson Street until their deaths. Elizabeth A. Martin died September 1, 1889 and her sister Caroline M. Martin died August 21, 1910. When Caroline died she left an oil painting of her father to the New England Historical Genealogical Society in Boston.
     From Dover, NH; People, Business, and Organizations 1850 to 1950 by Robert Marston