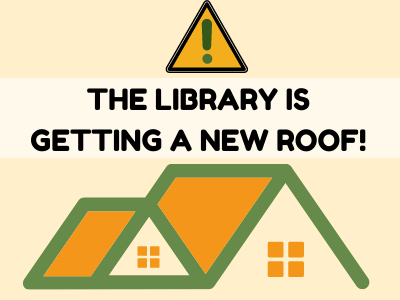 The Dover Public Library is getting a new roof! 
     The project, scheduled to begin in early April, will replace the existing slate roof – original to the 1905 building – with new slate shingles. The contractor will also replace the upper roof copper cornice and the six copper decorative details. The work is expected to be completed in July.   The library will remain open throughout the construction, with continued access through the rear handicap-accessible door; however, the front door may not always be accessible. There will also be a temporary reduction of about 15 parking spaces to facilitate the roof replacement, and there may be a need to change traffic patterns in the parking lot. Updated information about the project and its impacts will be posted to the Dover Public Library's Facebook page, https://www.facebook.com/DoverPLNH.
     The City Council awarded the bid for the project to Portsmouth-based Careno Construction Co., Inc. in January for a cost not to exceed $886,998.
     For more information, contact the Dover Public Library at 603-516-6050.