posted on: 11/3/2017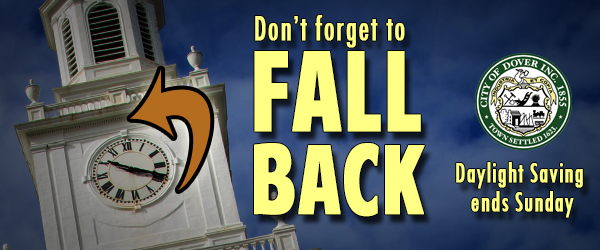 Daylight Saving Time ends Sunday, Nov. 5, at 2 a.m. It's a good time to change and test the batteries in smoke alarms and carbon monoxide detectors.
Dover Fire and Rescue reminds residents that one simple step can help save their lives and the lives of those around them. Everyone is encouraged to use the extra hour they "gain" from Daylight Saving Time to change the batteries in smoke alarms and carbon monoxide detectors, test alarms and remind friends, family, neighbors and fellow community members to do the same.
"Eighty percent of child fire fatalities occur in homes without working smoke alarms," said Dover Fire Chief Eric Hagman. "It's a tragic statistic that could be reduced by adopting the simple habit of changing your batteries when you change your clocks."
According to the National Fire Protection Agency, 71 percent of smoke alarms which failed to operate had missing, disconnected or dead batteries. Changing smoke alarm batteries at least once a year, testing those alarms and reminding others to do the same are some of the simplest, most effective ways to reduce these tragic deaths and injuries.
"The peak time for home fire fatalities is between 11 p.m. and 7 a.m., when most families are sleeping," Hagman said. "Smoke alarm maintenance is a simple, effective way to reduce home fire deaths. Children and senior citizens are most at risk, and a working smoke alarm can give them the extra seconds they need to get out safely."
A working smoke detector doubles your chance of surviving a home fire.
For more information about fire safety, call Dover Fire and Rescue at 603-516-6148.