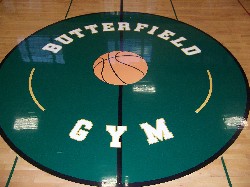 The Butterfield Gym court is used year-round for basketball, indoor soccer, and other special events. For the most recent schedule of open gym times for basketball, please call (603) 516-6401. 
Butterfield Gym Basketball Court Hours:
Adult Open Gym:  Monday - Friday 12:00 - 1:00pm*
Men's Open Gym:  Mondays 6-9pm (mid-April thru mid-November)
Women's Open Gym:  Tuesdays 6-9pm
Youth Open Gym:  Monday - Friday 2-5pm*
Badminton (bring your own racket & birdies):  Fridays 6-9pm
Co-ed Adult Volleyball:  TBD
*Call for additional times! 
Click here to view our daily rates as well as our memberships.  Proof of residency is required to get the resident rate.
Please make sure you bring a clean, dry pair of sneakers to wear on the court. Street shoes damage the playing surface.
Interested in a League?
Adult Leagues - Men's and Women's!